1. and Kareena Kapoor Khan Kareena Kapoor is a super hit actress working in I >> Read More...
After over a decade of marriage and two children, 'Saif' and previous wife Amrita Singh Amrita Singh is an Indian film and TV actress. She >> Read More... split due to their irreconcilable differences and divorced. Saif had started a relationship with Kareena Kapoor after she split with Shahid Kapoor Shahid Kapoor also identifies as the name Shahid K >> Read More... and now Saif and Kareena are married with a newborn named Taimur having arrived recently to fill their lives with joy.
...
2.  Aamir Khan Aamir Khan or Mohammed Aamir Hussain Khan is Bolly >> Read More... and Kiran Rao She is an Indian film producer, screen writer and >> Read More...
Aamir Khan and his previous wife Reena Dutt were the fairytale-like lovelorn couple but life had other plans for both of them. After separating in 2005, they continued to live apart as ' Aamir Click to look into! >> Read More... ' started his relationship with Kiran Rao. However, the official divorce came in recently and Aamir married ' Kiran Kiran - The Joy of Giving is an Indian television >> Read More... ' in a private ceremony. Aamir asserts that it was the love and support of Kiran that allowed him to make his way through the tough times of the divorce.
...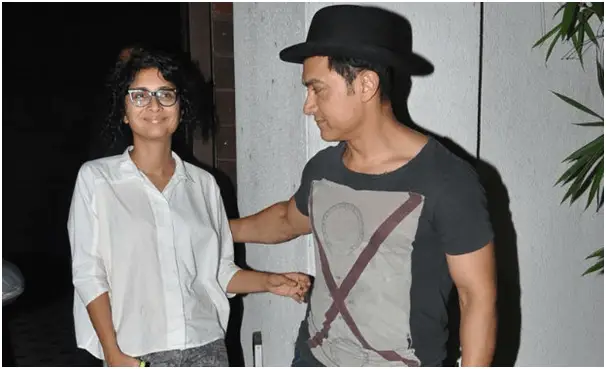 ...
3. and Twinkle Khanna Twinkle Khanna made herdebut in Indian film indust >> Read More...
It is widely speculated that Akshay had married Raveena Tandon Raveena Tandon is an Indian film actress who is kn >> Read More... before divorcing her and eventually marrying Twinkle Khanna. He was involved in a slew of love affairs with Shilpa Shetty A model turned actress, producer, entrepreneur and >> Read More... and Raveena Tandon before settling in with 'Twinkle' to start a proper family. His career has also picked up marvelously and there is apparently no looking back on the entire matter.
...
4. Siddharth Roy Kapoor and Vidya Balan Vidya Balan is an award winning Bollywood actress >> Read More...
...
The man was so deeply in love with the beautiful actress that he divorced his wife Nandita so that he could marry her. Love is indeed a powerful motivator.
...
5. Raj Babbar Raj Babbar is an actor turned politician. He is re >> Read More... and Smita Patil This versatile actress was born on the 17th of Oct >> Read More...
...
When Raj's wife passed away shortly after the birth of his son, he married his co-star Smita Patil and the relationship has been going strong ever since.
6. Sanjay Dutt July 29, 1959, was the day when the two legends of >> Read More... and Manyata
When Sanjay was recently convicted and sent to jail, the stress was apparently too much to bear considering that their children were also caught in the crossfire and 'Rhea' filed for a divorce which was then approved by the court. He then married 'Manyata' because despite the various ups and downs in Sanjay Dutt's life, she stood steadfastly at his side and never wavered despite all the allegations and tedious legal and court proceedings
7. Sridevi Sridevi is an Indian an actress renowned for her w >> Read More... and Boney Kapoor Achal Kapoor or Boney Kapoor is a very famous Indi >> Read More...
Despite having two children Arjun and Anshula with his wife Mona Kapoor and opposition from the entire Kapoor family, 'Boney' couldn't shake off the feeling of love for 'Sridevi' and eventually left his home to be with her leaving Mona to raise her children single-handedly. Sridevi had less than 2 months left to give birth to Boney Kapoor's child at the time.
8. Shabana Azmi Shabana Azmi is a film actress of Indian origin an >> Read More... and Javed Akhtar Javed Akhtar is an Indian poet, lyricist, film scr >> Read More...
He left Honey Irani Honey Irani is an actress and screen writer. She w >> Read More... after falling in love with Shabana Azmi. He has two children with Honey, Farhan and Zoya.
9. Raveena Tandon and Anil Thadani Anil Thadani is a distributor and a husband of Bol >> Read More...
The famed businessman had no qualms in divorcing his wife Natasha Sippy to marry the famous and beautiful actress, Raveena Tandon. The couple have settled down with their family of two children.
10. Dharmendra and Hema Malini Hema Malini is perhaps the only dream girl of the >> Read More...
He had two children, Sunny and Bobby, from his previous marriage to Prakash Kaur Prakash Kaur, a personality that attracted the emo >> Read More... . However, he fell in love with Hema Malini while the movie 'Tum Haseen Main Jawan' was being filmed. After their searing chemistry in 'Sholay' had become too real to be true, Dharmendra and Hema Malini both converted to Islam as ' Prakash Prakash, a popular film director in the Kannada fi >> Read More... ' was unwilling to grant her husband a divorce. They finally tied the knot in 1980.