A movie's success, both commercially and critically, depends hugely on its director.  Great directors distinguish themselves from others from the first movie they are associated. Great debut movies remain with us long after the credits roll. They make it difficult to believe they were directed by debutants. Today, we look at some of the best Bollywood movies from debut directors.
Rajkumar Hirani stood out among other directors right from his debut, Munna Bhai M.B.B.S., giving Sanjay Dutt July 29, 1959, was the day when the two legends of >> Read More... 's career its second innings. The movie is a unique blend of comedy, romance, and feel-good moments.
It didn't play on the tropes established earlier in Bollywood, which made it a groundbreaking movie. It gave us many memorable characters, with Sanjay Dutt and Arshad Warsi's irreplaceable pair of Munna and Circuit. Hirani's debut remains one of the most iconic movies in Bollywood.
Farhan Akhtar made his directorial debut with Dil Chahta Hai, a movie that was memorable and relatable. The film takes a realistic look at the highs and lows of urban friendships and relationships.
The movie raised the bar for commercial Bollywood. It features excellent performances from the entire cast and one of the best jukeboxes from the soulful Shankar-Ehsaan-Loy.  
...
Khosla Ka Ghosla worked as a landmark in the comedy genre. Dibakar Banerjee's debut had lots of witty and intelligent humor, with an infusion of dysfunctional middle-class family drama and bizarre situations.
...
Based on the housing dilemma that every ordinary person faces in their lifetime, the director made something extraordinary of it. The brilliant performances of Anupam Kher Anupam Kher is a very popular actor, director, and >> Read More... and Boman Irani Boman Irani is a well known name today in the Boll >> Read More... work as the icing on the cake.
4. Dilwale Dulhania Le Jayenge ( Aditya Chopra )
Dilwale Dulhania Le Jayenge remains the most successful debut of any director. It made Shah Rukh Khan Shah Rukh Khan or also known as SRK is a prominent >> Read More... and Kajol the most iconic leading pair in Bollywood. It gave a new definition to romantic movies.
...
It featured beautiful foreign locations, a memorable soundtrack, and an adorable leading pair with many iconic supporting characters. The movie remains a high point for Bollywood romance and is the longest-running movie in Bollywood history.
...
Although Paanch was the first movie to be directed by Anurag Kashyap, Black Friday served as his official directorial debut. It centered around the events leading up to the 1993 Bombay bomb blasts and the following investigation.
Black Friday was dark, gritty, and violent. It introduced audiences to Anurag Kashyap's unique storytelling style. The movie featured brilliant performances from the entire cast. It is not an easy watch, but an essential one.
...
One of the best coming-of-age stories, Udaan, tells the tale of Rohan, who aspires to become a writer but his abusive father forces him to work in a factory. He then decides to break free of his father and runs away with his younger brother.
...
Udaan is a beautiful and impactful tale of a rebellious spirit. It features excellent performances with a tightly written script from Motwane. Udaan received critical acclaim at the time of its release. It also screened at the 2010 Cannes Film Festival.  
Few thrillers have been as gripping and thought-provoking as Neeraj Pandey's debut A Wednesday. The movie revolves around an ordinary man who one day decides to take matters into his own hands when the authorities fail him.
It talked about an everyday man's tolerance of terrorism and its impacts. The movie is an intelligent thriller with clever dialogues and writing. It also features some of the best performances from veterans Anupam Kher and Naseeruddin Shah Naseeruddin Shah is an experimental actor and asso >> Read More... .
With Luck By Chance, Zoya Akhtar presents one of the most nuanced takes on Bollywood and the journey of an outsider in its glamorous world. Zoya left a mark on the world with her larger-than-life storytelling style right from her debut.
Zoya gave us an honest and relatable tale of Bollywood, which we all have grown up watching. It is the best film about Bollywood and features excellent performances from the entire cast, including brilliant cameos by Shah Rukh Khan and Hrithik Roshan Hrithik Roshan with his unimaginable dance moves i >> Read More... .
Masaan is a poignant tale about a tragic love story, casteism that prevails in society, and the stigma regarding pre-marital sexual relations in modern-day Varanasi. The movie has gained cult status since its release.
Masaan is a true winner in terms of acting, writing, and direction. It is a beautiful and poetic tale, which won big at the Cannes Film Festival. Ghaywan also won a Filmfare and National Film Award for his brilliant direction.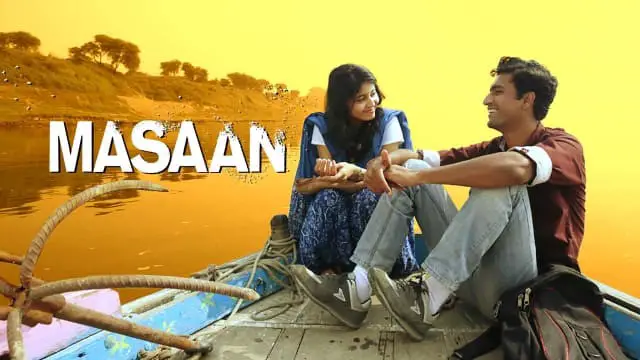 Rarely has a directorial debut been so acclaimed and successful as Ritesh Batra's The Lunchbox. It is the story of Saajan and Ila, who become friends when the tiffin courier service delivers the lunchbox meant for Ila's husband to Saajan.
They soon begin exchanging letters through the tiffin, and an unusual friendship develops between them. The movie is beautiful yet painful and one of the best romantic films in Bollywood. It features layered performances from the talented Irrfan and Nimrat Kaur Bollywood actress Nimrat Kaur was born on 13th Mar >> Read More... .