Money is one of the basic amenities to live life king size. Some of the Bollywood actresses who could not do so well in the industry later on married the rich men to live the high profile that they dreamt of. Let's take a look at top 10 actresses who got married into rich families.
1. Celina Jaitly Celina Jaitly was a model who eventually changed h >> Read More... and Peter Haag-
...
Celina Jaitly a beauty pageant winner and actress could not get so much fame and popularity from Bollywood. This hottie then decided to marry the businessman and marketer, Peter Haag. Peter belongs to Austria. She gave birth to twins and is living with her husband out of India.
2. and Anil Ambani Anil Ambani is an Indian business executive and in >> Read More... -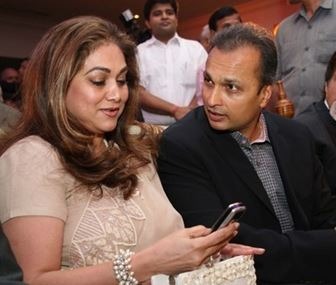 ...
Tina Ambani, a vivacious young actress, was expected to do well in Bollywood and could achieve both fame and money. But later on she decided to marry Anil Ambani, saying goodbye to her career as an actress.
3. Dimpy Ganguly Dimpy Ganguly, an Indian model and actress was bor >> Read More... and -
...
These two met on a reality show, in which Rahul Mahajan was looking for a perfect bride. The two dated each other for a while after the show was over and finally decided to tie the knot. They have been in the media several times due to many reasons and are now divorced.
4. Kim Sharma Kim Sharma, who had been very popular for her role >> Read More... and Ali Punjani Bio coming soon... >> Read More... -
...
Kim Sharma tried her luck but could not give successful movies in Bollywood. This beautiful girl who stared in the movie named " Mohabbatein Click to look into! >> Read More... " dated a handsome guy named Carlos. Carlos belonged to Spain. But later on, she married Ali Punjabi, a businessman from Kenya.
...
5. Farhan Azmi and Ayesha Takia Ayesha is a Bollywood film actress, born on 10th A >> Read More... -
...
Ayesha Takia, a Bollywood actress who did a lot of movies but was not able to be successful in Bollywood. She fell in love and got married to restaurateur Farhan Azmi.
6. Vidya Balan Vidya Balan is an award winning Bollywood actress >> Read More... and Siddharth Roy Kapur Siddharth Roy Kapur is an Indian businessman, film >> Read More... -
...
Vidya Balan, one of the most talented actress and Siddharth Roy Kapur, a very successful producer of Bollywood. Vidya Balan tied the knot with the producer secretly and later on confirmed the news.
7. Amrita Arora Amrita Arora was born on 31st January 1981 in Chem >> Read More... and Shakeel Ladak Shakeel Ladak was born in Hyderabad, and is the ow >> Read More... -
Shakeel Ladak, a business was a divorcee when he met Amrita Arora. Amrita got pregnant and later on married her love Shakeel in a low-key affair.
8. ' Sridevi Sridevi is an Indian an actress renowned for her w >> Read More... ' and Boney Kapoor Achal Kapoor or Boney Kapoor is a very famous Indi >> Read More... -
Sridevi, best Bollywood diva of all time, her charismatic looks and remarkable talent gave her immense fame. She met Boney Kapoor while shooting for 'Mr. India' and decided to marry him. Both are living a happy life together with their two gorgeous daughters.
9. Juhi Chawla Juhi Chawla is a renowned Indian actress and produ >> Read More... and Jay Mehta Jay Mehta was born on 18 January 1961 in India. He >> Read More... -
Juhi Chawla a beauty pageant winner and a Bollywood actor always wanted to be a housewife. She got married to entrepreneur Jay Mehta and gave up her career as an actress and never returned on screen again.
10. Shilpa Shetty A model turned actress, producer, entrepreneur and >> Read More... and Raj Kundra Raj Kundra, a business magnet from London, United >> Read More... -
Shilpa Shetty, the hot babe with an incredible figure who found success in Bollywood. She decided to marry Raj Kundra, a Dubai based businessman. They together own an IPL team and are living a happy life, with their baby. Shilpa is now a dance reality show judge.