It's difficult to understand the churning chaos lingering in the life of stars, in the flashing light of cameras; there are bitter truths of their lives that they refrain from seeing. Some people consider their lives to be easy, but it's a Herculean task to put up with success altogether. The failures, ups, and downs in their personal life tread them into mysterious ends. These suicides significantly highlight the pressure and depression in the glamor world. Here are the top 10 celebrities from Indian industry who committed suicide while being in acclivity during their time in the industry.
1  Pratyusha Banerjee Pratyusha Banerjee was a gorgeous Indian actress. >> Read More...
...
Pratyusha Banerjee's suicide is one in the line of the various mishaps that have happened in the dazzling glamor world. Well known as Anandi from the television series , her death rattled one and all speechless when her body was found hanged in her apartment in Andheri on 1st April 2016; she aged 24.
2 Jiya Khan Bio coming soon... >> Read More...
...
Jiya Khan, the famous actress of the movies Nishabd, Ghajini, and houseful, left people shocked on June 3, 2013, when she committed suicide in her bedroom of the family residence in Juhu, she aged 25. There were varied reasons predicted for her suicide one of which was her broken relationship with Suraj Pancholi.
3 Divya Bharti Divya Bharti was an Indian film actress and model, >> Read More...
...
Born in Mumbai the successful Hindi and Telugu film actress Divya Bharti, fell off the balcony of her apartment in Versova, leaving people amazed by the reasons of her departure being alcohol, the involvement of her husband and underworld mafia. She aged 19.
4 Silk Smitha Silk Smitha is an unforgettable personality in the >> Read More...
...
Vijayalakshmi Vadalapati or Silk Smitha as one knows her, was the most erotic actress of the south industry. She acted in 450 films. Situations did not accomplish for her, and she committed suicide by poisoning herself to death just when she aged 35.
...
5 Guru Dutt Born on 9th July 1925, Guru Dutt was an Indian act >> Read More...
...
Vasanth Kumar Shivashankar Padukone, very well known as Guru Dutt was witnessed deadly in his apartment, the cause being his deteriorating relationship with his wife and his love Vahida Rahman distanced herself from him. He died of the lethal combination of liquor and sleeping pills. Aged 39 this famous actor cum director left people shocked on 10 October 1964.
6 Parveen Babi The actress who changed the face of Bollywood and >> Read More...
...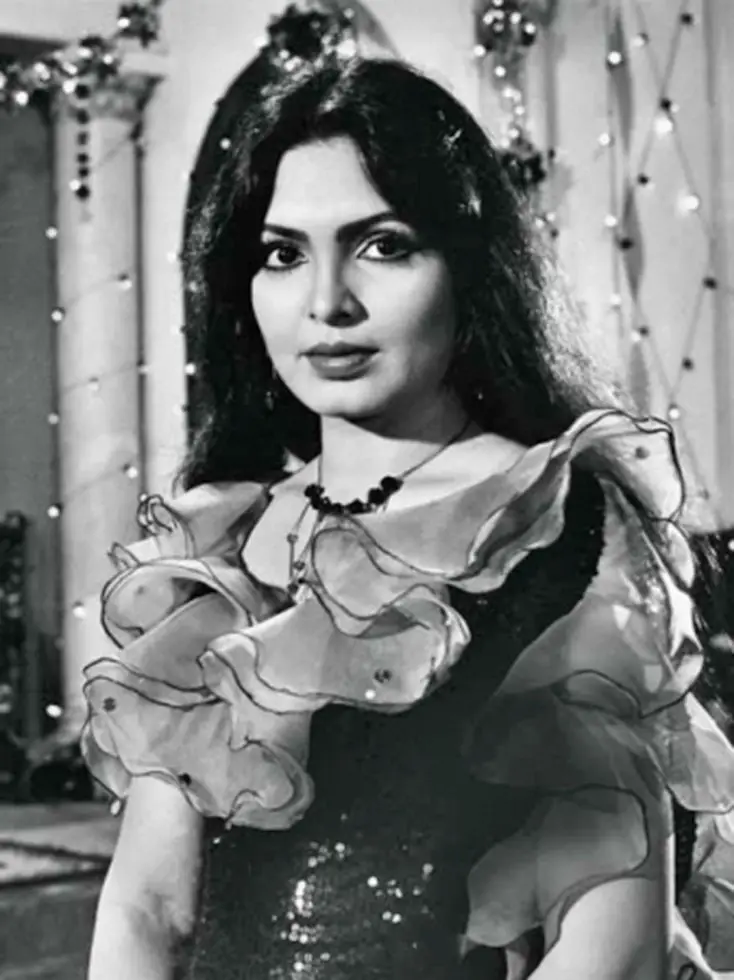 This beautiful actress had a tragic death. She lived in Juhu alone in her residence. At the age of 55, Jan 2005 she scandalized the world. Nobody knows any hints of her death. The reasons of this happening are still a mystery.
7 Nafisa Joseph Nafisa Joseph was a model and MTV video jockey. Sh >> Read More...
The former Miss India Miss India was a TV serial that was aired on Doord >> Read More... and television actress Nafisa Joseph hung herself in her apartment. Her suicide incident happened a few weeks away from her marriage. She found her husband was married ,this was unendurable for her and forced her committing this vicious step.
8 Viveka Babajee The stunning Mauritian model Viveka Babajee had be >> Read More...
The famous Kamasutra model, Viveka Babajee died at the age of 37, committed suicide in 2010 by hanging herself to the ceiling fan. Failed career and relationships were the reasons cited for this tragic end of her.
9 Kuljeet Randhawa Kuljeet Randhawa was a model and an actress in Hin >> Read More...
Kuljeet Randhawa was a well-known actress and model, who took her life by hanging herself from the ceiling fan on February 8, 2006. The suicide note corroborated her step by not being able to cope up with life and pressures of work.
10 Kunal Singh
Kunal Singh who aged 30, committed suicide on 7th February 2008 in Mumbai. His disturbed marriage life and his distance with children were rumored to be the reasons for his self-immolation. He was known for his role in movie Dil Hi Dil Mein opposite Sonali Bendre.Thus, eventually the lights fade away and what remains is the real stride in life.