1. Ittefaq-
Yash Chopra's film are known for the filming of top Bollywood songs, but he came out of the cocoon with Ittefaq. It was only the fourth film to have no songs. It earned around two crores at the box office starring Rajesh Khanna and Nanda.
2. Kalyug (1981) –
The movie depicted the Indian epic Mahabharata in a modern day form. It plotted a conflict between two rival business houses. Kalyug won the Filmfare award for the best film. It was produced by Shashi Kapoor and Shyam Benegal was the director.
3. JaaneBhi Do Yaaro –
Based on corruption, underhand briberies, and media, this satirical film starred great actors such as Naseeruddin Shah, Om Puri, Ravi Baswani, Satish Shah and Pankaj Kapur. Although, this movie was able to make just two crores but is considered a classic film today.
4. Kaun –
this was a spooky and a psychological thriller, starred Urmila Matondkar and Manoj Bajpayee. Until you see the thrilling climax, you would find the movie confusing and vague. But the movie is worth watching, and it hit the box office with 4.5 crores.
5. Bhoot –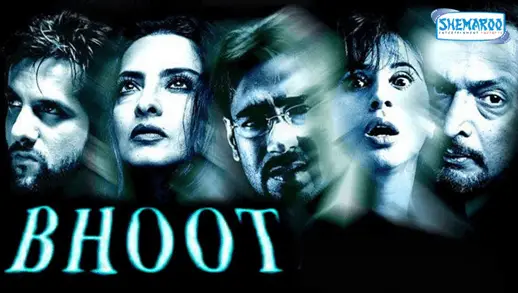 The horror film had no song as a part of the film but just had a promotional song for the movie. This cult classic movie was able to earn seven crores at the box office and also the lead actress; Urmila Matondkar was able to get many awards. Ajay Devgan and Nana Patekar also played a role in the film.
6. Darna Mana Hai -
Another thriller film with no songs with the star cast of Nana Patekar, Saif Ali Khan, Aftab Shivdasani, Vivek Oberoi, Shilpa Shetty and Sameera Reddy. Directed by Prawaal Oberoi, the movie was just able to earn a little more than 2 crores.
7. Black -
This movie is inspired by the famous American author Hellen Keller. In the movie, the protagonist is a blind and deaf girl. The film revolves around her relationship with her teacher, and how she dealt with her blindness. The film was a blockbuster and earned more than eightcrores at the box office. Amitabh Bachchan and RaaniMukherji starred this film.
8. A Wednesday! –
Neeraj Pandey's production film, the film was a classic hit. It is an evergreen film with lead actors as Naseeruddin Shah, who was patriated as a common man while Anupam Kher, was the chief of the police department. The movie was able to earn over nine crores and remains a hit. Due to the amazing script, a Hollywood film named 'A common man' is remade from this film.
9. Bheja Fry –
This comedy film was made on a medium budget, but it ended up earning more than 8 crores at the box office. It was starred by Vinay Pathak and Rajat Kapoor and directed by Sagar Ballary's.
10. The Lunchbox –
Hard to believe but this movie starred Irrfan Khan and Nimrat Kaur was able to earn around 20 crores. The movie is a romantic drama depicting two lovers who shared their love letters over lunchboxes.