Shah Rukh Khan, SRK or King Khan! This man is ruling Bollywood since his debut and is currently known as World's biggest movie star. His fan following is spread across the continents. From a mithai walla in Delhi to the former President of United States, everyone love to see him on screen.
Let's have a look at his recent 10 performances in leading role:
1. FAN (2016)
Fan is perhaps one of SRK's most favorite movies. FAN is about a Delhi Boy Gaurav Chaandna (SRK) who considers himself the biggest fan of Superstar Aryan Khanna (SRK). He reaches Mumbai on the occasion of Aryan's birthday, his beloved star, to wish him. However, things take an ugly turn and the biggest fan turns into the biggest enemy. Gaurav tries his best to ruin the image of Aryan, but in the end Aryan proves himself innocent.
This movie is a must watch for all those who wish to have a fresh content. This movie was a critical success, but failed to perform at the box office. Needless to say, it's one of SRK's best performances. He rocked as Aryan and won our hearts as Gaurav.
2. Dilwale (2015)
Raj/Kaali (SRK) and Meera fell in love with each other, but being the children of rival families, destiny separates them. After fifteen years, they meet again as Raj's brother Veer ( Varun Dhawan) falls in love with Meera's sister Ishita ( Kriti Sanon).
Dilwale may remind you of the typical Bollywood movies of 1980's. It also stars Boman Irani, Vinod Khanna and Kabir Bedi. Although it was the highest grosser of the year, SRK and Rohit Shetty's project was neither appreciated by the critics nor the fans.
3. Happy New Year (2014)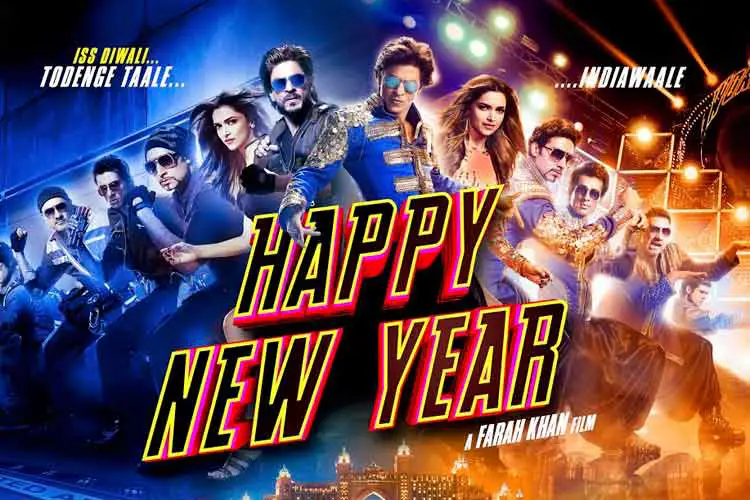 Happy New Year revolves around six different individuals who together plan to execute World's biggest robbery despite the fact that they are considered as losers. Charlie/Chandra Mohan Sharma (SRK), who wishes to avenge Charan Grover ( Jackie Shroff), who is responsible for his father's death. In order to execute this, he assembles a team comprising Chandu ( Abhishek Bachchan), Jag ( Sonu Sood), Tammy (Boman Irani), Rohan ( Vivaan Shah). They participate in a dance competition under the supervision of a bar dancer Mohini ( Deepika Padukone) who is not aware of the plan until later.
Happy New Year marked the reunion of SRK and Farah Khan after 7 years. The movie was a high grosser, but disappointed SRK fans. Even the critics weren't happy with the show.
4. Chennai Express (2013)
Rahul (SRK), from Mumbai unwillingly boards Chennai Express to go to Rameshwaram to immerse his grandfather's ashes. On the train, he meets Meena (Deepika Padukone), daughter of a don and finds himself entangled with her. Afterwhich, a roller coaster of action and comedy begins where Rahul fights for his love, Meena.
Chennai Express did beat the box office records. Although a one-time watch, Chennai Express is full of action and comedy. SRK was nominated for the best actor in the leading role
5. Jab Tak Hai Jaan (2012)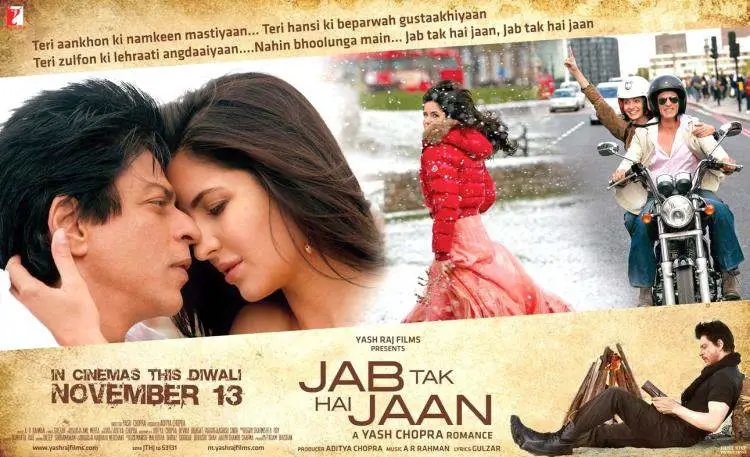 Samar (SRK), a gregarious and jovial Indian boy living in London. He is a street artist and works part time at various places to earn his daily living. One day, he meets Meera ( Katrina Kaif) and they become fast friends. Gradually, their friendship turns into love but Meera was already engaged with some other guy and cannot go for a relationship with Samar. Samar returns to India with a broken heart and joins the Indian army. A journalist, Akira ( Anushka Sharma) falls in love with Samar but decides to re-unite him with Meera.
Jab Tak Hai Jaan was the last movie directed by legendary Yash Chopra. Jab Tak Hai Jaan performed fair at the Box office and SRK was nominated for best actor in leading role.
6. Don 2 (2011)
Sequel of Don (2006), the movie revolves around Don (SRK). After conquering the underworld in Asia and Africa, he now aims to conquer Europe. However, there are some people planning to kill him. Don teams up Vardhan (Boman Irani), Sameer ( Kunal Kapoor) and Jabar ( Nawab Shah) to loot the currency printing plates of Deutsche Zentral Bank. He faces challenges posed by Inspector Malik ( Om Puri), Roma ( Priyanka Chopra) and their team. The movie revolves around Don's attempt to loot the bank.
Don 2 was critically acclaimed and SRK rocked the screen as Don. The movie did not receive a positive reaction from the Indian audience, but did well overseas.
7. Ra One (2011)
Shekhar (SRK) develops a game for his son, in which the villain has more powers than the hero. He names it RA ONE (Random Access Version One). Things take an ugly turn and the super villain comes out into the real world. He kills Shekhar and searches for Lucifer, the game name of Shekhar's son as the game did not end. The only way to get rid of RA ONE was G ONE, the hero of the game.
Ra One was the most expensive movie till 2016. Despite of the tag of 100 crores, it failed to impress the audience. It is considered as one of the major failures of SRK.
8. My Name Is Khan (2010)
Rizwaan Khan (SRK), a person with special abilities moves to America with his younger brother after the death of his mother. He meets Mandira(Kajol), a single mother and falls in love with her. They get married and everything goes well until the 9/11 incident. There is a hatred for Muslims across the country. In an accident, Mandira loses her son and blames Rizwan's religion for the loss. In a fit of anger, she asks Rizwan to go to the President of United States and tell him that we are not terrorists. This movie revolves around his journey to meet the President. Also, how he spreads love, friendship and brotherhood during his journey.
'SRK deserves an Oscar' - Paulo Coelho
No one else could have played Rizwaan Khan better than him. SRK won the best actor award for his role.
9. Rab Ne Bana Di Jodi (2009)
Surinder Sahni, a typical middle class man (SRK) marries Taani (Anushka Sharma) in critical circumstances. While Surinder falls in love with his wife, Taani is not happy with her marriage. To win his wife's heart, Surinder transforms himself into Raj, a stud who is a Jatt. They both team up for a dance competition. On one end, Suri keeps himself simple at his place, he spreads love as Raj. Gradually, Taani starts to fall for Raj, but soon realizes the importance of Suri. The story revolves around Suri trying to make Taani fall in love with him.
Rab Ne Bana Di Jodi was loved by the audience both in India and overseas. SRK portrayed the average middle class Indian man superbly and charmed as Raj.
10. Om Shanti Om (2007)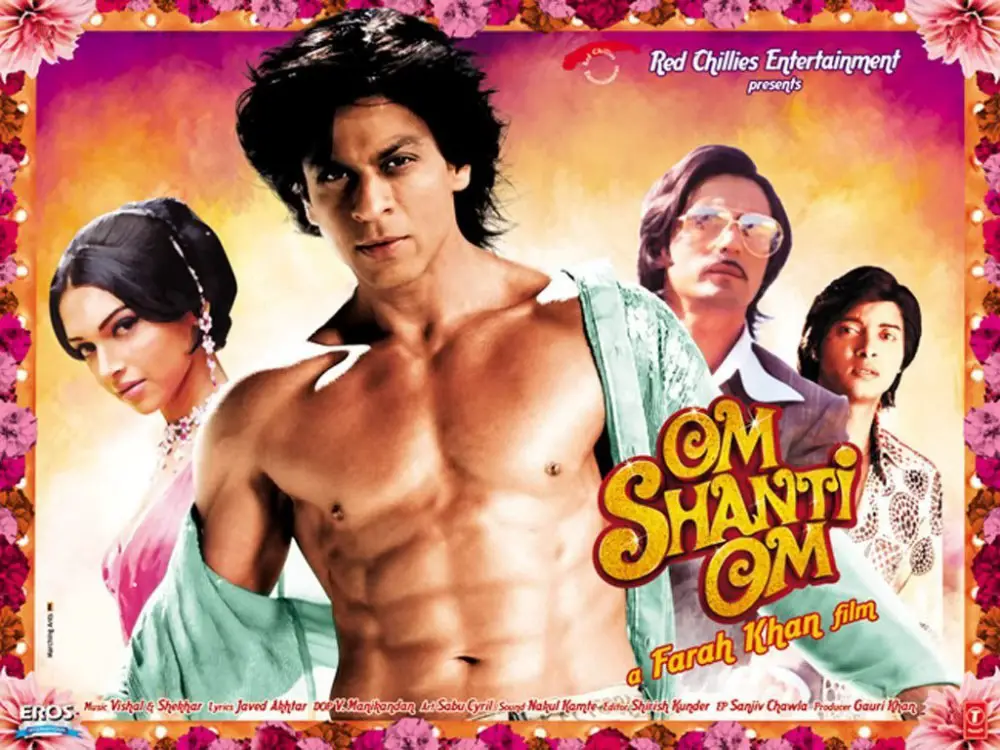 Om Prakash Makhija (SRK), a junior artist is in love with the superstar Shantipriya (Deepika Padukone). Destiny brings them closer and they become friends. Om continues to live in his dreamy world of marrying Shanti one day. Om dies on the sets while he tries to save Shanti. Thirty years later, he is reborn and sets out to avenge her death.
Om Shanti Om was the highest grosser of the year. This movie marked the debut of Deepika Padukone and was well received by the audience. The dialogues were awesome and still remembered.