The Nawab of Bollywood, is a well-known actor and king of expressions. His movies contain dialogues which are either way too funny or too serious, there is no middle ground. The dialogue delivery is fabulous and the expression given justifies his Nawab position. He gave some dialogues which we mostly use in our daily conversations. His movies are the one we watch with utmost attention as they are relatable. The level of acting shows his dedication level. The following are some of his famous dialogues:
1. Kya aap believe krte hai love at first sight mein.. ya main dobara ghoomke aaun? (Cocktail)
The movie was excellent and the plot was very realistic. It was about 3 friends and their love triangle. Here Saif was initially a kind of a playboy but then he falls for his friend in the most unexpected way. The above was the pickup line used by our hero to impress women he met.
2. Mard mein bahut dard paida kar deti hai tumhari smile ( Love Aaj Kal)
This was one line where he is partially flirting and partially serious about the girl. The line had mixed emotions which was justified as they both were drunk and drunk people mostly say the truth right? Here, he wanted to say the truth but was afraid of a serious relationship. The dialogue delivery was fabulous and the acting of being drunk was quite realistic.
3. Mujhe sirf imaandar logon se darr lagta hai (Race)
This movie had some thriller that we wanted to see from Saif. He totally did justice with the role. The above line was quite a tricky one and meant that he is afraid of honest people as they are too loyal and it would hurt to betray them. The dialogue was spoken with utmost seriousness that was required.
4. Badla jitna purana hota hai..utna hi khatarnak hota h (Race 2)
This movie too made us love Saif and we definitely wanted to see him doing thriller movies. The character here was in vengeance for his wife who was killed. The line has all the hint of revenge in it and made very clear how serious he was. The dialogue was perfectly delivered with on point facial expressions.
5. Pyar ka pehla kadam dosti hai, aur aakhri bhi..bas beech ke kadam reh gaye hain ( Kal Ho Na Ho)
This dialogue was said when he wanted to tell the lady that he loved her but just couldn't say it straight away. The dialogue was deep and contained a huge ocean of emotions in it. The expression of the Nawab was on point.. The movie was one of the most loved film and made most of cry too.
6. Mohabbat ki amanat bahut bhari hoti hai ( LOC Kargil)
This movie was one which made us feel proud being an Indian. The actor did a great job and made us actually feel the pain of the soldiers and their family members. The above line was deep as ocean. The line was said by Nawab to his fiancé when he was leaving for the war. He meant to say that she should not cry as the tears would make it difficult for him to leave. He had to do his duty and cannot let his heart come in between.
7. Kabhi Kabhi humari marzi, Allah ki marzi nahi hoti (Kurban)
This movie was one of the best thrillers where Saif had a negative role. The Nawab being expert did his part with utmost excellence. The above dialogue was said by Saif to his reel and real life wife Kareena Kapoor Khan. Here, Saif was a terrorist who used the girl to get the green ticket in United States but later started loving her. The line was said as she discovered his profession and was in shock.
8. It's my Tom Cruise look yaar ( Hum Tum)
Here, Saif being funny said this line when the character got new haircut which was not really acceptable, but to make it look good, he said these lines with utmost cuteness.
9. Intelligence aur performance, background ka mohtaj nahi hoti (Aarakshan)
This beautifully deep line was said by Nawab. The movie was an inspiration. Here, Nawab played the role of a brilliant student who wanted to help his teacher break the reservation rule. He said the lines meaning that intelligence and talent does not see caste which was quite appropriate.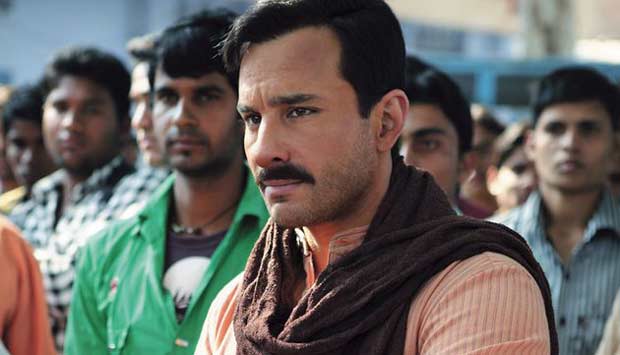 10. Ya to dosti gehri hai, yeh eh photo 3D hai. (Dil Chata Hai)
This dialogue gave us some serious friendship goals. The line above was said when Saif was tricked into arrange marriage thing. He was, intentionally, set up with a girl. The girl started small talk and her eyes fell on the photo frame. She picked up and saw picture of 3 friends. She said that the friendship seems strong, with a question mark. The reply of Nawab left us awestuck. He said the above line in response, defining his friendship to be eternal.