• Early life:-
1. When and where was Virat Kohli born? Where did he do his schooling from?
He was born on 5th November, 1988 in Delhi into a Punjabi family. He did his schooling from Vishal Bharti Public School.
• Support System:-
2. Who supported Kohli to pursue his passion for cricket, and encouraged him right from his childhood days?
Virat's dad, Prem Kohli a criminal lawyer by profession supported virat's game right from his childhood days.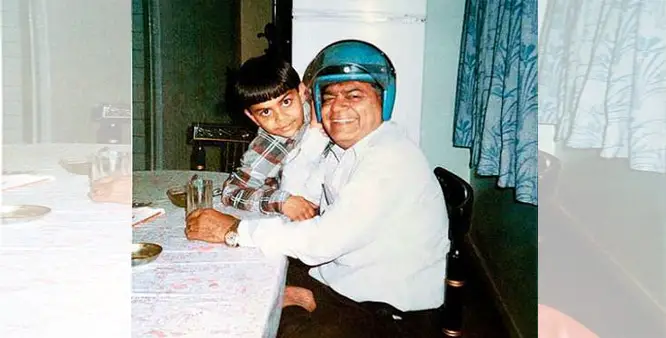 • Superstitious Beliefs:-
3. What are the things Virat wears as part of his superstitious cricket belief?
He is seen wearing black wrist bands, same pair of gloves, a religious black thread, and a kada on his right arm from the year 2012.
• Other Interests:-
4. Cricket has always been Virat's favorite sport but, which other sport does Virat love, and co-owns which team?
Virat loves football as it is his favorite sport after cricket. He co-owns Indian Super League Club FC Goa.
• Fitness Venture:-
5. In 2015, Virat invested into chains of gyms and fitness centers across the country. He jointly owns these with which agency? And what is the name of these gyms?
Launched under the name Chisel, Virat jointly owns these along with CSE (Cornerstone Sport and Entertainment ) Agency.
• Kids Fitness Initiative:-
6. To create awareness about fitness among young children and to fight obesity, Virat started a new venture under what name and partnership with whom?
Virat started the Stepathlon Kids, a children fitness venture in partnership with the Stepathlon Lifestyle.
• Endorsements:-
7. Winning million hearts all over the world, he's the face of many brands. As of 2018, in total, how many brands does Virat endorse and what are these?
Virat endorses 13 brands in total. These are Adidas, Audi, Boost, Colgate, Herbalife, MRF Tyres, Wrogn, Valvoline, American Tourister, Boost Energy Drinks, Manyavar, Tissot,and Vicks.
• Philanthropic Side:-
8. As part of his philanthropic side, Virat also supports a foundation. What is the name of his foundation and what does it mainly aim?
Known as Virat Kohli Foundation (VKF) this charity foundation aims at helping the under privileged and raising funds for charity.
• Listings and Popularity:-
9. In 2015, the Times list of "50 Most Desirable Men" Virat was ranked on which position?
Virat was ranked as 2nd among the most desirable men. He is often considered as Youth Icon.
• In the world of Atheletes:-
10. In 2014, a UK based sports magazine called "Sports Pro" placed Virat on which spot in the list of "Marketable Athlete In the world"?
Virat was ranked 2nd in the list of the most marketable athlete in the world, after Lewis Hamilton.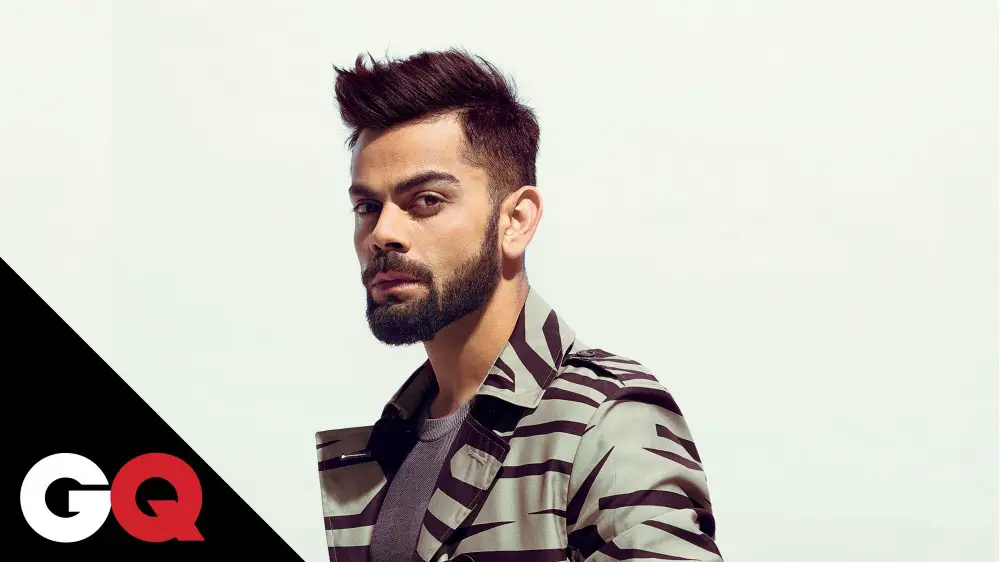 • Stepping into Fashion Industry:-
11. In November 2014, Virat launched a new fashion brand. What is the name of this universal brand and who is in collaboration with him in this?
Virat Kohli and Anjana Reddy's Universal Sportsbiz (USPL) collaborated together and thus launched the new universal fashion brand called "WROGN" This was introduced to bring in men's casual wear, and later tied up with Myntra and Shopper's Stop.
• Accolades and Appreciation:-
12. Which former Australian cricketer once said Virat was "New King of World Cricket"?
Dean Jones, once commented on Virat's commendable cricket style and thus said he is the 'New King of World Cricket.'
• Love Life:-
13. Who is Virat Kohli in love with?
Virat Kohli recently married the famous Bollywood actress Anushka Sharma in Italy.
• Awards:-
13. For his exemplary cricket performance, he has won many accolades. Name some of the awards he's been awarded with.
- CEAT International Cricketer of the Year 2011-2012; 2013-2014
- Arjuna Award 2013
- ICC ODI Player of the Year 2012, 2017
- Polly Umrigar Award for international cricketer of the year 2011-12, 2014 - 15, 2015 - 16, 2016-17, 2017- 18
- Padma Shri 2017
- Wisden Leading Cricketer in the World 2016, 2017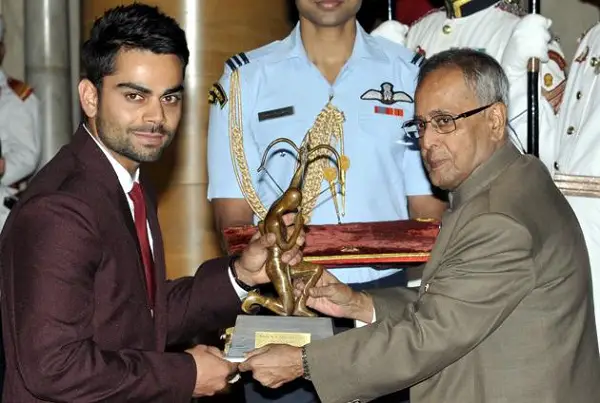 • Indian Premier League:-
14. Among the listings of famous athletes according to ESPN, which position does he hold? Which team does he play for in the Indian Premier League?
Virat is ranked 8th in the list of the famous athletes according to ESPN rankings. Virat plays for Royal Challengers Bangalore,being the teams captain since 2013.