1. Shah Rukh Khan Shah Rukh Khan or also known as SRK is a prominent >> Read More... - Mannat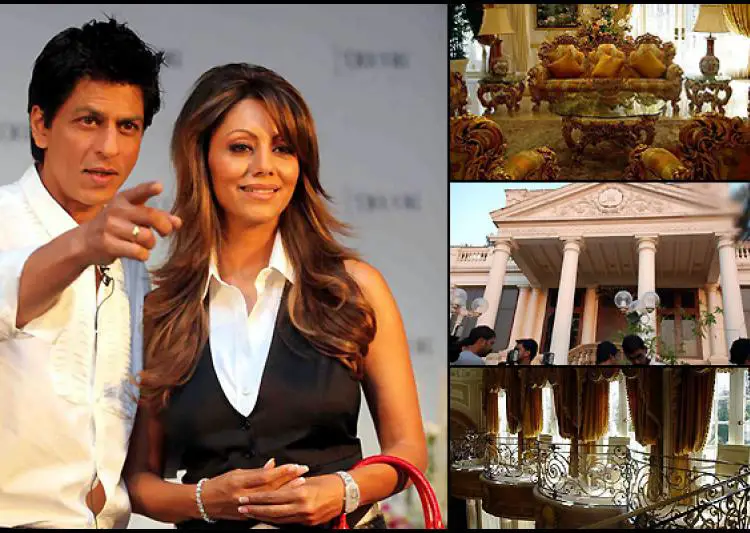 Mannat had to be on the top of our list. HAD TO! Mannat means a wish. Shah Rukh Khan's beautiful bungalow is in Bandra which he bought in 2001. He lives there with his entire family – SRK, Gauri Khan Born on Ocotber 8 1970, Gauri Khan (originally kno >> Read More... , Aryan Khan Aryan Khan is the first child of the King of Roman >> Read More... , Suhana Khan Daughter of the Bollywood Badshah (Shah Rukh Khan) >> Read More... and AbRam Khan, and Shehnaaz, his sister. Mannat is truly a dream. It is like a hotel with everything in it. Shah Rukh literally does not need to step out of his house. He has all sorts of commodities and comforts in there. His wife, Gauri, who is an interior designer by profession, designed the interiors of their home. The interiors have soothing and subtle, earthly colors and a royal touch to the furniture. King Khan really lives in a palace. The house has a gym, a swimming pool, a library, sports room and of course, a fabulous bar.
...
2. - Prateeksha
...
The Bachchan's own five houses in Mumbai itself. Though the family lives in Jalsa now, Prateeksha was Amitabh's first home. That is where his kids grew up. The house is well-liked for its massive gardens and greenery. The house is massive and has magnificent interiors. Jalsa, however, is more trendy and classic. It is where the family lives now. It is worth 160 crores and has an area of about 10,000 square feet. Huge! The location of the house is Juhu. Obviously. The family also owns the bungalow just behind Jalsa.
...
3. Salman Khan Salman Khan is a very famous Indian actor and a pr >> Read More... - Galaxy Apartments
All of us love our homes. However, Salman seems to be way too attached to his family abode since he hasn't shifted to anywhere in the last forty years. Salman might not marry, but that does not keep him from big a family guy. The house is shared by his extended family and everyone lives together. Salman's house is a typical example of a big fat Indian joint family. The house is in Bandra near his frenemy, Shah Rukh's, house. Wonderful neighbours, aren't they? However, there are rumors that Salman might finally shift to a new house due to lack of space for his clothes and accessories in Galaxy Apartments. Understandable right?.
...
4. Aamir Khan Aamir Khan or Mohammed Aamir Hussain Khan is Bolly >> Read More... - Freeda Apartments
...
Aamir owns a flat in the Freeda Apartments. He initially rented the place while his previous house was undergoing renovations. However, after a few months, the actor bought the beautiful sea-facing property for about 60 crores. The rumors said he paid 10 lakhs per month as the rent. The house has an area of around 5,000 square feet and the interiors are a mixture of Asian and European style. The design of the house shows a lot of love and taste which makes it a home. Aamir lives here with his wife, Kiran Rao She is an Indian film producer, screen writer and >> Read More... and son, Azad.
...
5.
...
Akshay Kumar's house is well-known to everybody- even those who haven't seen it. The house apparently goes long back with Akshay. As a young struggler, Akshay had a photo shoot before he got signed for his first movie. Everybody knows that Akshay did a lot of jobs to earn a living. This property, which Akshay now owns, is the same house which Akshay chose as the backdrop for his photos back then. He was, however, shooed away from there at that time as he was an intruder. On achieving the fame and required money, Khiladi bought the house and changed it into his dream home where he lives with his family. Aw, that's quite touching.
6. Hrithik Roshan Hrithik Roshan with his unimaginable dance moves i >> Read More...
One of the most expensive properties in Mumbai, the El Palazzo in Juhu belongs to none other than our astounding dancer, Hrithik Roshan. It is a huge duplex-house with all the comforts. Hrithik used to live there with his ex-wife, who was an interior designer. The house is thus, designed by her. Knowing Hrithik for so long, it made his task easier as Susanne knew precisely what to do, where to do and how to do. The design of the house is as per Hrithik's tastes and choices. It is not very cluttered and has soft colors- mainly white and shades of off-white. The house has a very peaceful feeling to it and a lovely aura.
7. John Abraham Like some of our sexy stars, John Abraham has had >> Read More...
John lives in Bandra West in a bungalow with an area of nearly 4,000 square feet. It is a duplex penthouse. The credits for designing the house go to the men of the family- John, his father, and his brother. The men have quite a taste and style. The property is breathtaking. The house has an open structure with no walls inside. It is unique and classy. An elegant staircase joins the two floors. Everything is perfect about the place, including the view. An eye-pleasing and soothing view of the Arabian Sea is clearly visible from the house. Quite a view to wake up to!
8. Farhan Akhtar One of the most recognized young director of India >> Read More...
The actor, producer, director, singer, etc- the multi-talented man- lives in a 10,000 square feet big villa called Vipassana. The house was close to his mother's apartment, and he bought it in 2009. It is of course in the most posh area, Bandra. The actor took a lot of pains to convert the house into a home and now lives in it with his family.
9. Ranbir Kapoor Ranbir Kapoor is a noted Indian film actor. He was >> Read More... - Krishna Raj Krishna Raj is a music director in the Indian film >> Read More...
is the ancestral home of the family unit. Ranbir lives here with his parents- mother, Neetu Singh TV actress Neetu Singh is a popular face on Indian >> Read More... and father, Rishi Kapoor Rishi Kapoor is an actor born in the prominent Kap >> Read More... . The actor owns several houses in Mumbai; however, Krishna Raj is in Pali Hills. It is a well-known fact that Rishi Kapoor bought the house from a scientist, Homi Sethna. The bungalow is named Krishna Raj in the memory of Rishi Kapoor's parents. His mother's name was Krishna Kapoor and father was Raj Kapoor Raj Kapoor was a renowned actor, director, and pro >> Read More... . The area, Pali hills is as posh as Malabar Hills.
10. Kareena Kapoor Khan Kareena Kapoor is a super hit actress working in I >> Read More... and
The married couple lives at Fortune Heights in Bandra West. The couple owns a flat on the tenth floor, and Saif has an office on the second floor of the building. Chhote Nawab actually owns a lot of houses. Ibrahim Kothi near Gurgaon is owned by the family and several other huge properties in Bhopal as well. The couple got married in the same place, i.e., Fortune Heights. There are rumors that Saif also purchased four other flats in a building opposite to Fortune Heights only because "he likes to live in spacious surrounding". Bade log badi baatein.
11. Deepika Padukone Deepika Padukone is an Indian actress and model. S >> Read More...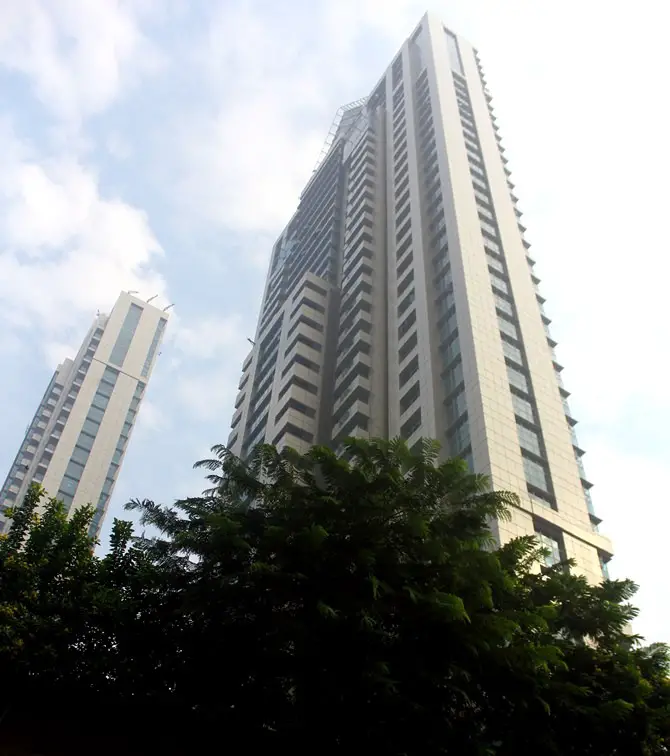 Deepika owns a house in the Beau Monde Towers. Earlier she also had a bungalow on Pali Hill, Bandra. Her apartment in Beau Monde Towers has four bedrooms and a terrace. It has a tennis court as well as a badminton court and three parking lots (That's a lot!). The interiors of her house are a mixture of Indian and western elements giving it a classy and stylish look. The house was rumored to be a gift from Siddhartha Mallya. However, Deepika made it very clear that she did not need a man to support her and was a tough and independent woman. Sexy too.
12. Priyanka Chopra Born on 18 July 1982, Priyanka Chopra is an establ >> Read More...
PeeCee lives in Versova in Mumbai. She lives on the sixth floor of the Raj Classics and has five flats out of which three are merged to make one big flat. Susanne Khan, her very good friend did the interiors of her house. Priyanka had personal reasons for buying the house. Her mother lives in the same building. Apparently, her ex-boyfriend, Shahid Kapoor Shahid Kapoor also identifies as the name Shahid K >> Read More... also lives in the Raj Classics. Awkward much?
13. Arjun Kapoor Arjun Kapoor is a Bollywood star. He was born on 2 >> Read More...
Arjun's house is one of the prettiest bachelor's abode you'll ever come across. His humble abode is in Juhu, Mumbai. His mother designed the place for him and thus it is wonderful and aesthetically appealing. He has paintings, collected by his mother, hanging on the walls, a big bookshelf (more like a library) and all other modern necessities and comforts. It is a place decorated with a lot of effort, thought and love.
14. Anil Kapoor Anil Kapoor was born on 24th December 1956 in Mumb >> Read More... and Sonam Kapoor Sonam Kapoor, Daughter of Anil Kapoor and model Su >> Read More...
Sonam Kapoor lives with her family in a bungalow in Juhu. It is a beautiful house perfectly designed with a lovely mixture of elegance and comfort. The owner of the house is Anil Kapoor. Sonam's entire family- mother, Sunita, father, Anil Kapoor, and siblings, Rhea Kapoor Rhea Kapoor is an Indian Film producer in Bollywoo >> Read More... and Harshvardhan Kapoor Harshvardhan Kapoor is the youngest son of famous >> Read More... - everybody lives in the same house.
15. Hema Malini Hema Malini is perhaps the only dream girl of the >> Read More...
Hema Malini owns a bungalow in Juhu in the heart of Mumbai. Her house is gorgeous and is surrounded by lush greenery. Hema got her place designed by the very talented architects from ZZ Architects. Their creativity and style add a vibrant touch to the heroine's home. Everybody's Dream Girl Dream Girl is a drama based Indian show that runs >> Read More... lives in her own dream house.
16. Shilpa Shetty A model turned actress, producer, entrepreneur and >> Read More...
The actress resides in Raj Palace in Saint George Hill with her husband. The couple is famous for their stunning taste in homes and apartments. Raj Palace is one the poshest and lavish bungalows with all the comforts and amenities. It is rumored to cost around 100 crores. Gosh!
17. Sanjay Dutt July 29, 1959, was the day when the two legends of >> Read More...
Sanjay Dutt owns an apartment on the ground floor of Imperial Heights in Pali Hill where he lives with his wife, Manyata Dutt Manyata Dutt was born on July 22nd 1979, in Mumbai >> Read More... and his twin babies.
18. Sonakshi Sinha Sonakshi Sinha is a well-known Indian Actress. She >> Read More...
Sonakshi lives with her parents and her brother in her house in Ramayan in Juhu. The house has gorgeous interiors in subtle shades and has a very homely feel to it.
19. Rajesh Khanna Born as Jatin Khanna on 29th December 1942, the ch >> Read More...
A dazzling bungalow in Mumbai, Rajesh Khanna's house was a worth-seeing property. It was on Carter Road. After Khanna's death, the house became a part of many controversies when Anita Advani Anita Advani was born in the year 1964 and she is >> Read More... claimed rights over it. The house is worth 100 crores. Rajesh's family sold it to a business. The property is now under construction.
20. Madhuri Dixit Madhuri Dixit is not just known as the also a smil >> Read More...
Madhuri had a house in Juhu in Mumbai before she went to Denver after getting married to husband, Dr. Nene. Her Juhu home is in Vijaydeep Apartment of Iris Park. It had lovely interiors. After shifting to Denver, Madhuri visited the place once in a while when she came to India. Now that she is back, she is looking for a bigger property.