Bollywood is known for its fashion sense and its involvement to set trends. Sometimes we tend to look at a celebrity and not realize that they actually wearing their heart on their tee. Mostly because of the media pressure, they can't say some things, but they can surely wear what they want to say. We today look at 10 such celebrity attire which has some hidden meanings around them.
1. Anushka Sharma Born in an army family to Col. Ajay Kumar and Ashi >> Read More...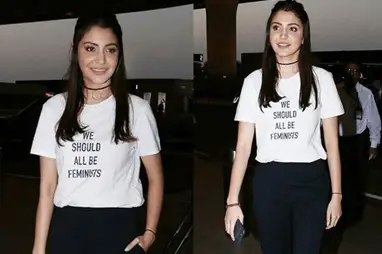 On Women's Day, Anushka was spotted wearing this quirky T-Shirt. She made her point very clear about how she feels about the over-hyped word "Feminism." 2.
2. Aamir Khan Aamir Khan or Mohammed Aamir Hussain Khan is Bolly >> Read More...
The Khan was spotted wearing this T-Shirt, appealing to release Gogo, the villain of his long time back release Andaz Apna Apna Click to look into! >> Read More... .
3. Alia Bhatt Alia Bhatt is a trendsetting actress from Mumbai, >> Read More...
The Junior is a proud Feminist and she doesn't shy away from saying that out and loud. She spotted pulling this cool T-Shirt off some times ago.
4. Jacqueline Fernandez Jacqueline Fernandez is one of the top actresses i >> Read More...
Who said actresses are dumb and can't make a point? Jacqueline in her cool avatar let her tees do the talking.
5. Arjun Kapoor Arjun Kapoor is a Bollywood star. He was born on 2 >> Read More...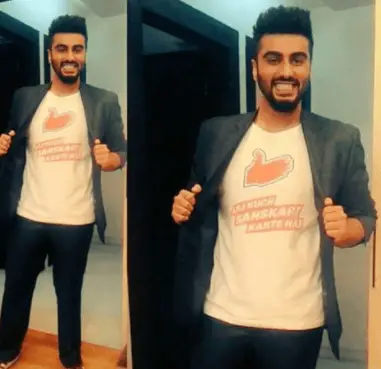 After his appearance in the controversial roast, Arjun Kapoor was spotted pulling off this tee. His grin says it all what he would have felt that time. Kapoor was part of the AIB Roast alongside Ranveer Singh Ranveer Singh Bhavnani is an Indian movie actor wh >> Read More... and Karan Johar Karan Johar is one among the top ten celebrities i >> Read More... .
6. Kangana Ranaut National award winner Kangana Ranaut... >> Read More...
Kangana is often known for her witty liners and her guts to speak the truth of your face. And indeed we feel she is too cool for everything. She was latest in the news for her comments about Nepotism on the show, Koffee With Karan.
7. Varun Dhawan Varun Dhawan, a new comer entered Bollywood with h >> Read More...
Urging the voters to exercise their voting rights, Dhawan was spotted wearing this quirky tee, telling Mumbaikar to vote. Varun's latest flick Badrinath Ki Dhulaniya has been highly appreciated by the audience.
8. Ranveer Singh
The ever so energetic and high on life actor Ranveer Singh is famous for his weird fashion sense. The Bajirao of Bollywood was spotted wearing this tee saying 'Sexy.' And we can't disagree with him.
9. Ayushmann Khurrana This Vicky donor worked as radio jockey, Video joc >> Read More...
Ayushmaan is no doubt wearing the heart of every Indian youngster. His T-Shirt means that though my pocket is empty, but I have unlimited love to give. Khurana was last seen in the hit film, Dum Laga Ke Haisha.
10. Richa Chaddha
The Bholi Punjaban was spotted wearing this tee promoting her flick Fukrey. The movie was a big hit and Richa's character was also appreciated a lot.