The week has finally come to an end and most of us are looking for an escape. It could be anything, from a weekend gateway to staying at home under the sheets binge watching your favorite TV show. Belonging to the latter category might sound boring, but the plethora of TV shows available nowadays makes it interesting.
To make things easy for the lazy ones we present you our list of TV shows to binge watch this weekend.
1.
...
The Viral Fever popularly known as TVF is proudly India's first digital entertainment channel. Permanent Roommates, one of its series revolves around a young couple, facing the prospect of getting married after three years of relationship. They must learn to face each other every day, and overcome the hardships of being permanent roommates.
2. 'Fargo'
...
Although it starts off by saying that the events are true, but that's not the case. It is added to make the viewers believe in the story. Fargo is an American Black comedy drama with 98% rating on Rotten Tomatoes. Every season is different which makes it a perfect series to binge watch during the weekend.
...
3. Jane the Virgin
Inspired by telenovela, this drama series is out of the world. You will get hooked to your screens and probably will skip meals. So, it's better to keep some food on your bedside including popcorn. It revolves around a young virgin girl who accidentally gets inseminated by her former crush. Trust us and watch this show!
...
4. Bang Baaja Baaraat Click to look into! >> Read More...
...
This series is so realistic that you have to watch it before you get married. A couple who met on a social networking site wants to get married after a few months of dating. They belong to different backgrounds and social strata. It's a hurricane when their parents meet and start deciding on the wedding. Love, drama, comedy, this series has everything.
5. Black Mirror The black mirror is popular sci-fi anthology serie >> Read More...
...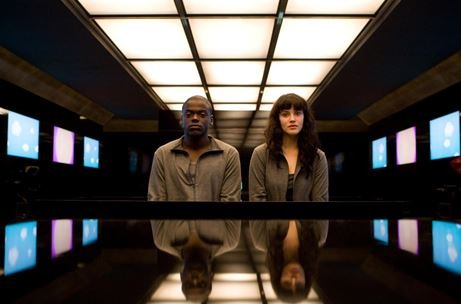 The only British series on our list, it is dark and makes you question the reality. Created by Charlie Brooker, it takes satirical themes and examines the consequences of technology. With only few episodes in each season, you won't be able to stop yourself. It has received raving reviews from all around the world and is a must watch.
...
6. Impractical Jokers Impractical Jokers is an American-language televis >> Read More...
Created by four high-school friends who do all sort of stupid things on the camera, this show is a laugh riot. It airs on Comedy Central and will make your stomach ache. If you're feeling worked up or gloomy after a long weekday, this is the perfect medicine to cheer you up.
7. Stranger Things Stranger Things is a popular science fiction horro >> Read More...
An American horror science-fiction series, it is relatively new than the ones mentioned here. Netflix it and you'll end up watching it throughout the weekend. The supernatural things that uncover after a boy vanishes from the town will make you fall in love with it.
8.
How can we leave out our beloved Sarabhai Vs Sarabhai from this list? It has been several years since the show ended but the jokes still leave us in splits. It came as a breath of fresh air from the typical saas-bahu serials of Indian television, and was welcomed with applause from the youth.
9. The Mindy Project
What happens when a self-absorbed Indian girl falls in love with every guy she meets? Well, we won't spoil the series for you, watch it and find out. It is critically acclaimed and will make you forget the reality as you begin to live Mindy's life.
10. F.A.T.H.E.R.S
Another TVF series, it shows three fathers who are trying to catch up with the young generation. It makes you roll on the bed laughing and their confused faces remind you of your parents. Go ahead, and take a peek into their lives.