There is no iota of doubt that James Bond, regarding literature and movies, is one of the most renowned and somewhat sustaining spies. Here then, of late, there are many competitors to this renowned spy in the form of The Man from U.N.C.L.E, Mission: Impossible, etc. So it's high time that the franchise digs at his formula and hence make a great James Bond movie in the future. 
The James Bond franchise has been churning James Bond movies for the past 53 years, and there was only a small gap between the next releases. But if we get to see the same star again and again (in this context Daniel Craig Daniel Wroughton Craig, born on 2nd March 1968, is >> Read More... ) for many years the audience would surely be tired and would expect more.
The ardent James Bond fan would be familiar with the good dressing (in suit), captivating and adept British spy/assassin. And they would only be raving to see their literary character to be the best on screen. We all loved James Bond with the entire enigma shrouding his mystery; of late when the movies tried to show him as an orphan it perhaps didn't go well with the audience. After all, there is some charm in mystery right?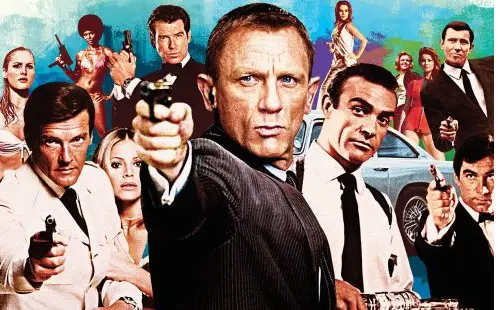 James Bond is always known to be a spy who has the innate ability to handle baddies single-handedly and venturing through dangerous locations. He had a world-saving mission, accepted, but if you had noticed his latest ventures, he had been quite lackadaisical and had performed certain stunts that could have cost his life. 
...

James Bond films have always managed to create hype before and after their release. And undoubtedly the question as to who is the next James Bond created a buzz among the audience. Is it the likes of , or Roger Moore Roger Moore is a prominent English actor, who beca >> Read More... or the negative shades of Daniel Craig and Timothy Dalton Timothy Dalton is professionally an actor. He took >> Read More...
If you peep into the James Bonds flicks you will realize that even the seemingly bad actors have not done so bad. But what makes the analysis more interesting is that expectations are more when one really does a neat job. For example to fit into the shoes of the ace actor Sean Connery is something challenging.
As per reports the Bond series has earned over $13 billion, which is a higher figure than any other movie franchise in history. But the million dollar question for the producers Michael G Wilman and Barbara Broccoli Barbara Dana Broccoli is an American film producer >> Read More... will always be how to make him contemporary without sacrificing on the essence. A tad more change or less change will only create problems. Hence, there should be the balancing act.
Bond films are always known for their title songs and it is generally sung by a reputed artist. Then there are the flirtings, the martinis and most importantly the name Bond, James Bond. The women in Bond's films have no value for love whatsoever, and Bond has been bitten by love only twice in his films. And there are the villains of Bond films who are on their dominating spree. 
The Bonds have excelled in their roles in their periods. Well, here's a peep into our favorite Bonds. 
The sixties were the heydays of Sean Connery as  James Bond,
...
Roger Moore belongs to the era of 70s
...
Timothy Dalton took charge of the 80s
...
...
Pierce Brosnan embraced the 90s,
...
Daniel Craig for the past one decade.
...
and  George Lazenby George Robert Lazenby is an Australian born actor >> Read More... had also worked as Bond (for only one flick)
Bond is nowadays not shown just as a comic figure jumped out of the book, but he also has profoundness in him. This can be seen in Spectre. 
Well, something in a light-hearted vein. Monicca Belucci is in her 50 now, and she is the oldest girlfriend of Bond in the series' history. Also, she is four years elder to Daniel Craig. It is learnt that she was virtually amused when she asked to share screen space with Daniel Craig. But again, though she had only less screen space in Spectre, her mesmerizing presence was enough to woo the audience.
James Bond was first seen in celluloid in the US TV show Climax with American artist Barry Nelson enacting the role of Jimmy Bond. This was during the year 1954. Later Ian Fleming, who was keen on making his hero's presence felt on the big screen, started endeavoring on a story that was tentatively titled James Bond: Secret Agent. And the rest is history with Peter Finch playing the effervescent Bond role in Network. Later Roger Moore was approached for the role but he was dropped due to his young age. But again it should be noted that he was two years elder to Sean Connery. Later, Connery was zeroed in for the role, and he went on to do five films (Connery is still considered to be favorite by many). Eventually, Connery left the Bond franchise and few other stars were considered, but some declined with the apprehension that donning the role of Connery is indeed a challenging one. Then George Lazenby donned the role of James Bond and in spite of being offered seven films he didn't sustain. After that, Roger Moore went on to do Bond films after many stars were considered.
Well, killing more than 360 people, the Bond figure is indeed a force to reckon with. But again, in the current scenario, as you see Bond, the reason for him traversing to places was mostly associated with the establishment of Hollywood movies in Indian roots rather than the real necessity for him doing so. 
After working on 4 Bond films, Brosnan quit the role. Clive Owen Clive Owen is a famous English actor born in Keres >> Read More... was hyped to follow his steps, but that didn't fructify. Amidst various searches, the plump role was bagged by Daniel Craig
Though the character of Bond had been centering in sex appeal, it has seen a considerable change in the past few years. 
Well, it's 53 years since the James Bond franchise started reeling movies on James Bond. And now Spectre has hit the screens, and it tried very hard to better the previous versions of the franchise. It has the shades of Quantum of Solace, Casino Royale, and Skyfall. Daniel Craig has been donning the role of James Bond for over a decade, and he too managed to mesmerize his fans to a considerable degree. With Daniel Craig apparently calling it quits from the Bond franchise speculations are rife as to who will be the next Bond.
Now the question is: Is the relevance of  Bond films still in need in this modern day? Going forward, in what action will the powerful spy indulge himself? Only time will answer….