Rayalaseema is often related to Factionism. Factionalism was also well portrayed in movies. But Rayalaseema has got more to it than Factionism. Rayalaseema is about Respect and Principles. It's about families. It is also about Aggression and Revenge. Several movies often use these aspects to make movies with Rayalaseema Backdrop. Here are some movies which have Rayalaseema Backdrop.
Maryada Ramanna is a 2010 film directed by SS Rajamouli. This Action-comedy drama revolves around the life of Ramu, who goes to his village in the Rayalaseema region to sell a piece of land. On the train, he falls in love with a girl and goes to her house as she belongs to the same village. Later Ramu finds out that the girl's parents want him dead due to revenge and a backstory with Ramu's parents. The movie became a massive blockbuster and a good watch for people who enjoy family dramas.
2. Aravinda Sametha Veera Raghava
Aravinda Sametha Veera Raghava is a 2018 action drama directed by Trivikram Srinivas Trivikram Srinivas, a Telugu director and writer, >> Read More... . The movie has Jr NTR and Rakul Preet Singh Rakul Preet Singh is a famous Indian model working >> Read More... in lead roles. It is a story about a young man who wants to avenge his father's death and meets and falls in love with a girl who helps him to rediscover himself. He realizes revenge is not what he wants. The movie became a massive blockbuster and had Rayalaseema as a backdrop.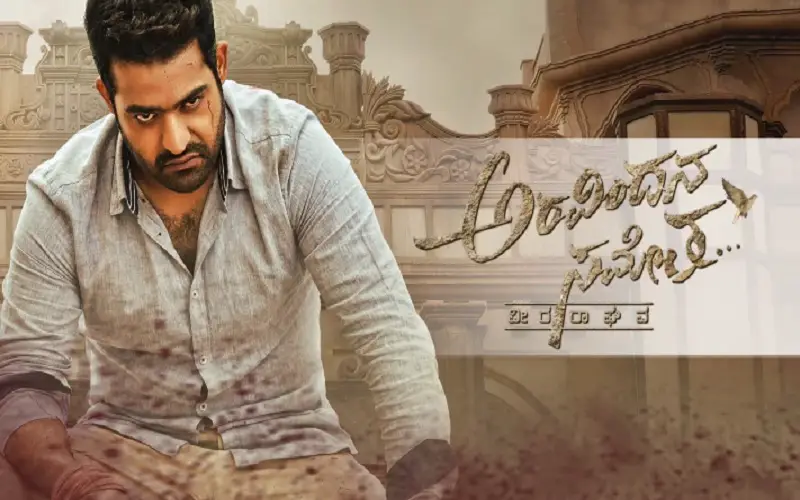 3. Okkadu
The 2003 blockbuster Okkadu a sports action drama directed by Gunasekhar, was a massive success in Mahesh Babu's career. The film follows the story of a Kabbadi player who helps a young girl escape from a notorious gangster. Set in the Kurnool district, the movie has a Rayalaseema backdrop. 
...
4. Pushpa
The recent blockbuster Pushpa also has a Rayalaseema backdrop, as the film happens in the Chittoor district. The entire movie follows the Chittoor dialect. Sukumar directed Pushpa and has Allu Arjun The actor was born to producer Allu Arvind and Nir >> Read More... and Rashmika Mandanna Rashmika became born in Virajpet, a metropolis in >> Read More... in lead roles. It was the story of a man raised in red sandalwood smuggling. The movie also has part 2 coming up.
...
5. Krishnarjuna Yudham
Krishnarjuna Yudham is a story of two lookalikes from different places who must work together after the girls they loved got kidnapped. This movie has the character Krishna, whose story has the Rayalaseema backdrop, whereas Arjun lives abroad. The song "Daari Choodu" and Krishna's dialect resemble the Rayalaseema region. 
...
Gaddalakonda Ganesh is a 2019 Haris Shankar directorial action drama. It has Varun Tej Varun was born on 19th January 1990 in Hyderabad, >> Read More... in the lead role. The movie is about a young aspiring filmmaker who wants to direct a film about a gangster, and he chooses Gaddalakonda Ganesh, a real-life gangster, as his subject and starts learning about him and making a movie. The movie was a critical success, with the audience also accepting it.
...
Balakrishna and Rayalaseema backdrop is the best combination one can ask for. One movie with such a combination is Samarasimha Reddy, released in 1999. B. Gopal directed the movie, and Vijayendra Prasad wrote the script. This movie was the story of Samarasimha Reddy, who killed an innocent man named Vasu while trying to avenge his family's murder. But to make amends, he helps the kin of Vasu while acting as their brother. Samarasimha Reddy was a massive success in Balakrishna's career.

8. Chennakesava Reddy
Another movie from the Balakrishna and Rayalaseema combination is Chennakesava Reddy. To make this better, VV Vinayak has joined the combo by directing this movie. This 2002 Action drama is a massive blockbuster in Balakrishna's career. It was a story about an oppressive warlord who wanted to control and dominate the area. But his lookalike ends with his demonic rule and frees the villagers from him. 
...
9. Indra
The 2002 action drama starring Megastar Chiranjeevi in the lead role also has a Rayalaseema backdrop. It is the story between two villages and the stories of two rival families. Both the villages fight for the water. To solve the issues between both the villages, Indra marries the daughter of the rival's family.
...
10. Jayam Manadera
Jayam Manadera is also a Rayalaseema backdrop Action movie released in 2000 with Venkatesh in the lead role. It was when Abhiram fells in love with Uma in London after she participated in a contest. Later, Abhiram comes to India to meet Uma in her village. There a gang starts to attack them but was saved by a person named Bhavani, who takes them to their hideout and explains the backstory that Abhiram is the son of Mahadev Naidu, who was the savior of Dalits and oppressed people of Karamchedu.