There is no doubt that we take cinema very seriously because it is a vital aspect of our lives. The Telugu film business, or Tollywood, contributes a fair amount of films to the country's overall movie output in the language-based Indian film industry. Telugu movies provide three hours of Paisavasool enjoyment and occasionally even change your view on life because they are packed with all the essential components including drama, music, action, and elegance.Telugu movies have recently received critical praise in addition to making a lot of money at the box office, thanks to works like "Baahubali" and "Mahanati," which have raised the bar for Tollywood and Indian cinema on a global scale. The top 10 Telugu movies are mentioned below:
1. RRR
A story of two illustrious rebels who travelled far from home. After their adventure, they return home and begin their 1920s retaliation against British colonialists. S. S. Rajamouli is the director of this sweeping action drama movie. NT Rama Rao Jr., Ram Charan Ram Charan is a famous Tollywood actor and an entr >> Read More... , Ajay Devgan Ajay Devgn is an Indian film actor. He is perhaps >> Read More... , and Alia Bhatt Alia Bhatt is a trendsetting actress from Mumbai, >> Read More... play the leading parts.
...
2. Bahubali: The Beginning
S. S. Rajamouli is the director of the 2015 Indian epic action movie Bahubali: The Beginning. Shivudu falls in love with a young warrior woman in the Mahishmati kingdom. He discovers his true legacy and his family's turbulent background while attempting to win her over. Prabhas, Rana Daggubati Rana Daggubati is a famous Indian actor. He was bo >> Read More... , Anushka Shetty Anushka Shetty is the popular South Indian star wh >> Read More... , Tamannaah, Ramya Krishna, Sathyaraj, and Nassar are among the ensemble cast members in the movie.
3. Bahubali 2: The Conclusion 
S. S. Rajamouli is the director of the 2017 Indian epic action movie Baahubali 2: The Conclusion. Mahendra Baahubali gathers an army to battle Bhallaladeva and free his mother from the latter's hold after discovering that his father had been cruelly murdered by the latter. An ensemble cast comprising Prabhas, Rana Daggubati, Anushka Shetty, and Tamannaah is featured in the movie.
...
4. Mahanati
The 2018 Telugu-language biographical drama film Mahanati is based on the life of Savitri, an actress. Nag Ashwin Nag Ashwin is a director/assistant director/ produ >> Read More... is the film's writer and director. The most beloved South Indian actress, Savitri, experiences several unfortunate events in her personal life. She develops alcoholism as a result of her inability to deal with her depression. The film's leading lady is Keerthy Suresh Keerthy is the daughter of yesteryear actress Mena >> Read More... .
...
5. Ghazi
The Tollywood war film Ghazi, commonly referred to as The Ghazi Attack Click to look into! >> Read More... , was directed by Sankalp Reddy Sankalp Reddy is a Telugu film Director, and write >> Read More... . Taapsee Pannu Taapsee Pannu is an actress and model of Indian or >> Read More... , Kay Kay Menon Kay Kay Menon or K.K. Menon or Krishan Kumar Menon >> Read More... , and Rana Daggubati all play the main characters in this film. The film was first made available on February 17, 2017. based on the puzzling PNS Ghazi sinking that occurred in 1971 during the Indo-Pakistani War.
...
6. Jersey 
Gowtam Tinnanuri Gautam tinnanuri is an Indian film director and sc >> Read More... wrote and directed Jersey, a sports drama movie in Indian Telugu. In his late 30s, a gifted but unsuccessful cricketer makes the decision to pick up the sport again out of a desire to represent the Indian cricket team and grant his son's wish for a jersey. In the movie, Nani plays the prominent character of Arjun.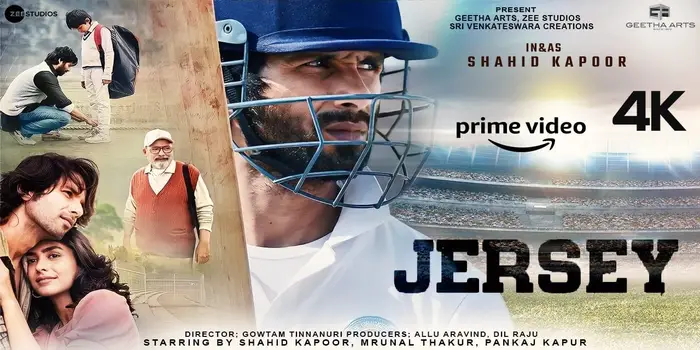 ...
7. Awe!
Prasanth Varma Prasanth Varma is an Indian director who has worke >> Read More... is the writer and director of the 2018 Telugu-language psychological cross-genre film Awe. Six individuals, who are dealing with diverse problems in their lives, find themselves in the same restaurant where a momentous event occurs. A lead part is played by Kajal Aggarwal Kajal Aggarwal is a modern Indian model and film a >> Read More... .
...
Young surgeon Arjun Reddy Deshmukh has a raging temper and a functional drinking. When he finds that his sweetheart is getting married to someone else, he goes into a self-destructive spiral. Sandeep Reddy Vanga is the writer and director of this love drama movie. Vijay Deverakonda Vijay Deverakonda is a film actor of Tollywood. He >> Read More... plays the lead role.
...
9. Rangasthalam
A young guy with hearing loss and his older brother make the decision to rebel against Phanindra, the despotic head of their village's local government, and his dictatorial control. The movie is an action drama. Sukumar wrote and directed the movie. The main character is Ram Charan.
10. Dhruva
Surender Reddy Surender Reddy is a movie director in Tollywood wh >> Read More... is the director of the 2016 Indian Telugu action thriller movie Dhruva. An organised crime network is found by IPS officer Dhruva. Then, he sets out to capture the mastermind of a significant fraud and faces several obstacles on his path. Ram Charan, Arvind Swamy Arvind Swamy is one of the finest actors from Indi >> Read More... , Rakul Preet Singh Rakul Preet Singh is a famous Indian model working >> Read More... , and Navdeep all play the leading parts.