Women on screen are often reduced as plots to develop the character of a male protagonist, as a love interest, or in song sequences. Still, one cannot deny the strong women characters that Telugu film industry has given us over time. From ambitious and caree- oriented women to women in positions of power, these fictitious characters serve as role models to many women. Therefore, here's a list of ten strong, inspiring women characters in Telugu cinema. 
1. Sivagami – Bahubali
Sivagami is one of the most well-known characters in Indian cinema. Baahubali: The Beginning introduced Ramya Krishna as Sivagami and she continued to play the role in the sequel, Baahubali: The Conclusion. Directed by S.S.Rajamouli, this epic action movie saw a collection of strong women characters including Avantika, played by Tamannah, and Devasena, played by Anushka Shetty Anushka Shetty is the popular South Indian star wh >> Read More... . Sivagami is portrayed as a wise and just leader who is fair and unbiased in her behavior towards the two contenders for the kingdom's throne. She also displays quick decision-making skills and exudes a strong aura that commands attention. A list of the strongest women characters in Telugu cinema would be incomplete without her.
...
2. Chitra- Pellichoopulu
Pelli Choopulu Click to look into! >> Read More... is a 2016 rom-com starring and Vijay Deverakonda Vijay Deverakonda is a film actor of Tollywood. He >> Read More... . The movie revolves around Chitra and Prashanth, two opposite personalities who meet for a match making event and what ensues is a tale of ambition, dream, and success. The character Chitra is a focused girl with the dream of going to Australia. Her father doesn't pay much attention to her career ambitions but she perseveres through hard times. She even takes charge of the food truck that she opens along with Prashanth, and shows off her business savvy side. She is definitely a role model for all budding women entrepreneurs.
Dear Comrade is a 2019 romantic drama movie starring Rashmika Mandanna Rashmika became born in Virajpet, a metropolis in >> Read More... and Vijay Deverakonda. The movie revolves around the fierce love story between Bobby ad Lilly. The character of Lilly is a cricketer who braves many odds to fulfill her dreams. The movie, directed by Bharat Kamma Bharat Kamma was working as an assistant to filmma >> Read More... touches on many relevant issues including the portrayal of women in sports and sexual assault. Lilly's journey, overcoming all the obstacles in her way is truly inspirational and makes her one of the strongest women characters in Telugu cinema.
...
4. Rudhramadevi- Rudhramadevi
This 2015 Anushka Shetty starrer is a historical biographical movie about Queen Rudhramadevi, who was raised as a boy. Rudhramadevi, raised as a boy and a warrior assumes leadership and prioritizes the welfare of her people over everything else. Directed and written by Gunasekhar, the movie shows how gender is not a barrier to good leadership and lays many lessons that can be imbibed in present times. The movie also includes a star-studded cast including Allu Arjun The actor was born to producer Allu Arvind and Nir >> Read More... and Rana Daggubati Rana Daggubati is a famous Indian actor. He was bo >> Read More... and music by Ilaiyaraaja.
...
5. Jejamma- Arundhati
Arundhati is a 2009 released fantasy horror movie starring Anushka Shetty as Arundhati, the titular character. Directed by Kodi Ramakrishna Rama Krishna more familiarly known as Kode Rama Kr >> Read More... , the movie revolves around the story of present-day Arundhati and her great grandmother who was known as Jejamma. The character of Jejamma is one that glorifies the good and its victory against evil. She is the epitome of sacrifice and bravery. Her expertise in various fields, as portrayed in the movie only adds to her value as one of the strongest women character in Telugu cinema.
...
6. Seeta – Godavari
Godavari is a 2006 romantic comedy directed by Sekhar Kammula Sekhar Kammula or Kumar Sekhar Kammula is a direct >> Read More... . The story revolves around Seeta and Sreeram and a whirlwind romance that takes place on board of a Godavari river cruise. Seeta is a strong and independent woman who is very driven and ambitious. She puts her career before the prospects of marriage, and her being too progressive is even cited as a reason for one failed alliance. Seeta's character is indeed strong and this is seen in instances where she scolds the male protagonist for touching her without her permission. Without falling into clichéd stereotypes, Seeta is shown as a strong and independent character to the very end.
...
7. Roopa – Anand
This 2004 released drama is directed and written by Sekhar Kammula. The movie tells the story of Roopa; a girl orphaned at a young age and how she lived and grew up, overcoming the tragedies in her life. Roopa is a character who stands up for herself and knows what she wants. The importance she gives to her freedom and individuality is truly inspiring, putting Roopa among the top 10 strongest women characters in Telugu cinema.
...
8. Ramulamma- Osey Ramulamma
Osey Ramulamma is a 1997 movie portraying the Telangana women's rebellion. Written and directed by Dasari Narayana Rao Dasari Narayana Rao is an Indian cinema director w >> Read More... , the movie revolves around the character Ramulamma who is a Dalit woman under a feudal system. Her oppression is severe, but she fights against the system by joining the Naxalite movement and seeks revenge against those who wronged her. The movie not only portrays a strong and fearless woman protagonist but also features government officials that fight for justice and the right.
...
9. Vyjayanthi- Karthavyam
This 1990 political action thriller is loosely inspired by real-life stories of police officer . Directed by Mohan Gandhi Bio coming soon... >> Read More... and starring Vijay Shanti as the protagonist, the story revolves around Vyjayanthi, an honest and just police officer who is ready to go to any lengths to bring a corrupt political leader's son to justice for assault. Her bravery and commitment is inspiring and her character is undoubtedly one of the strongest women characters in Telugu cinema.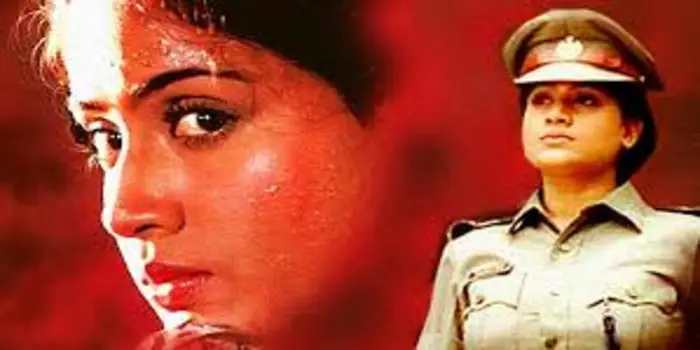 10. Malli- Padaharella Vayasu
The character Malli is from the 1978 movie Padaharella Vayasu. She is a sixteen-year- old girl who is a good student, smart and ambitious. She stands up for herself when needed and gives importance to her needs. Overcoming the obstacles that society posed on her as a woman, she comes out as one of the strongest woman characters in Telugu cinema. The movie was directed by K. Raghavendra Rao, and the protagonist Malli is played by veteran actress Sridevi.