When we talk about South Indian Cinema, the two words that come to mind is Excellency and Originality. With its storylines, screenplay, acting, music, and direction, South Cinema has given a tough competition to Bollywood, regarding better quality of Cinema. South Indian Industry has produced so many legends that have made India proud in the field of Cinema. When we talk about Cinema, it's not only about just a Story and Acting, but the way characters play their role on the screen with sheer perfection and feel, which can captivate audiences, till the movie ends. This is what South Indian Cinema is all about, that's what it does; by providing perfection in each and every field of the Cinema. Here we are going you to presence the top talents of South Cinema having the most numbers of National Awards.
1. Adoor Gopalakrishnan Born into a family in Kerala, Adoor Gopalakrishnan >> Read More...
Adoor Gopalakrishnan's full name is Moutathu Gopalakrishnan Unnithan. He was born in the year 1941, in Pallickal. He is a renowned Indian film director, producer and scriptwriter. He is known as the Pillar for revolutionizing the Malayalam Cinema back in the 1970's. His first film was ' Swayamvaram Swayamvaram is a dubbed version of the Sanjay Leel >> Read More... ' as a Director. He was awarded Dadasaheb Phalke Award in the year 2004, for his notorious contributions to Indian Cinema. He has also worked as Government Officer in the year 1961 at Dindigul, Tamilnadu. He has won 16 record National Film Awards The National Film Awards gets presented every year >> Read More... .
2. K J Yesudas
...
K.J. Yesudas, born in the year 1940, is a Carnatic as well as a renowned Playback Singer. His full name is Kattasery Joseph Yesudas. He has sung more than 50,000 songs. He has sung in Hindi, Malayalam, English, Latin, and Arabic Language. He is also known as the Cultural Icon for Malayalam Society. He received the Padma Shri in the year 1975, Padma Bhushan in 2002; followed by Padma Vibhushan in the year 2017. He has a record of singing 16 Songs for the four South Indian movies on the same day. He also received an award from CNN-IBN for outstanding achiever. He has gotten 7 National Awards for his Playback Singing.
3. Vairamuthu
...
Born in the Thamaraikulam, Tamilnadu, he is one of the most recognized and proficient and legendary lyricists and poet. He began his career with the film named ' Kaali Click to look into! >> Read More... ' in the year 1980, and song's name was 'Idhu Oru Ponmalai Pozhudhu'. He got Padma Shri in the year 2003 and Padma Bhushan in 2014. In his young age, he was influenced by the great poets such as, Bharathiyar and Bharathidasan, which motivated him to write poetries. His first set of poems was first published in the year 1970 by the Journal Mazhai. He has Received 6 National Awards for his lyrics in various South Indian Movies.
4. S P Balasubrahmanyam 
...
Balasubrahmanyam's full name is Sripathi Panditaradhyula balasubrahmanyam. He is a playback singer; film producer, actor, and music director. He is there in the Guinness Book of World record for recording most numbers of songs. He has sung more than 40,000 songs. He got International recognition for his great work for the movie, ' Sankarabharanam Click to look into! >> Read More... ' in the year 1980. He has also received Padma Shri in 2001 and Padma Bhushan in the year 2011. People called him by the name Balu. his son S.P.B. Charan is also a movie producer and playback singer. He has received 6 national Film Awards.
...
5. K. S. Chithra
...
K.S. Chithra is an Indian playback singer. She has not only sung in Hindi But also in Urdu, Latin, Arabic, English, etc. She has given her voice to more than 25,000 songs from films and albums. She has won 6 National Awards and Six Filmfare Awards for her singing. She received Padma Shri in the year 2005. She started her singing career with Malayalam Cinema. Her father Mr. Krishnan Nair was also a renowned singer and musician. She has given her voice to record 53 films for A.R. Rahman Movies. Her song 'Saathiya Tune Kya Kiya' from the movie, ' Love Love is a new Drama television story launched on 3 >> Read More... ' was immensely popular. She has received Six National Film Awards.
6. P Susheela
...
Pulapaka Sushila or P. Susheela born in the year 1935, Andhra Pradesh, is the oldest playback singer from South India. She has the record for singing most numbers of songs, and for this fabulous feat, her name has been recorded in both, the Guinness Book of World record and Asia Book of Records. She has sung more than 25,000 songs. She got her first National Award for the song, 'Paal Polave', for the movie, 'Uyarndha Manidhan'. She is the first one to win the National Award for the playback singing from South. She has won 5 National Awards.
7. Ilayaraja
Ilayaraja is an Indian music composer from South; he works mostly for Tamil Cinema. He was born in the year 1943 in Madras, with the name Gnanathesikan. He is known for creating music by creating a fusion of Symphonic Orchestra and Indian Instrumentation, and seen performing with Budapest Symphony Orchestra. In 2010, he was rewarded with Padma Bhushan. He has also received Gold Medal for Classical Guitar from Trinity College of Music, London. His composition 'Rakkamma Kaiya Thattu' from the movie, 'Thalapathi' was declared as the world's Top 4th most popular song in a survey from 155 countries, which was conducted by BBC. He has received 5 National Awards for his superb music composing, in South Cinema.
8. S. Janaki
S. janaki, known by the name, Sishtla Sreeramamurthy Janaki, is a renowned playback singer and occasional music composer from South Indian Industry. She has recorded more than 48,000 songs in various languages. She has sung in 17 languages including Hindi, Urdu, Kannada, Telugu, Tamil, and Malayalam, etc.  She started her career in 1957. She is known as the Songbird of the South Indian Cinema. She knows to speak in 8 languages.  In 2013, she got the Padma Shri, but she refused to accept it, due to delayed recognition. A book on her life is written by Abhilash Puduka. This book also holds the four world records for Best-Seller. She has received four National Awards for playback singing.
9. M. T. Vasudevan Nair
M T Vasudevan Nair, also called Madathil Thekkepaattu Vasudevan Nair, is a renowned screenplay writer, and film director. He was born in Kudallur, Madras. He became famous at a very young age of 20 for writing the best short story in Malayalam under World Short Story Competition. His first novel, 'Nallukettu', won the Kerala Sahitya Academy Award in the 1958. He has directed 7 movies; and written the script for 56 movies. He has won four National Awards for the Best Screenplay in South.
10. Mammootty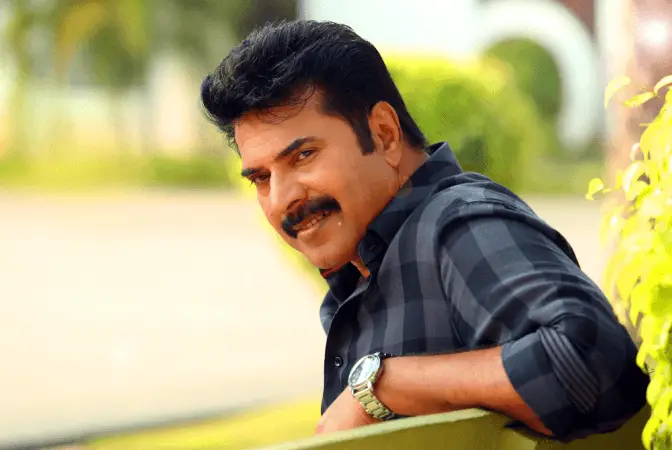 Muhammad Kutty Ismail Paniparambil, called Mammootty, was born in the year 1951. He is a marvelous actor and producer. Before becoming an actor,  he was a Lawyer. He established himself as a renowned actor in South in the year 1980, with his work ethics and acting skills. He got Padma Shri in the year 1988. He also received an Honorary Doctorate from Kerala University. He is also the Chairman of Malayalam Communications. He does a lot of charity works for the welfare of human beings. He has received three National Awards for Best Actor.