1.
Pallavi is an actress who debuted with this serial and she is also a contributing factor for the success of this serial. 2,385 episodes are telecasted in ETV channel. These number of episodes are enough to describe its success.
...
2.
The plot of Manasu Mamatha is about two companions and their families go through some problems, which tests their companionship. It has got some worthy actors. Episode count till now is 1912 and still running.
...
3. 'Antahpuram'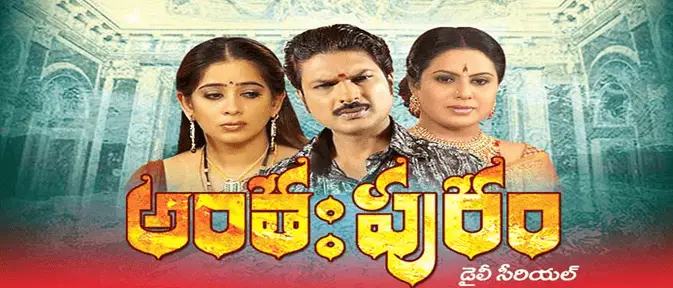 ...
The main concept of the serial is making the prominence of a girl in the family evident. Anthahpuram serial has got a classical theme song. The major plus point is its cast which comprises of Sandhya Rani Sandhya Rani incidentally is a very common screen >> Read More... , Pavithra Nadh Pavithra Nadh alias Sricharan is born and brought >> Read More... , Roopa kour. It completed 1754 episodes with good TRP ratings.
4. 'Bharyamani'
...
Jyothi Reddy Jyothi Reddy is Telugu TV Actress. She acted in ma >> Read More... , Madhavayya, Madhu, Medha, Karuna, etc together, forms the cast of the Bharyamani serial. It has got a superb response from Telugu audience. It was named as must watch serial on those days. It successfully completed 1,739 episodes and still counting.
5. Mogali Rekulu Mogali Rekulu is an Indian soap opera, drama, roma >> Read More...
...
Mogali Rekulu started on 18 February 2008 and ended on 24 May 2013. It received a fabulous response for the background score. Dharma looks after the younger ones, who want to take revenge for their parents' death. Total Number of episodes for this one are 1368. It got some prestigious awards as well.
...
6. Agni Poolu
...
Most interesting part of this serial is, it is based on a novel i.e. Yaddanapudi Sulochana Rani novel. It is written and directed by Manjula Naidu Manjula Naidu is the director and story writer in >> Read More... . The cast and crew for this serial include Vijay, Srinivas, Anju Asrani Anju Asrani is a North Indian and she is from Sura >> Read More... , Abhinaya. A total number of episodes are 1123.
7. 'Chakravakam'
Chakravakam is a famous serial starring Indraneeil, Prithi Amin, Likitha, Ramaprabha, Selvaraj, etc. It is being telecasted on Gemini channel. It is a powerful emotional drama. It started on 3rd November 2003 and ended on 15th February 2008. In total, it has got 1111 episodes. It is remade in other languages as well.
8. Chi La Sow Click to look into! >> Read More... Sravanthi
The actors who acted in this serial has bagged Nandi awards for their respective roles. Most prominent actors who acted in this serial were Meena, Nanda Kishore Nanda Kishore is one of the multi-talented people >> Read More... , Bharani, Sasidhar, Lakshmi. Venkateswar Rao wrote the story and directed by Pulli Vasu, Meer Hussain. It started in the year 2006 and ended in the year 2011. A total number of episodes are 1110+.
9. Swathi Chinukulu Actress: Neha Gowda, Sithara, Sindhura Dharshanam >> Read More...
Swathi Chinukulu started on 9th September 2013. Sithara, Sindhura Dharshanam Sindhura is a Telugu serial actress. She was born >> Read More... , Neha Gowda Neha Gowda is born in Karnataka, India. She has be >> Read More... are the cast of the serial. The theme song of this serial got a tremendous response. A total number of episodes of this serial are 1095. It is continuing successful run on the small screen.
10. 'Padmavyuham'
It is also a serial which falls into the category of lady-oriented serials. It is named after a trap name in Mahabharatha. Most often, This serial justifies its title.The whole serial is well blended with emotions and subtle comedy. It has completed 910 episodes with good response.