1. Bahubali 2: The Conclusion
Anushka played the role of a royal princess Devasena in Bahubali 2, but not every princess out there is sitting and waiting for her prince charming. Unlike any other princess, she is a lady with a plan, toned and a firm mindset with a spirit of a daredevil is the perfect words to describe her role in the movie. The role was highly demanding, and it even required a lot of physical strain and stress, even after all the pain and hard work Anushka played her role with at most charm and elegance the movie was a box office hit earning 8.3/10 rating on iMbd and over 1000 crores in the first week.
...
2. Bahubali 1: The Beginning
Bahubali the beginning portrayed a simple and happening life of a village boy, but great power comes with great responsibility, sooner or later all the secrets are revealed, and he comes to know about his royal heritage, Anushka's role in this movie was not so significant but her part and acting in the movie sure was shiver ling.
...
3. Rudramadevi
Rudramadevi, this movie depicts the challenges a kingdom faces as there was prince born for a long period who could overtake the kingdom and defend them from the other rival kingdoms. But the faith of the kingdom was sealed when there was another girl child born; the king was very disappointed as he knew there was a war ahead of him, kings bishop suggests a plan to introduce the girl child as a guy. Anushka plays the role of Rudramadev who was later revealed to be Rudramadevi, the warrior who changed the life and faith of her kingdom to glory.
...
4. Singam
Singam this movie shows the challenges faced by the honest officer due to the government and pressure they go through to cleanse the area from terrorist and goons, Anushka's role in the movie is moreover of a support which the daring cop always needed through his journey and a talk of romance in the movie is always loved.
...
5. Arundhati
...
Arundhati a movie famous for its famous horror plot and people moreover tend to watch it as a dare. Anushka's acting in this movie was pretty impressive. One as a sweet, simple girl who is loved by all and lives her life with comfort and happiness followed by the soul of Arundhati entering her body to end evil caused by a witch in her past life followed which is haunting her and her family's future and happiness.
...
6. Thaandavam
Vikram leads a dual life in this movie one as Kenny and other as Sivakumar, Kenny suffers a mental disorder due to which he forgets his past and becomes a ruthless killer at night. He marries Anushka who acts as an eye surgeon there life runs smoothly till something unknown came on their way and turned their heaven upside down.
...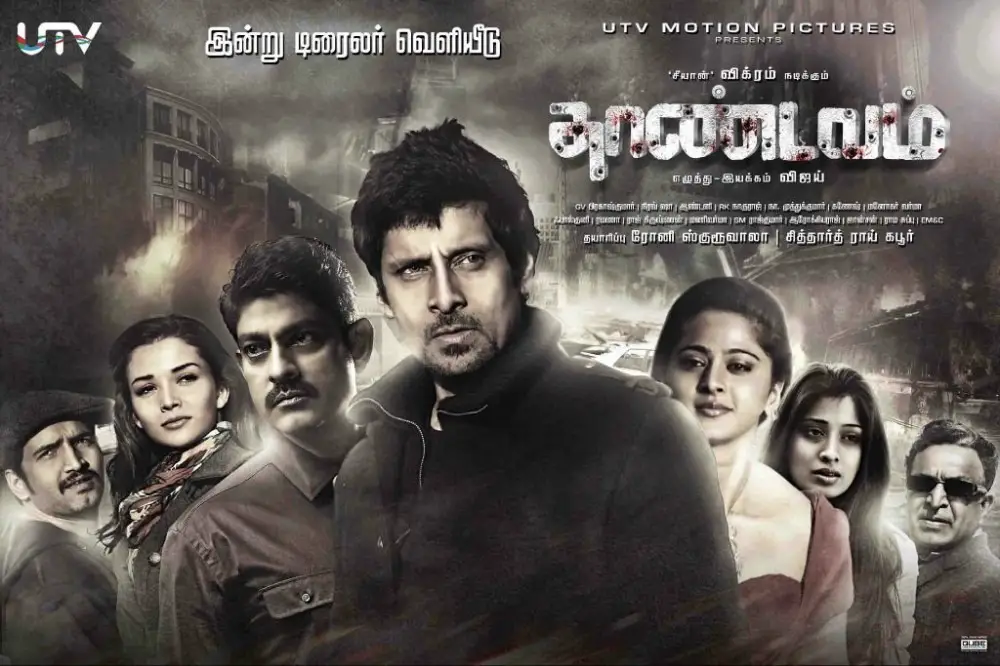 7. Irandam ​Ulagam
Anushka plays the role of the archaeologist Anita, who always had a neck towards exploring something new and finding out all the wonders of the earth and beyond. This interest leads her to an island which hides secrets beyond expectation and leads to a parallel world, and the mysterious adventure slowly turns into a romantic dive.
8. Rendu
Rendu is based on a common man story a man with dream and ambition but no money to support. Anushka acts as the lead actress with Reema Sen Born in Kolkata, Reemma Sen is an Indian actress. >> Read More... who work at girls stall n earn more than Boys stall due to their costumes and activities. The hero tries to club both the stall which leads to an unexpected twist in the story.
9. Super
The story deals with the patch and breakup of two best friends, Anushka plays the role of Sonu's sister who is love with Akhil yet he doesn't reciprocate them, unfortunate events lead to her death which creates a barrier between the two friends, but destiny gets them back together.
10. Vedham
Anushka's character in the movie goes from innocent to flattering, flattering to sluttish, sluttish to innocent. The plot of the story deals with a guy who's trying to impress his GF by showing off as a rich guy but who in real life is a cable connector.