1. ' Jb Junction JB Junction is popular Interactive Celebrity chat >> Read More... '
It's a talk show hosted by famous TV personality and journalist John Brittas John Brittas was born on 24 October in 1966 in Kan >> Read More... . The anchor has a special manner of asking questions to the guest and that made him popular. The guests on this show will be famous actors, actresses, politicians, etc. His questioning methods are unique, and it has led to different controversies; he starts with asking about friendly stuffs, and later on he asks about the core things which will heat-up the talk show.
2. ' Onnum Onnum Moonu Click to look into! >> Read More... '
It is another popular talk show by popular anchor Rimi Tomy Rimi Tomy Kizhakoodan, popularly known as Rimi Tom >> Read More... who is famous for her songs and her varieties of anchoring skills. This show completed one season and the guests on this show are celebrities from across the film industry, ranging from actors to singers and even playback singers. Currently, the show is in the second season and maintains a uniqueness. Celebrities use this show as a part of their film promotion.
3. ' Sreekandan Nair Show Sreekandan Nair show is a popular talk and chat sh >> Read More... '
Popular TV anchor and media personality 'R.Sreekandan Nair' hosts this show. The participants in this talk show are common people and related authority official. Each time this shows takes different subjects in the society. This talk show always has its popularity and has been aired on different channels like Asianet and Mazhavil Manorama, and also led to some controversies between participants. The anchor has an enormous amount of experience in managing talk shows and a special way of presentation.
4. Badai Bungalow Badai Bungalow is a comedy show which is telecaste >> Read More...
The anchor Ramesh Pisharody Ramesh Pisharody, a mimicry artist and anchor, was >> Read More... and famous actor 'Mukesh' host this show. Anchors chat with the guests and involve them in different fun things. Show is said to be inspired or copied the idea from Comedy Nights With Kapil, a Hindi channel talk show. The celebrities who participate in these talk shows mainly come to promote their film. This show also includes comedians who get involved with the guests in specified intervals. The guests mainly are actors, music directors, singers and stand-up comedians.
5. Annie's Kitchen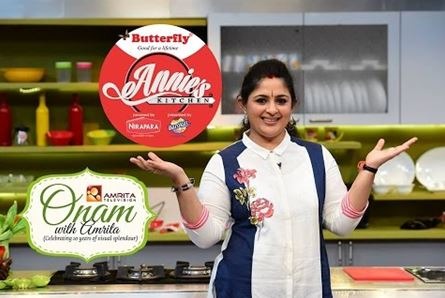 We have seen serious talk shows and talk shows with comedy included. But this program takes a new path; it combines a cookery program with a talk show. Anchor Annie makes food for the guests, which will be similar to any other cookery show and after doing that she welcomes the guests. Guests are mainly celebrities from the film industry. Anchor serves food for the guest and chats with the guest. Normally guest arrives with their family, and the chat includes topics within family, family life and work-life balance, etc.
6. Jollywood Show
It is a new show and the host is Kottayam Nazeer Kottayam Nazeer is an actor-cum-director in Malaya >> Read More... , a full-time comedian and a film actor. It is similar to other talk shows such as Badai Bungalow, Oonum Onnum Moonu from Kairali TV channel. Anchor chats with guest and other comedians get involved in the show and that makes the show more interesting. The unique thing about this show is that the anchor himself is a mimic artist and he mimics different personalities from real life and politics. Guests are mainly from film industry like playback singers, directors and actors.
7. Nammal Thammil Nammal Thammil is a talk show which got aired on t >> Read More...
It is another talk show which discusses current social issues and controversies with all the main characters in that controversy and the anchor is again R.Sreekandan Nair. Everyone who participates in that talk show gets a chance to speak and express their views on specific topics. These types of talk shows give us a chance to know how people see and feel different angles of the same problem and its duration is one hour.
8. ' Samadooram Samadooram is a talk show which gets aired on the >> Read More... '
It's another high voltage talk show aired on Mazhavil Manorama, and the host is none other than famous and renowned media personality R.Sreekandan Nair. The topics that are discussed in the show are mainly related to social and cultural lives. He is popular for picking the right and correct topic that always gives the spark of controversy. This show talks about the subject in-depth and operates upon the anatomy of each part involved in the topic.
9. Point Blank Click to look into! >> Read More...
A talk show between two personalities where questions clash with answers and sometimes we can see how the host finds it difficult to tackle certain cunning questions. It is a popular talk show like 'Counter Point' and gets aired daily and each day they select a topic that is most popular and the hot subject of that day, and guests for these programs are politicians and social workers. They give their views, and at the end they conclude the topic of the day.
10. Counter Point
Like Point Blank, Counter Point is also a show where they select a topic for the day and keep a discussion on it between concerned political and social workers. They discuss about political scenarios, current affairs and different subjects that have a social impact. It is aired on all days so that it can keep up with the current social and political atmosphere. The news reader organises the talk to a common point and warns the guest not to deflect from the topic.