1. Manju Warrier in " How Old Are You?"
It was a comeback movie for Manju Warrier, and she just showed the audience that she didn't lose her magical touch of acting. With a modern makeover and acting style, she did keep to the fans' expectations. It is her performance in this film that helped "How Old Are You?" to reach its height as a big hit in Malayalam film industry.
2. ' Sheela' in "Kallichellamma"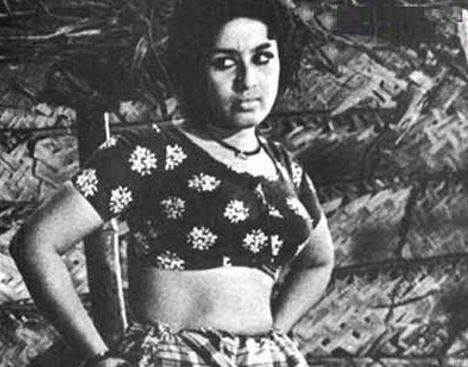 Sheela was a wonderful actress of old time Malayalam cinema. Her role as Karuthamma in the epic movie "Chemmeen" is simply great. But it is her front row role in "Kallichellamma" that helped her to find her way into this list. The movie showcases a strong and bold female character, and Sheela just showed the audiences how it should be done.
3. ' Asha Sarath' in " Drishyam"
Now many fans will be not agreeing to this entry since this film is a ' Mohanlal' centered one. But Asha Sarath, in this record breaking movie, showed her acting class and became one of the best supporting actresses that you can find in Malayalam film industry. It was a career breakthrough for her, and she had done her job excellently.
4. Nazriya Nazim in " Ohm Shanthi Oshaana"
A stunning performance in this film helped Nazriya to clinch a State Award for Best Actress. The film was a modern themed love story, and Nazriya showed the audiences her good acting performance. Even though the movie was on a women-centered theme, it was a big hit.
5. Meera Jasmine in " Perumazhakkalam"
Award-winning "Perumazhakkalam" is a movie that will be remembered due to two great acting performances by ' Kavya' and Meera Jasmine. But it is Meera Jasmine who performed superiorly compared to Kavya in this film. Meera was living the role she got in this movie, and she played the role with a great touch.
6. Manju Warrier in " Sallapam"
It was Manju's very first movie. But what a start to a colorful career. Manju played the role of a simple village girl in this wonderful romantic movie. Fans were awing in disbelief on watching the performance of this debutante.
7. Manju Warrier in "Kannezhuthi Pottum Thottu"
Another hit acting from Manju Warrier. This film secured Manju the spot of the best actress of modern day Malayalam films. She was in full power and strength in this wonderful movie. She played the role of a woman on her quest for revenge. It was only possible for a strong woman and she nailed it with her performance.
8. Navya Nair in " Nandanam"
"Nandanam" is a movie about a poor woman and her devotion towards Lord Krishna. A role that can be done by a true professional actress only. But the young Navya Nair in her first film took forth a wonderful performance to steal the show. The movie was a hit because of two reasons - her performance, and a song are sung by 'K. S. Chithra'.
9. ' Sangita' in "Chinthavishtayaya Shyamala"
Now this is a film about a common woman and her struggle to keep a family together. A simple woman sees herself on seeing this movie and the performance of Sangita in this film. Such was the authenticity and simplicity in her acting in this film.
10. Meera Jasmine in "Padam Onnu Oru Vilapam"
Another Meera Jasmine movie. It was an award-winning film, and Meera Jasmine got a State Award for her performance in this movie.