' Prakash Raj'
Prakash Raj is not a Malayalam actor. But he did some wonderful acts in Malayalam films. His villain role in the movie "Pandippada" was the most notable one. Even though he plays the role of a villain, his comic performances in this movie make him a comic villain rather than a front line villain.
2. ' Captain Raju'
Captain Raju did play many villainous roles in his career, but none of them matches up to his comic villain appearance in the movie "Nadodikattu." He plays the role of a serial killer in this movie, and he acts on a serious note as well. But the action sequences and dialogues from him made the audience laugh, making him a comic villain.
3. ' Thilakan'
In the same movie as Pavanayi, Thilakan is the front row villain in the film "Nadodikattu." He is also taking things in this film seriously, but his choice of villainy makes us laugh. He also did some other major villain roles in his life, but this performance stands out.
4. ' Ashokan'
Ashokan never really plays the role of a villain. But his performance in the film "Pappi Appacha" as a comic villain character is a notable one. The viewers erupt in laughter seeing Ashokan's performance in this film.
5. 'Innocent Vincent'
Innocent is a comedy actor, and it is proved from his many movies. But he did play some comic villain roles as well. In the film "Thaskaraveeran" he plays the role of a villain, but the film showcases his comedy rather than villainy.
6. ' Sreenivasan'
Sreenivasan is famous for his character roles than villain roles. In fact, he never plays villainous roles. But in the film "Udhayananu Tharam" he plays the role of a villain , and the film was a huge success.
7. ' Vinayakan'
Vinayakan is famous as a villain in many films such as "Chotta Mumbai", " Kali" etc. But his comic villain character role in the film " Aadu" was outstanding, making him a notable comic villain actor in Malayalam cinema industry.
8. ' Bheeman Reghu'
Bheeman Reghu is one of the most notable villainous actors in many of the Malayalam films. He also played the role of a comic villain in many films. He also appeared in small scenes in many films as a comic villain actor, including " Hello", "Teja Bhai and Family" etc.
9. ' P K Baburaj'
Baburaj is also a well-known villain actor in Malayalam film industry. But these days he has turned his attention towards comic villain characters. He acted in " Second Show" as a comic villain.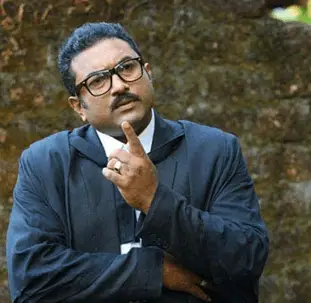 10. ' Rajan P Dev'
Rajan P Dev is the main name that you can associate a villain role in Malayalam cinema too. He did also play as a comedy villain in many films in his career. And he proved that he could sparkle in it too with his wide variety of success as a comedy as well as a mainstream villain character.