People like to listen to music. While dining, driving, taking a shower, and even sleeping, people listen to their favourite songs and soulful music. I'm not certain why you would click on this headline, though. Let's speak about the worst Bollywood songs now that you're here because some terrible songs have no purpose. These songs have the power to summon evil spirits, land you in jail, or make your ears bleed. Therefore, these are the ten worst songs ever! Please don't blame us afterwards; you were warned.
1. ABCDEFGHI – Hum Saath Saath Hain
The imagery in this song was unsettling from the first. While driving a bus full of young people to Tabu and Mohnish Bahl's honeymoon, Salman Khan Salman Khan is a very famous Indian actor and a pr >> Read More... suddenly finishes the English alphabet by saying, "I Love You." The grating, incessant music of all time! Nobody knows how someone might get from the English alphabet to "I love you."
...
2. Main Ladki Po Po Po – Hera Pheri
Main Ladki Po Po Po is a song from the 2000 movie HERA PHERI, which also features Sunil Shetty Bio coming soon... >> Read More... , , Tabu, and Paresh Rawal The Padma Shri award winner who shot to fame with >> Read More... . A blockbuster cannot be expected to have such a meaningless song. However, nothing can be done since the truth cannot be changed. The song was written by Sameer and performed by Abhijeet Bhattacharya Abhijeet was born in Kanpur and belongs to a Benga >> Read More... and Kavita Krishnamurthy Kavita Krishnamurthy is the female playback singer >> Read More... , while the music was created by Anu Malik Anu Malik is considered as one of the most famous >> Read More... (as expected).
3. Genda Phool – Badshah
People tremble when they hear the music for various reasons, mainly if they are Bengalis. It begins by defiling a classic Bengali folk song with pointless nonsense. The rest of the song's words, however, are utterly absurd. What in the world was Badshah contemplating? This song was a smash and gained a lot of views despite the criticism.
...
4. Hookah Bar – Khiladi 786
You know this was on the list. Himesh Reshammiya Intro: Himesh Reshammiya got his stardom after win >> Read More... is renowned for creating songs with hooks stuck in your brain for years and creating catchy sounds. He has, however, regularly given us some strange lyrics in that endeavour. Although the song's rhythm and melody were excellent, the lyrics were unclear. Do not subject us to this music, please. Never, never, ever.
...
When you went to see Rowdy Rathore, you had to leave your brains at home since it was a typical masala film. It's okay; Bollywood isn't known for making films that provoke thought, with a few notable exceptions. We didn't realise you're meant to leave your thoughts at home, even when listening to music until we read the lyrics to this song.
...
6. Burj Khalifa – Laxmii
This song, which is both energetic and meaningless, comes from the Akshay Kumar movie Laxmii. Despite the song's unclear lyrics, it is nonetheless quite popular. Bollywood's long list of Punjabi tunes will now have another piece. Many others questioned the song's irony, such as how a man could buy his wife, a Burj Khalifa.
...
7. Garmi – Street Dancer 3D
The song is from the Varun Dhawan Varun Dhawan, a new comer entered Bollywood with h >> Read More... , Nora Fatehi Nora Fatehi is yet another foreigner to get a brea >> Read More... , and Shraddha Kapoor Shraddha Kapoor, born on March 3rd, 1989, is a you >> Read More... movie Street Dancer 3D. The song's hook step has become immensely popular, and Varun Dhawan and Nora Fatehi make some impressive dancing moves throughout the song. The lyrics, which Badshan once more wrote, made no sense and received harsh criticism from critics. The hook step of the music also made the news.
...
Before Neha Kakkar and Rohanpreet Singh's wedding, this song was published, and many of us believed that the marriage was only a publicity gimmick to help the song reach the top spot. However, they did get married, and the song was a big hit. Only critics seemed to notice how awful this music made the listeners feel.
...
9. Beyonce Sharma Jayegi – Khaali Peeli
Even before the movie's release, the song from Ishan Khatter and Ananya Panday's Khaali Peeli made headlines. The song's cringe-worthy lyrics immensely angered people, and the writers faced a flood of criticism for their allegedly "racist" content. After hearing the music, people started saying that if Beyonce wants, she can buy your entire company in a matter of seconds, and you're implying that she'll become timid.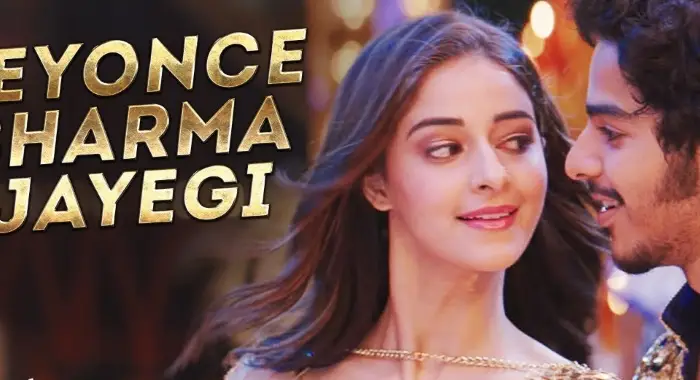 10. Laila Laila Chilaunga Kurta Phad Ke – Anari No. 1
Govinda is known for contributing to some beautiful songs—again, songs that occasionally make no sense. One of those times was the No. 1 Anari track. How can the ability to rip a piece of clothing make one's love stronger? A justification that only Bollywood can endorse.