Indian daily soaps are mostly about Saas and Bahu. The most popular among these saas-bahu serials are 'Kyonki Saas Bhi Kabhi Bahu Thi' and the superhit TV Series 'Ye Rishta Kya Kehlata Hai.' These shows lasted for quite a few years and were appreciated by Indian audiences in large number. Saas-bahu shows were not always serious and sad. In past, we have had family dramas like Hum Log Hum Log was the first soap opera to be telecasted >> Read More... and light humoured shows like ' Tu Tu Main Main Tu Tu Main Main, a comedy serial on Indian televis >> Read More... ' that became a major hit.
1. Kyunki Saas Bhi Kabhi Bahu Thi
It is one of the greatest shows in the history of Hindi television. It aired for eight long years but was most popular in its first four years. Alongside lead actress Smriti Irani, all other accompanying actors also went on to become famous in Indian TV world. The show's demand was such that the death of the show's character of Mihir Virani in 2001 lead to fan protests to bring back the character, which eventually happened after a certain number of episodes. It gained a TRP of 22.4 in the episode of return of Mihir, highest ever recorded in Indian Television History. The show's story revolves around day to day relationship of Saas and Bahu of three generations and their management skills in a joint family filled with people of various characters and ideology.
...
2. Kahani Ghar Ghar Ki
Another daily TV serial of Balaji Telefilms that lasted for eight years was Kahani Ghar Ghar Ki. The story revolves around the lives of the Agarwal family and the eldest daughter-in-law, Parvati's struggle of keeping together the family. This show received multiple awards during its run and was the main television competitor of Kyunki Saas Bhi Kabhi Bahu Thi, although both of them were produced by Ekta Kapoor Ekta Kapoor; a legendry producer in Indian TV and >> Read More... .
...
3. Hum Log
...
Hum log was a highly rated Hindi television series which was the first ever daily family drama show on Indian TV. The serial was about a lower-middle-class Indian family settled in a big city. With the combination of fun, pain, and emotions, the show garnered a lot of audience.
4.
...
This show revolved around the life of child bride Anandi and her contrasting relationship with two mothers-in-law of two generations. It became the first ever Indian show to complete 2000 episodes. The show ended in July 2016 after running for eight years. It is among the most watched television shows in Indian TV history.
...
5. Pavitra Rishta One of the popular Hindi serials, Pavitra Rishta >> Read More...
Before portraying the character of MS Dhoni in the movie, Shushant Singh Rajput was busy in Pavitra Rishta, a daily serial about a lower middle-class family and the newly married bride, Archana's struggle to work out her relationship with her mother-in-law. It ranked as number one for the first few years of its run on Hindi channels. Ekta Kapoor produced the show.
...
6. Kumkum – Ek Pyara sa Bandhan
...
Kumkum was a day time show which is one of the longest running shows completing total episodes of 1449. The story revolved around the daughter-in-law of the Wadhwa family whose life took multiple twists after losing her husband. Juhi Parmar Juhi Parmar is a popular Indian TV personality and >> Read More... became a famous celebrity through her portrayal of Kumkum. Hussain Kuwajerwala Hussain Kuwajerwala is one of the most recognizabl >> Read More... as Sumit Wadhwa Sumit Wadhwa is an Indian TV-actor. He is a talent >> Read More... also rose to fame from their characters.
7. Ye Rishta Kya Kehlata Hai
The show is about the daily life of the Singhania family. Akshara (played by Hina Khan Hina Khan is a gorgeous Indian Model and Televisio >> Read More... ) is the central character of the story. It's all about how she manages this joint family after getting married to Naitik ( Karan Mehra Karan Mehra is a model, Hindi TV actor, and a fash >> Read More... ).
8. Tu Tu Main Main
Not every saas-bahu serial is tragic and sad. Tu Tu Main Main also revolves around the relationship of a Saas and Bahu but the show had portrayed it in a funny way. It was one of the funniest saas-bahu Hindi tv series. Reema Lagoo Reema Lagoo is an Indian television and film actre >> Read More... as Devaki Verma and Supriya Pilgaonkar Supriya Pilgaonkar is best known as Supriya in the >> Read More... as Radha Verma were the central characters of the show.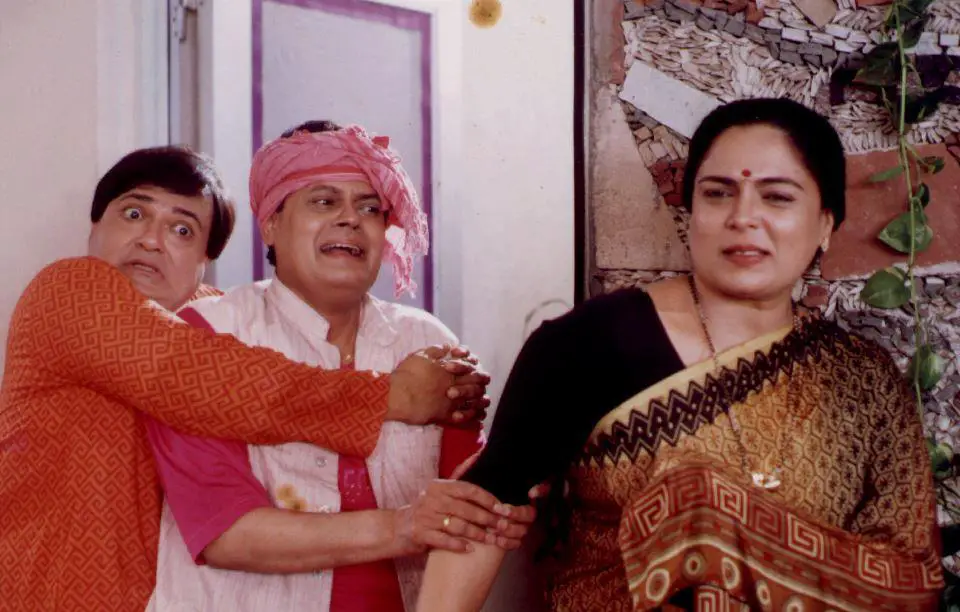 9. Kahin Kisi Roz
Kahin Kisi Roz was a thriller drama whose plot revolved around the fight between a mother-in-law and her daughter-in-law. The story of Ramola Sikhand who tried to kill her daughter-in-law, Shaina when her only son married against her will and thus a rivalry began between the saas and bahu.
10. Kasam Se
The story revolves around the life of three sisters Bani, Piya, and Rano who tied the knot with men from different families and had troubled life with family members for most of the time. Ram Kapoor Ram Kapoor is an acclaimed and renowned television >> Read More... and Prachi Desai A true Virgo at heart, Prachi Desai was born at Su >> Read More... were the main characters.