1. Avial
Avial, an alternative rock band from Kerala, was formed in 2003 and are well known for combining Malayalam lyrics with rock music. They have also composed a few singles for Malayalam movies 22 Female Kottayam and Salt N'Pepper. The members of the band include Tony John, the lead vocalist, Rex Vijayan, the lead guitarist, Mithun Puthanveetil on the drums and Binny Isaac on the bass. They also have Neha Nair Neha Nair singer and composer; she mainly works in >> Read More... as backing vocalist.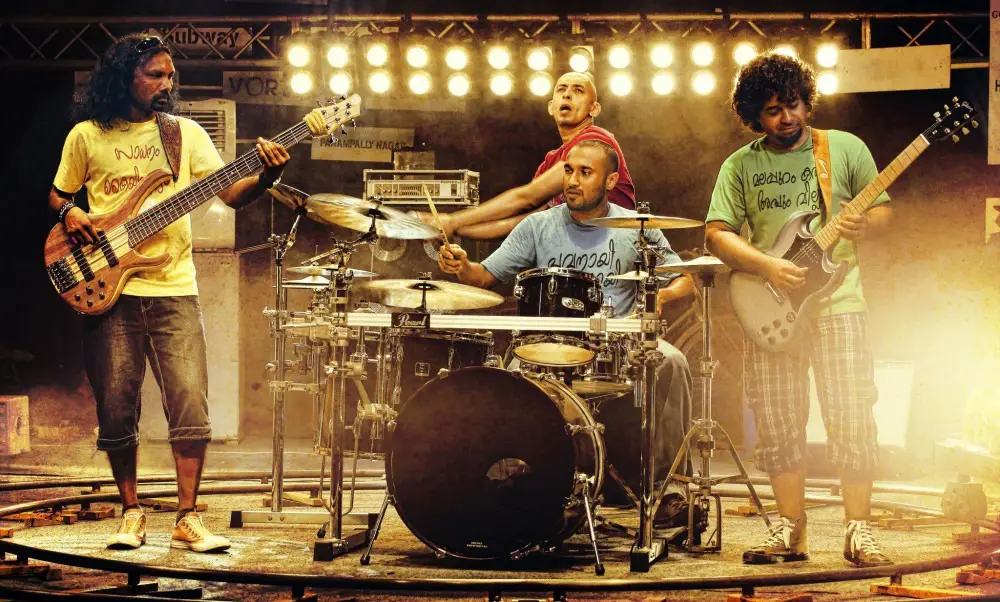 2. Agam
Agam is a contemporary Carnatic progressive rock band who hail from Bangalore. Their members include Harish Sivaramakrishnan A rockstar from a Carnatic Progressive Rock Band c >> Read More... on the vocals and violin, Ganesh Ram Nagarajan on the drums and backing vocals, Swamy Seetharaman on the keyboards and is the lyricist, T Praveen Kumar Praveen Kumar is an Indian actor known for his rol >> Read More... , the lead guitarist, Vignesh Lakshminarayanan on the bass guitar and backing vocals, Sivakumar Nagarajan on the ethnic percussions, and Jagadish Natarajan on the rhythm guitar. Majority of them are alumni of BITS-Pilani. Their first album called The Inner Self Awakens went on to become a top selling album on Flipkart in the year 2012.
3. Indian Ocean The Indian Ocean is considered to be the pioneers >> Read More...
Indian Ocean is an Indian rock band formed in New Delhi Click to look into! >> Read More... in the year 1990. Their current lineup consists of Amit Kilam on the drums, percussions and vocals, Rahul Ram Rahul Ram is a renowned Indian bass guitarist, mus >> Read More... on the bass guitar and vocals, Tuheen Chakravorty on the percussions and Nikhil Rao is the lead guitarist. Their most popular albums are Kandisa, Black Friday and Desert Rain.
4. Parikrama
A rock and roll band from Delhi was formed way back in 1991. The band members are Nitin Malik Bio coming soon... >> Read More... on the lead vocals, Sonam Sherpa Bio coming soon... >> Read More... on the lead guitars, Saurabh Choudhary Bio coming soon... >> Read More... on the guitar, Subir Malik Bio coming soon... >> Read More... on the organist and synthesizers, Gaurav Balani on the bass guitar and Srijan Mahajan Srijan Mahajan is an Indian drummer and music comp >> Read More... on the drums. They have performed in major music festivals including Bacardi NH7 Weekender. "Till I'm No One Again" was their first hit single released in 1995 along with "Open Skies".
5. Thermal and a Quarter (TAAQ)
TAAQ is a Bangalore-based Indian rock band formed in 1996. The band is comprised of Bruce Lee Mani(guitars and vocals), Rajeev Rajagopal(drums) and Leslie Charles(bass and backing vocals). The band's latest effort includes This is it which was released in 2009. They've also won several college competitions and the band has toured in the UK as well.
6. Pentagram
Pentagram is an electronic rock band from Mumbai formed in the year 1994. The members of Pentagram include Vishal Dadlani Vishal Dadlani mostly known by duo name Vishal She >> Read More... with Randolph Correia on guitars, Clyde D'souza on guitars, Papal Mane on bass and Shiraz Bhattacharya on drums. Pentagram's debut album is called We're Not Listening and their latest album was released in 2011 and is called Bloodywood.
7. Motherjane
They're an Ethnic rock band from Kochi, Kerala. Formed in 1996, the band consists of John Thomas (drums and percussion), Clyde Rozario (bass guitar), Nithin Vijayanath (lead/rhythm guitar) and Vivek Thomas (vocals). Their debut album Insane Biography was released in 2002. Mother Jane's album Maktub released in 2008 was named Album of the Year by Rolling Stone, India.
8. Euphoria
Euphoria is yet another Indian rock band from the capital city, Delhi. Formed in the year 1988 by Dr. Palash Sen Palash Sen is an Indian singer, songwriter, m >> Read More... and his friends, the band's debut album was called Dhoom while their latest album released in 2012 is called Sharnaagat. Their track "Dhoom Pichak Dhoom" from the album Dhoom became immensely popular along with its video. The band has also composed for the 2010 Malayalam film Best of Luck.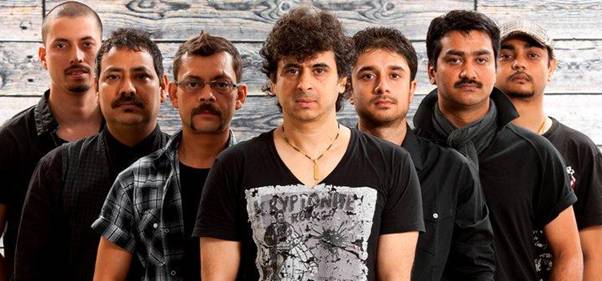 9. Swarathma
They're a folk fusion band formed in Bangalore in the year 2002. Their current members include Vasu Dixit (vocals and rhythm guitar), Pavan Kumar KJ (percussion and vocals), Varun Murali (guitar and vocals), Sanjeev Nayak (violin and backing vocals) and Jishnu Dasgupta (bass guitar and vocals).They have 2 albums in their kitty, the first one self titled Swarathma (2009) and Topiwalleh (2012). They're one of India's biggest folk rock bands.
10. Thaikkudam Bridge
They're band formed in Kerala in the year 2013. It was formed by cousins Govind Menon Govind Menon is an Indian music composer, singer, >> Read More... and Siddharth Menon Siddharth Menon is a Malayalam singer and actor. H >> Read More... . They became famous through their composition Fish Rock which was widely shared on social media and YouTube. They do not have a specific genre and they've performed in various genres. They're particularly known for their performances on the musical TV show Music Mojo Music Mojo is a popular and youthful and for the y >> Read More... telecast on Kappa TV.