We are all aware of Bollywood movies that made it to the 200-Crore club, which actor is dating whom or what our favourite actress chose as her red carpet look. But when it comes to acts of humanity and showcasing of philanthropic nature, it's no surprise we know so little about our beloved stars. With films grossing in Crore today, no wonder the Bollywood fraternity is among the richest lot of India. However, the real superstars among them are not only those who delight us on screen but captivate and inspire us off-screen as well. Here is an exclusive list dedicated to the real stars that shine brightly in the Bollywood sky with their humanitarian efforts and acts of charitable endeavours.
Topping the list is none other than King Khan. King Khan rules our heart not only through his films and dimples, but also through his broad mindset. Unlike many others, he refuses to flaunt his charity works and has worked in silence for years. He has been associated with more than 10 NGO including "Make a Wish." Only recently he donated a whopping Rs. 33 Lakh for flood victims of Uttarakhand. In fact, he is the first Indian ever to receive an award by UNESCO for his work "behind the scenes."
2. Gul Panag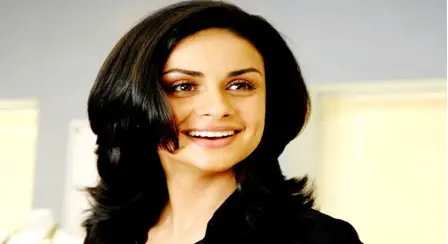 This Bollywood beauty is actively involved in many charitable causes. From raising funds and awareness for " Shraddha" - a school dedicated to autistic adults, to promoting fair trade among cotton farmers through "Shop for Change" and "Green Commando," she has done quite a lot. Moreover, she is involved with the works of "Col. Shamsher Singh Foundation," of which her family is a trustee. She has also worked with Sulabh International for improving public health through better hygiene and sanitation.
3. Aamir Khan
Mr. Perfectionist leaves no stone unturned to carry out his philanthropic activities. He has supported a wide array of charitable causes, donated Rs. 25 Lakh to the victims of Uttarakhand, and has also led campaigns to raise funds. He is actively involved in child education improvements program. Only last year, he donated Rs. 11 Lakh to the Chief Minister Devendra Fadnavis Rural Water Conservation Fund. He founded the "Amir Khan Foundation" with "Just Give" and has been named the Goodwill Ambassador for UNICEF.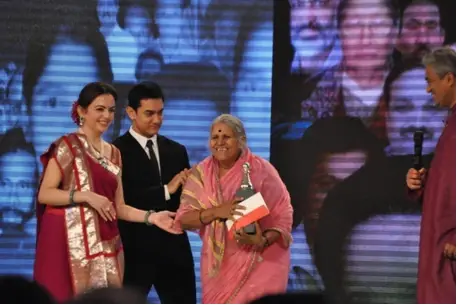 4. Salman Khan
Salman ' Dabangg' Khan has been hailed as one of the most charitable superstars of Bollywood. He founded the " Being Human" organization which has grown to be one of the largest NGO networks in India. Involved in countless charity works, this NGO has even adopted villages in Maharashtra and outside. Moreover, this organization goes a long way in helping underprivileged kids with education. Apart from this, Bhaijaan's acts of philanthropy is visible through various incidents ranging from donating his tie worth a Crore to a poor man, to giving away his watch to a beggar, or visiting children in slums just to make them happy.
This Bollywood beauty-queen sure has a beautiful heart too. She started "Aishwarya Rai Foundation" which aims to help people in need. She is associated with PETA and has also donated her eyes to the Eye Bank Association. She is involved in many other causes including children education, AIDS, to name a few.
6. John Abraham
This handsome hunk is known to support a number of social causes. He is an active advocate of PETA. He is also involved with Habitat for Humanity, a Jimmy Carter Foundation project. John has made significant donations to Lilavati Hospital, Mumbai. He is also known to raise funds for the homeless.
7. Rahul Bose
Few people are aware of this "offbeat" actors' philanthropic endeavours. Apart from being an Oxfam campaigner, he was also one of the people who actively worked for rehabilitation of people in the Andaman's. He is also involved in initiatives like "Teach for India" and "Spastics Society." Mr "Iyer" surely is one amazing man; a fact acknowledged even by Coldplay during one of their recent tours of India.
8. Shabana Azmi
She is one charismatic woman, and her off-screen endeavours leave us even more in awe of her. She founded the "Mijwan Welfare Society" named after a small village in Uttarakhand. This organization works for the upliftment of lives of the people in this area. Shabana Ji has taken part in a number of fundraising activities and has been actively involved in such social causes.
9. Vivek Oberoi
This 42- year-old charmer is surely one of the most incredible philanthropists of Bollywood. Recognized by Forbes magazine's Heroes of Philanthropy list, his relentless charity works calls for admiration. He is the founder of the NGO " One" and involved in various development projects across the country, Project Devi for underprivileged children being one of the many. He has been bestowed with the honour of the Red and White Bravery Award and Rotary International Award for being a good Samaritan and making contributions towards rebuilding lives in Tsunami-affected villages. .
10. Priyanka Chopra
The former Miss World is known to most as one of Bollywood's leading lady and star of Quantico, but there is a side to this glamorous PC very few have heard of or known previously. She is an ambassador for UNICEF and has worked towards a number of causes including child education, human rights, anti-trafficking, anti-slavery, poverty, women empowerment, to name a few. It's her firm belief that 'No child should be denied a dream.' She is the founder of "The Priyanka Chopra Foundation for Health and Education" to which she donates 10% of her earnings. An advocate of the Girl Rising campaign, an initiative of UNICEF, Piggy Chops surely has more to her name than just glamour or fame.