1. Hera Pheri Hera Pheri is a comedy based TV show which came on >> Read More...
How can one forget the film, "Hera Pheri", when talking about hilarious movies? It was a movie directed by the talented director Priyadarshan. The movie cast , Sunil Shetty Bio coming soon... >> Read More... , Paresh Rawal The Padma Shri award winner who shot to fame with >> Read More... and Tabu . Very few people know that it's the remake of a South Indian movie. The trio of Akshay, Sunil and Paresh took the film to another level with their perfect comic timing. The dialogue "Utha le Re Baba" was a big hit and song "Denewala Jab Bhi Deta Deta Chhappar Phaad Ke" was too a big hit. The movie set a very high standard for comedy oriented films.
...
2. Andaaz Apna Apna
This evergreen multi-starrer movie has big stars like Salman Khan Salman Khan is a very famous Indian actor and a pr >> Read More... , Aamir Khan Aamir Khan or Mohammed Aamir Hussain Khan is Bolly >> Read More... , Raveena Tandon Raveena Tandon is an Indian film actress who is kn >> Read More... , Karishma Kapoor, and supporting actors Paresh Rawal, Shakti Kapoor Personal life: Shakti Kapoor was born in Delhi, In >> Read More... , etc. The stars made their character Amar and Prem so popular that they are remembered even now. The songs of the movies like " Ye Raat Aur Ye Doori," "Ello Ello," "Do mastaane," were a big hit. The director of the "Andaaz Apna Apna" was RajKumar Santoshi.
...
3. Golmaal
Fun Unlimited It is a multi-starrer movie including Ajay Devgan Ajay Devgn is an Indian film actor. He is perhaps >> Read More... , Tushar Kapoor, Arshad Warsi Arshad Warsi is most popular for his role as Circu >> Read More... , Sharman Joshi Sharman Joshi was born in Mumbai, Maharashtra to a >> Read More... , Paresh Rawal and Rimi Sen Born as Shubhomitra Sen on 21st September, 1981 in >> Read More... . Audience loved the film and made it a hit on box office. Golmaal is directed by Rohit Shetty Rohit Shetty is a famous Director in Bollywood who >> Read More... . Golmaal was such a big hit that its sequels Golmaal 2, Golmaal 3 were also made. The four male actors of the film were after the female actor of the film played by Rimi Sen. The role of Tushar Kapoor who couldn't speak became too popular; audience tried to copy him. The movie had amazing action scenes. Action scenes directed by Rohit Shetty were quite famous among the audiences.
...
4. Munna Bhai M.B.B.S
"Munna Bhai" was a blockbuster film directed by Raj Kumar Hirani. The story revolved around the goon Munna ( Sanjay Dutt July 29, 1959, was the day when the two legends of >> Read More... ) who lied to his parents that he is a doctor, but unfortunately his parents get to know his lies and how Munna tries to become a doctor and falls in love with Dr. Suman ( Gracy Singh Gracy Singh is a brilliant dancer and actress who >> Read More... ) and teaches everyone to be sensitive and thankful to humans. The story of the movie touched audiences' hearts and souls, and they gave immense love to the movie. The scenes of the movie made the audience's stomach ache with laughter.
...
5. 3 Idiots
...
3 Idiot was directed and produced by the infamous director and producer Jodi of Munna Bhai who was Raj Kumar Hirani and Vidhu Vinod Chopra Vidhu Vinod Chopra is a classic filmmaker, who h >> Read More... . The cast of the film included Aamir Khan, Sharman Joshi, Madhavan, Kareena Kapoor, Boman Irani Boman Irani is a well known name today in the Bol >> Read More... , etc. The movie earned many records after its release. It was also tax-free in few states. It was appreciated by audiences, critics, Bollywood directors, actors, etc. The movie gave a great message of following your dream and also supporting your children in achieving their dreams. The scenes of character "Chatur" became too popular and his speech in the film on Teacher's Day was a great hit. Films dialogues, songs, characters, etc. are still very popular among the audiences.
...
6. Hulchul
This was also a multi-starrer movie directed by Priyadarshan. Akshay Khanna and Kareena Kapoor played the lead roles. It released in 2004. The movie plot was on the fight between families of Akshay Khanna and Kareena Kapoor, the two of them, unfortunately fall in love with each other and how they try to end envy between their family and marry each other. The scenes of this film are epic; the audience could not move their eyes from the screen while watching the movie.
...
7. Chameli Ki Shadi
This movie from the eightys is a hilarious one. It has made such an impact on the audience and was such a big hit that directors, are planning to remake it now. The film had Anil Kapoor Anil Kapoor was born on 24th December 1956 in Mumb >> Read More... and Amrita Singh Amrita Singh is an Indian film and TV actress. She >> Read More... in the lead role. The movie showed how two lovers of different caste system fought for their love with the society and won. The fight scene of Anil Kapoor with a wrestler in the film is too funny. Both the lead actor had made their character memorable.
8. Dulhe Raja Click to look into! >> Read More...
Dulhe Raja is a comedy movie that will make you laugh out loud. The movie stars the famous silver screen couple Govinda and Raveena Tandon. The songs "Suno Sasur Ji", "Kaha Raja Bhog kaha Gangu Teli" were huge hit. Also actors Johny Lever, Kader Khan Kader Khan was born on 12 November, 1937 in Kabul, >> Read More... were part of this film. Govinda's colorful clothes and dancing style added a level of comedy to the movie. The scenes of movie are clean and full of humor. People still remember the catchy songs, scenes, and dialogues.
9. Dhamaal
Dhamaal, is a story of four friends who accidentally come to know about the hidden treasure of a goon and gets into trouble and how they run behind the hidden money, escape from the police and find the money. The movie has stars like Sanjay Dutt, Arshad Warsi, Riteish Deshmukh Riteish Deshmukh is the son of a politician, late >> Read More... , Javed Jaffrey, Ashish Chaudhary, Asrani, Prem Chopra.It released in 2007. Scenes of movie are shot cleverly, and the comic timings of the actors are perfect which will make your eyes fill with tears of joy.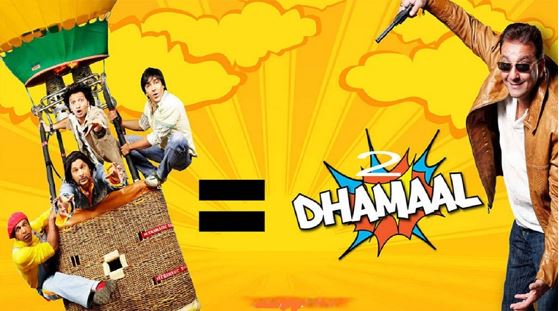 10. Chachi 420
In this movie Kamal Hasan has played two roles one of male and another of a female. Tabu has acted opposite Kamal. Late Amrish Puri played the father of Tabu and Paresh Rawalalso played a role in the movie. The scenes of Kamal Hasan in a female version are too funny. His acting skills were appreciated. We still laugh whenever we see "Chachi 420".