Bollywood never fails to fascinate us with its glamorous appearance in the film. The director always wishes to present the movie in a better way so that it becomes hit. Some expensive dresses are worn in Bollywood movies only once.  
1. PADMAVAAT
...
Padmaavat is a movie released in the year 2018. it is an epic period drama film. This movie was directed by Sanjay Leela Bhansali Born on 24th February 1963, Sanjay Leela Bhansali >> Read More... . He didn't compromise with the outfits of the actors in the movie Padmaavat. All the costumes gave the perfect look to the movie and were costly. Each of the dresses cost almost 5 lakh rupees each.
2. RA-ONE
...
Ra One is an action thriller film. This movie was directed by Anubhav Sinha Anubhav Sinha was born on 22nd June 1956 in Jamalp >> Read More... . The movie starred Shah Rukh Khan Shah Rukh Khan or also known as SRK is a prominent >> Read More... , Armaan Verma Armaan Verma is a Hindi film and child television >> Read More... , Kareena Kapoor Khan Kareena Kapoor is a super hit actress working in I >> Read More... , Arjun Rampal Amit Rampal is an Indian Actor, Host, Producer and >> Read More... , Shahana Goswami Shahana Goswami is an Indian artist born on 6 May >> Read More... , and Tom Wu. Shahrukh Khan wore a costume worth 4.5 crores in the entire movie. The costume fits the character, Robot.
3. KAMBAKKHT ISHQ
...
Kambakkht Ishq Click to look into! >> Read More... is an action romantic comedy film and was released in the year 2009. Kareena Kapoor Khan starred in the movie with . She was looking so gorgeous in the black dress. The dress was customized and brought from Paris. Being slim, the dress fitted her well. The black dress cost around eight Lakh rupee.
4. DEVDAS
...
' Devdas Click to look into! >> Read More... ' is a romantic drama film and was released in the year 2002. it was based on the novel of Sarat Chandra Chattopadhyay Bio coming soon... >> Read More... . Madhuri Dixit Madhuri Dixit is not just known as the also a smil >> Read More... wore very heavy dresses in the movie Devdas. He has worn almost 12 different heavy outfits in the entire movie. There was no compromise with the appearance of Madhuri Dixit. Each of her dresses cost 15 lakh.
...
5. ROBOT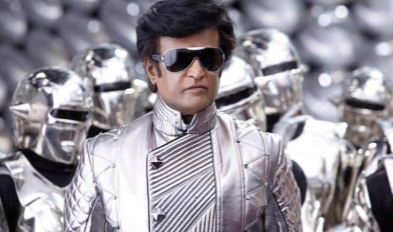 ...
Robot is a super hit film. The costume which Superstar 'Rajnikanth' wore cost crore each. The movie had a grand success at the box office. The movie is a science fiction action movie directed by 'S Shankar.' The movie starred Rajinikanth, Aishwarya Rai Bachchan Aishwarya Rai Bachchan is a popular Indian actress >> Read More... and Danny Denzongpa For Danny Denzongpa the voyage to the glittering w >> Read More... . The original version is Enthiran. It was dubbed into Hindi and Telugu.
6. JODHAA AKBAR
...
Jodha Akbar Jodha Akbar is a very popular epic historical tele >> Read More... is a royal Film. This film also had Royal attires. Aishwarya Rai Bachchan and Hrithik Roshan Hrithik Roshan with his unimaginable dance moves i >> Read More... wore very expensive and beautiful outfits to get into the perfect characters of Jodha and Akbar. Each dress they wore cost two lakh. The movie was based on the life and love story of Jodha and Akbar.
7. KRRISH 3
Krrish 3 is a superhero film. The movie is directed by Rakesh Roshan Rakesh Roshan Lal Nagrath is the original name of >> Read More... , the father of Hrithik Roshan. The movie starred Hrithik Roshan, Vivek Oberoi Vivek Anand Oberoi's birth was on 3rd Septembe >> Read More... , Priyanka Chopra Born on 18 July 1982, Priyanka Chopra is an establ >> Read More... and . Hrithik Roshan played the titular role in this movie. This movie was narrated by . The skinny tight costume of Kangana Ranaut fascinated everyone in the film. The suit was pretty expensive and cost 10 lakh rupees.
8. BAJIRAO MASTANI
Deepika Padukone Deepika Padukone is an Indian actress and model. S >> Read More... wore an amazing outfit in the film Bajirao Mastani Click to look into! >> Read More... . She was hidden in the shimmery and very heavy jewelry and outfits. As it was a historical film, the outfit gave a perfect look. The jewels were worth 28 lakh for each outfit. She was simply gorgeous in the film.
9. SINGH IS BLING
The movie Singh is Bling was one of the best movies of Akshay Kumar. It was an action-comedy film. Akshay Kumar played a Sikh. Singh is Bling released in the year 2015. He wore a golden turban in the movie, which almost cost 65 lakhs. The turban was attractive and gave a lavish look to Akshay Kumar.
10. TEVAR
Tevar is an Action film. It was directed by Amit Ravindernath Sharma. It was a remake of the Telugu film Okaddu. The movie starred Arjun Kapoor Arjun Kapoor is a Bollywood star. He was born on 2 >> Read More... , Sonakshi Sinha Sonakshi Sinha is a well-known Indian Actress. She >> Read More... and Manoj Bajpai. The outfit of Sonakshi Sinha in the song Radha Nachegi was beautiful. The outfit was worth three lakh rupees. It was in cream color and suited well for Sonakshi Sinha.