1. Priyanka Chopra Born on 18 July 1982, Priyanka Chopra is an establ >> Read More...
Love is something which you cannot hide, and some Bollywood celebs have faced this fact in their life. Our very own Desi Girl Priyanka Chopra was spotted with a love bite on her neck. Piggy Chops tried to hide and escape it, but was unable to hide it from the media.
...
2.
Actress Kangana is an actress who speaks her out every time she is in front of media camera, but she tried to ignore them and escaped the questions asked about the mark by the media, she was spotted with a love bite just little below her neck. The bite was visible due to the dress Kangana was wearing. She wore a strapless dress.
...
3. Ali  Fazal
Lucknow-born actor Ali Fazal Ali Fazal is an Indian actor who was born on 15th >> Read More... was also seen showing off his love bite. When he was spotted a hickey at an event, he did not escape from the camera and did not felt shy because of his love sign like any other Bollywood stars.
...
4. Shah Rukh Khan Shah Rukh Khan or also known as SRK is a prominent >> Read More...
Bollywood's King Khan also is among the celebs who loved to flaunt their love bite. He showed off his love mark when he was leaving for the shoot of film Happy New Year Click to look into! >> Read More... opposite Deepika directed by Farah Khan Farah Khan is an Indian film actress, producer, di >> Read More... . Shah Rukh was in a hurry and left the airport very soon after revealing his love signs.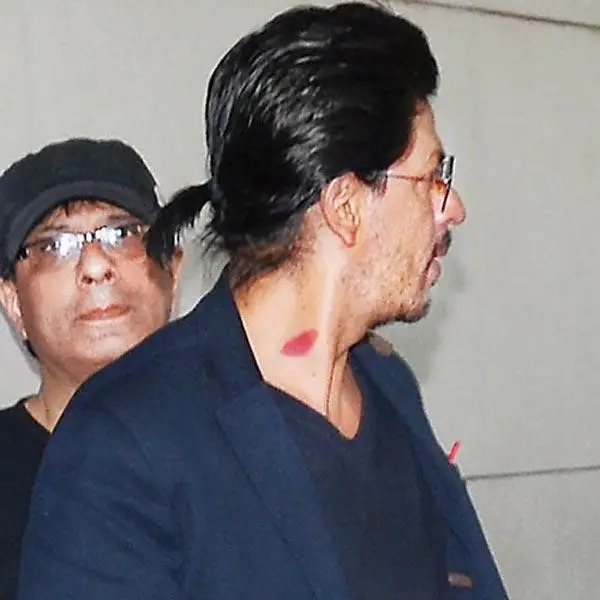 5.
Kat was unfortunately caught red handed with a hickey on her neck. A local cameraman snapped Katrina, and he was lucky to capture her love bite and got a spice for the news for Kat's followers. When she was asked about it, she ignored and did not talk about it.
6.
Before marrying Kareena Nawab, Saif was also captured with love bite in a picture. Saif was dressing up for a show when he got snapped. Saif is blessed with a baby boy and has named him " Taimur Ali Khan Taimur Ali Khan Pataudi is the son of actors Saif >> Read More... " More than Saif, Taimur is in the limelight these days.
7. Deepika Padukone Deepika Padukone is an Indian actress and model. S >> Read More...
Deepika was in an open relationship with actor Ranbir Kapoor Ranbir Kapoor is a noted Indian film actor. He was >> Read More... , and she was seen with a mark which was obviously a love bite. She did not try to hide her mark but gracefully showed it to the world without any hesitation. Deepu is busy in shooting for the film Padmavati for Sanjay Leela Bhansali Born on 24th February 1963, Sanjay Leela Bhansali >> Read More... .
8. Kareena Kapoor Khan Kareena Kapoor is a super hit actress working in I >> Read More...
Bebo had a love bite years back. Her hickey peeped out her white dress. She tried to hide it with her hairs, but the camera eye caught it. Kareena is enjoying her motherhood these days. Recently, she was clicked with her baby boy, and the photo got viral all over the media channels and sites.
9. Salman Khan Salman Khan is a very famous Indian actor and a pr >> Read More...
Dabangg Sallu is always been asked about his marriage, and his fans want him to settle down. Salman has always avoided this question, but he cannot hide the love bites by his secret lover. He tried to hide his mark with his shirt's collar but zoomed cameras got him in its lenses.
10.
TV actors are not far behind in flaunting their hickeys. Tv actress Kritika Kamra was also showing her love mark in a photo. Kritika is doing a show Chandrakanta on Channel Life Ok. She became popular from the show Kitani Mohabbat Hai.