We often see actors in movies as well as in fashion week or any special occasion. No doubt, each of them presents itself as a perfect piece of art. However, sometimes life gives a fall back when we try to give our best. Well, no one likes to have awkward moments as a celebrity or anyone. Here is some hilarious fall of actors on the ramp.
Yami Gautam Yami Gautam is a Hindi television and movie actres >> Read More...
...
Popularly known for her acting in Uri, Yami Gautam has almost fallen in the Ramp show of Lakme Fashion Week 2019. She has worn the dress designed by the two designers Gauri and Nainika. She was a show stopper with a beautiful pale pastel gown which, was a show stopper on that evening. As she stepped on the stage, she lost her balance but eventually, she tried to manage herself excellently.
Arpita Khan Adorable and forever loving sister of Salman Khan >> Read More...
...
Being a known personality, Arpita Khan, the sister of Salman Khan Salman Khan is a very famous Indian actor and a pr >> Read More... , was embarrassed by her bad fall. This accident took place when she was going to attend the party with her friends. She wore a black dress, and the reason behind her fall was her heels that were too high to handle; she missteps and bumped on the floor. This was the biggest nightmare of Arpita khan.
...
If you think walking on a ramp is easy, so you're wrong. The show stopper and Bollywood's diva Kangana Ranaut
Sonakshi Sinha Sonakshi Sinha is a well-known Indian Actress. She >> Read More...
...
Well, known actor Sonakshi Sinha, daughter of Shatrughan Sinha Shatrughan sinha is a well known name of the Hindi >> Read More... , never disappointed us with any of her dressing style or fashion, but it so happened that she fell down while walking on the ramp. She has worn a nice metallic golden long gown in which she got entangled and tripped. Without any hesitation, she gathered herself to walk again.
...
Poonam Dhillon Born on April 18th, 1962, Poonam Dhillon is one of >> Read More...
...
While walking for a Designer Vikram Phadnis, a renowned actor Poonam Dhillon fell down on the ramp. She wore a very attractive red color saree with a black border. Right after falling on her face, she quickly got up and gave a dazzling smile, pretending as if nothing happened. The reason why she fell down was later coming out to be her high heels, which imbalanced her.
...
Being a former Miss Universe, even Sushmita Sen had her embarrassing moment in one of the fashion shows. She had worn a beautiful Indian attire, but she lost her balance. It happened because her red dupatta got stuck with her heels.
Kajol Devgan Born on 5th August 1974, Kajol was the heartthrob >> Read More...
While promoting the movie ' Dilwale Click to look into! >> Read More... ' with the whole cast, Kajol lost her balance and fell down in the hands of Varun Dhawan Varun Dhawan, a new comer entered Bollywood with h >> Read More... . Thankfully because of Varun Dhawan she didn't encounter any injuries. This was not the first time that she tripped in front of the media. This video got viral throughout social media.
Pooja Hegde Pooja hegde was the second runner up at miss unive >> Read More...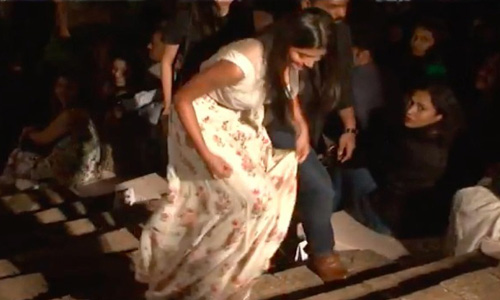 Pooja Hegde is a famous Indian actress, and she is mostly seen in many Telugu films. Pooja Hegde was also a former beauty pageant contestant. She fell down while climbing the stair and luckily did not hurt herself. She wore a flawless white gown that entangled in her heels and got stuck.
Sona Mohapatra Sona Mohapatra was born on 17th of June in 1976 at >> Read More...
Sona Mohapatra, an Indian singer, slipped while singing for the Lakme fashion show. Sona Mohapatra attended the Lakme fashion week as a model. Even after having a bad fall, she picked herself with whole confidence and started singing again. She was appreciated by her fans that she handled it so perfectly.
Vidyut Jamwal is an Indian actor, best known for his stunts and action films. Commando was one of the best films in which he did deadly stunts, which made us a shock. He has also done Martial art, but his stunt went the wrong front of Isha Deol while doing a backflip, he bumped his head and also slipped off the floor.