SHOLAY
One of the most iconic Bollywood movies ever made. Featuring some of the biggest stars of 70s - , Jaya Bachchan Born on 9th April 1948 Jaya Bachchan is an Indian >> Read More... , Hema Malini Hema Malini is perhaps the only dream girl of the >> Read More... , Dharmendra, Sanjeev Kumar Sanjeev Kumar was born on July 9th, 1938 in Mumbai >> Read More... and Amjad Khan Amjad Zakaria Khan was born on 12th November, 1940 >> Read More... , it has taught some very important lessons of friendship, love and being faithful. Sholay tells us the tale of a retired policeman Thakur who hires a pair of small-time thieves to help him capture Gabbar Singh Click to look into! >> Read More... , a wanted dacoit. While planning to seize Gabbar, thieves discover the motivation for Thakur's actions. This epic movie is a mix of several genres creating a masala film :)
...
CHOTI SI BAAT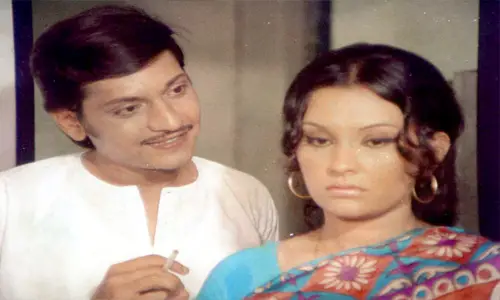 Within a few minutes of the movie, only every middle-class guy will be able to relate to it. You have a crush on someone and you keep trying to impress her, but there is another guy also who has a bike!!! While the heroine makes a fashion statement, the hero is the mass of innocence, trying to woo his lady love, following her every day. A simple story of gathering guts to confess your feelings but is full of beautiful emotions which will make you smile throughout the movie.
...
BALIKA BADHU
...
This movie is about a girl getting married at a very young age, where she doesn't even understand the meaning of marriage. Gradually she and her school-going husband grow as a couple and begin to love one another. It has enough content to touch your heart without any vulgarity. It was too awesome; the sweetness of true love & arranged marriage the film portrayed can take over any so-called romantic Bollywood movies. And the song, "Bade Acche Lagte Hain" was outstanding.
ANKHIYON KE JHAROKHON SE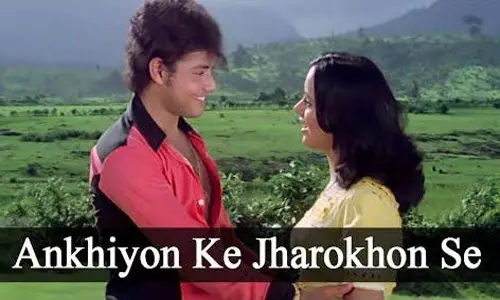 ...
It's a classic example of simplicity and true love. Arun and Lily are delighted as their parents agree to get them married, but things take a turn when Lily was diagnosed with blood cancer. The film was a huge blockbuster.
KABHI KABHI
...
Kabhi Kabhi was that kind of film, where it changed the way people romanced. It changed the way people dreamt of love. It changed the love itself. It is a story of how Amit and Pooja dreamt a future together, but they got separated because Pooja bows to the wishes of her parents and marries Vijay. Amit marries Anjali. Now their children from a prior relationship fall in love. A chain of events brings together old lovers as friends.
...
ANAND
...
"Babumoshai, Jindagi badi honi chaiye - lambi nai" - Gulzar Sahab is a genius who has written such memorable dialogues that you won't forget till you are alive. Rajesh Khanna Born as Jatin Khanna on 29th December 1942, the ch >> Read More... ji was terrific in his portrayal of such an endearing character. That smile in the face of the fateful tragedy was enough to melt your heart. The lyrics of the songs are also timeless which were written by Yogesh Ji and Gulzar. Everything is perfect in this movie.
KAALA PATTHAR
Kaala Patthar is inspired by a real mining incident which happened in Bihar. When disaster strikes, three men stood up to fight for the coal miners. Vijay, a disgraced ex-naval officer is now working in the coal mine. Ravi, an engineer is in charge of this project. Mangal is an escaped convict who finds shelter in the coal mine.
CHITCHOR
It is again a cult classic movie of Indian cinema. Vinod, who was mistaken for someone else by Geeta's family falls in love with Geeta. When the misunderstanding about his identity got cleared, it seemed as if he has to leave Geeta with no fault of his own. A simple, sweet movie of the time gone with the beautiful location and melodious songs; it will touch your heart.
GEET GATA CHAL
This movie is a great tribute to music lovers. A natural affection by the unknown towards his ability to sing outstandingly was shown in a very effective manner. Radha ka bhi Shyam vo to Meera ka bhi Shyam" this song touches the heart deeply... Best portrayal of Radha and Krishna till now.
GOL MAAL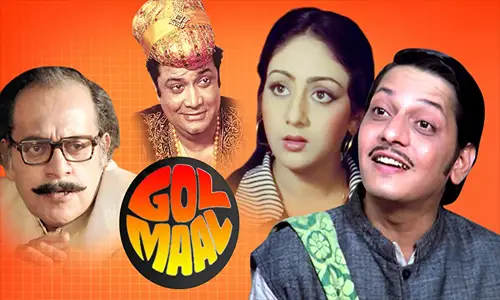 "Gol Maal hai Bhai sab gol maal hai", is how the movie starts and give the viewers an idea of how it's going to be, but it goes more than their expectations for sure where the laughing ride starts with Ram Prasad Sharma getting a job by faking his personality to impress Bhawani Shankar. " pitaji kaha karte the" already starts giving joy before main dialogue. This movie shows that audiences can be made to laugh without double meaning and sleazy jokes. That era for Indian Cinema was a golden era.