Bollywood is the biggest producer of movies in the world today. While most Bollywood films are originals, today, many films turn out to be remakes of Hollywood, South Indian industries, or other countries. Bollywood filmmakers realize the potential of great scripts and remake the originals in Hindi for the masses. While not many remakes come anywhere close to originals, there have been some instances where the remake has been proved superior. Today, we look at some of the Bollywood remakes that turned out to be better than the original.
1. Sholay (1975)
Arguably the greatest Hindi film ever made, Sholay is the unofficial remake of the classic 1960 American western film The Magnificent Seven Click to look into! >> Read More... , which was itself a remake of the Japanese film Seven Samurai. While both the Japanese and American versions remain classics today, Sholay was epic on another level. The iconic characters, dialogues, and songs have become legendary.
...
2. Black (2005)
Sanjay Leela Bhansali's critically acclaimed 2005 film is said to be an unofficial remake of the 1962 classic, A Miracle Worker, which was a biographical film revolving around the life of deaf and blind Helen Keller, and her teacher Anne Sullivan. Black stars Rani Mukerji Rani Mukerji is one of the most celebrated Indian >> Read More... and as the student and teacher respectively. It showcases the bond between them. The film won numerous awards and remains one of the most acclaimed films of all time.
3. Ek Ruka Hua Faisla (1986)
Ek Ruka Hua Faisla is the remake of the acclaimed courtroom drama, 12 Angry Men by director Sidney Lumet. It follows 12 jurors deciding the verdict of a man who is accused of murdering his father.  Although identical in many aspects to the original, the Hindi remake remains an acclaimed film today. Basu Chatterjee's direction received praise, along with the performances and writing.
...
4. Omg: Oh My God! (2012)
OMG has been adapted from the stage play Kanji Virudh Kanji, which was inspired by the Australian comedy, The Man Who Sued God, starring Bill Connolly. Bill's fishing boat gets destroyed by lightning, and he decides to file a claim against god when the insurance company deems it an "Act of God". Both movies were well-received, however, OMG became the subject of some controversies owing to its sensitive subject matter. It features a brilliant performance from Paresh Rawal The Padma Shri award winner who shot to fame with >> Read More... .
...
5. Baazigar (1993)
Baazigar is the Hindi remake of 1956's A Kiss Before Dying, which was again remade in 1991. The 1956 version received mixed reviews while the 1991 version received negative reviews. Baazigar has gained a cult following today. It was a huge success at the box office. It served as the Bollywood debut of Shilpa Shetty A model turned actress, producer, entrepreneur and >> Read More... , along with establishing the career of Shah Rukh Khan Shah Rukh Khan or also known as SRK is a prominent >> Read More... as a leading man.
...
6. Satte Pe Satta (1982)
The classic Bollywood comedy featuring Amitabh Bachchan, Hema Malini Hema Malini is perhaps the only dream girl of the >> Read More... , Amjad Khan Amjad Zakaria Khan was born on 12th November, 1940 >> Read More... , and others was adapted from the 1954 Hollywood musical Seven Brides for Seven Brothers. Excellent performances from Big B and Amjad Khan, along with the fantastic soundtrack of R.D. Burman made the movie an instant hit. It remains much more memorable than its American counterpart.
...
7. Raaz (2002)
One of the best horror movies of Bollywood, Raaz, is an unofficial remake of the 2000 film What Lies Beneath. It revolved around an older couple whose lakeside Vermont house starts appearing haunted. The Hindi remake had a similar storyline, with a few changes. Raaz was highly successful upon release, and received positive reviews, with praise for its performances and background score. It inspired three sequels and remains one of the best franchises of Bollywood.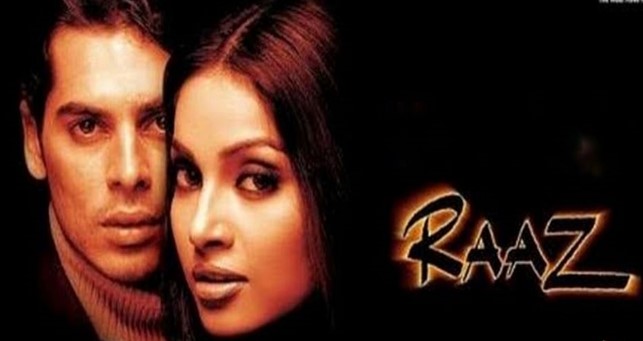 ...
8. Chachi 420 (1997)
The Kamal Hassan starrer was adapted from Robin Williams Robin Williams is a legendary actor and comedian. >> Read More... ' memorable comedy, Mrs. Doubtfire. Robin played a man who dresses up as an older woman to spend more time with his kids, as their nanny. Chachi 420 presented the same story with an Indian setting. Kamal Hassan made it a laugh riot with his incredible performance. The movie also featured iconic characters from the likes of Amrish Puri Amrish Lal Puri was born on 22nd June, 1932 in Pun >> Read More... , Paresh Rawal, and Om Puri Om Rajesh Puri is one of the widely noted senior a >> Read More... .
...
9. Munna Bhai M.B.B.S. (2003)
The iconic Munna Bhai M.B.B.S. follows a local goon who decides to become a doctor to make his father proud. He uses laughter to cure the sick. The film's storyline highly resembles the 1998 film Patch Adams starring Robin Williams. Though Patch Adams is based on the true story of Dr. Hunter Adams, the makers of Munna Bhai denied any connection to it. Nevertheless, Munna Bhai is a classic today and inspired a sequel, Lage Raho Munna Bhai.
10. Musafir (2004)
A remake of the 1997 neo-noir thriller U-Turn, starring Sean Penn One of the talented, award winning and intelligent >> Read More... and Jennifer Lopez Jennifer Lopez aka Jennifer Lynn Lopez is an Ameri >> Read More... , Musafir is directed by Sanjay Gupta Sanjay Gupta is an Indian filmmaker who has even p >> Read More... . It follows a debt-ridden criminal who goes to Goa for a drug deal and falls for a dancer who wants him to murder her abusive husband. The movie featured an excellent cast including Anil Kapoor Anil Kapoor was born on 24th December 1956 in Mumb >> Read More... , Sanjay Dutt July 29, 1959, was the day when the two legends of >> Read More... , Sameera Reddy Sameera Reddy was born on December 14, 1980, in Ch >> Read More... , and others. It was much more well-received than U-Turn and was even nominated for several awards.