When it comes to romance, love, and weddings Bollywood is the only film industry that comes into our mind. Watching this movie gives us chills, they make us want to have an exact wedding as in the movie. Some of the best wedding movies that will let you go nuts are listed below:
1. Yeh Jawaani Hai Deewani
Yeh Jawaani Hai Deewani has shown the dream of every bride, a DESTINATION WEDDING. The wedding takes place in Udaipur, packed with romantic scenes, songs, and dialogues. The first half of film has nothing to do with wedding but with the adventures of four friends on a hiking trip. The second half is all about WEDDING and will not let your hopes down.
2. Hum Aapke Hain Koun
Hum Aapke Hain Kaun movie is the best among 1990's wedding movies. This film has provided us the best wedding playlist comprising of 14-best soundtracks. It has perfectly described Indian weddings filled with songs and games. The movie has beautifully shown the Indian wedding traditions, the plot of a wed couple and their relationship shared between their families.
3. Vivah
The movie title itself tells its theme! Vivah tells a story of an ideal son, Prem and the mannered girl Poonam, and their journey from the Indian engagement to the wedding. It is a classic film from the Rajshri Productions house.  
4. Dilwale Dulhania Le Jayenge
Dilwale Dulhaniya Le Jayenge is all time favorite movie, the best of 90's. The songs, scenes, and dialogues of this film have taken a special place in our hearts. The plot of movie is about Simran and Raj who go for vacation tour with friends where love happens to them. Raj tries to win Simran's family during the big Punjabi wedding of Simran so that he can take away the bride.
5. Tanu Weds Manu Click to look into! >> Read More...
Tanu Weds Manu is a romantic drama film. The story revolves around Manu, NRI doctor who comes to India to find a bride and falls for a spirited girl, Tanu who doesn't want to marry him. This movie gives us a large dosage of Indian weddings.
6. Hum Saath Saath Hain
Hum Saath Saath Hain is the Father of all the bollywood wedding movies because this movie has not one, not two, but a total of FOUR WEDDINGS and a high dosage of engagements, rituals, and honeymoon scenes. Also, the film is star-studded with actors like Salman Khan Salman Khan is a very famous Indian actor and a pr >> Read More... , Saif Ali Khan Saif Ali Khan is a film celebrity born to actress  >> Read More... , Karishma Kapoor and much more.
7. Humpty Sharma Ki Dulhania
Humpty Sharma Ki Dulhania is a new generation romance drama film based on Dilwale Dulhania Le Jayenge. The movie revolves around Kavya and Humpty who falls in love when Kavya comes for her wedding shopping in Delhi. It covers the preparations of Kavya's wedding and the struggles of Humpty to win her family's heart.
8. Namastey London Click to look into! >> Read More...
Namastey London centres around the NRI marriages, it has beautifully captured the journey of a Punjabi boy, Arjun who falls in love with an NRI girl Jasmeet and wants to marry her. The movie has shown the differences between India and Foreign countries when it comes to morals, matrimony and respect.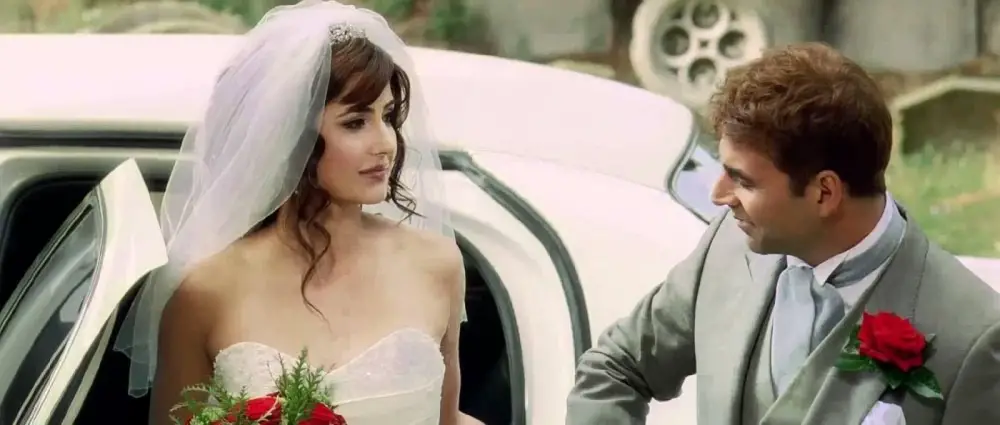 9. Mere Brother Ki Dulhan
Mere Brother Ki Dulhan has the most shocking plot, yet the ending will make you happy. The movie tells the story about a guy, Kush loves his brother's to-be-bride Dimple. It has a destination wedding in Agra, from where the Taj Mahal is visible; how ROMANTIC IS THAT!
10. Dolly Ki Doli Click to look into! >> Read More...
Dolly Ki Doli is a comedy romance movie. It is a story of a runaway bride. It tells a story about a young con artist, Dolly who fakes weddings with men and runs away with their wealth right on their wedding night!