Bollywood love stories have always drawn the attention of viewers because of the popularity the celebrities have got through the profession. Some Bollywood actors had love in the air at the first sight and for some a long-time friendship bond made them get married. The film set played the significant role in these couples' lives as they found their soul mate for life by working together closely during a shoot. So here is the list of the ten Bollywood couples who worked together in films and sparked their love story in a movie set-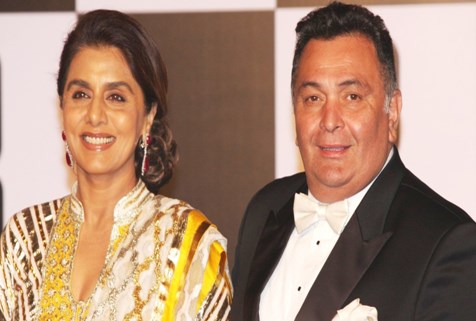 ...
Rishi and Neetu are the most charming and iconic couple in Bollywood. This duo has worked together in almost eleven films. Love blossomed between them, and their bond grew stronger with each passing movie they did together. The couple got married in the year 1980, and they have two kids including Ranbir Kapoor Ranbir Kapoor is a noted Indian film actor. He was >> Read More... .
...
Another iconic Bollywood couple Dharmendra and Hema Malini have set relationship goals. Both the duo has part of many films together which includes Sharafat, Tume Haseen Main Jawan, Naya Zamana, Sholay, Seeta Aur Geeta Seeta aur Geeta is an Indian Television drama seri >> Read More... and much more. The couple fell in love in their film set of Tum Haseen Mein Jawan. Dharmendra was already married to Prakash Kaur Prakash Kaur, a personality that attracted the emo >> Read More... ; his first wife refused to give him a divorce, so he went ahead to change his religion to Islam so as to get married to Hema Malini in the year 1979.
...
Amitabh Bachchan and Jaya Bachchan
One more iconic and golden couple Big B and Jaya have set the couple goals through their happy marriage. The duo has worked together in many films including Chupke Chupke With serials like Kuldeepak which has been recentl >> Read More... , Silsila, Ek Nazar, Bansi Birju and much more. The couple fell in love while they were working together in films, and they got married in the year 1979. The couple has two kids including Abhishek Bachchan Abhishek Bachchan, or Abhishek Srivastava, is a ve >> Read More... .
4. Dilip Kumar Muhammad Yusuf Khan was born on the 11th of Decemb >> Read More... and Saira Banu When Saira made her debut in film Junglee, she was >> Read More...
A classic Bollywood pair Dilip Kumar and Saira Banu relationship will make you believe the mosaic of a happy marriage. Saira Banu was smitten by Dilip Kumar when she was just 12. They both stood up for each other through thick and thin in life. Their marriage erupted controversy as Saira was 22 and Dilip Kumar was 44 when they got married. The couple also worked together in many films like Duniya, Bairaag, Sagina, Chhoti Bahu, and Gopi.
AB and Aishwarya became friends when they worked together in films Kuch Na Kaho and Dhaai Akshar Prem Ke. Both the couple developed feelings for each other when they got time to spend together while working on three films Guru, Umrao Jaan Click to look into! >> Read More... and Dhoom 2. This charming couple tied the knot in the year 2007, and they are blessed with a baby girl Aaradhya
Ritesh Deshmukh and Genelia 
Ritesh and Genelia are the most adorable couple in Bollywood. They both first met on the set of the movie set Tujhe Meri Kasam. The two have enjoyed each other's company, and they fell in love without even realizing. After few years of dating, the couple decided to tie the knot in February 2012. The duo is proud parents of two baby boys.
Khiladi Kumar has found his love while working with Twinkle Khanna. They both worked together in two films which include International Khiladi and Zulmi. Both the duo enjoyed spending time together. Twinkle once said to Akshay that she would get married to him only if her film Mela fails at the box-office. The film got failed, and their marriage happened in 2001. The couple is doting parents of two kids Aarav and Nitara.
and Kareena Kapoor
After Kareena had broken up with Shahid, Bebo started working for the film Tashan where she was smitten by Bollywood Nawab Saif Ali Khan. Love sparked between the two as they worked together again for the movie Kurbaan. They dated for about five years before getting married in the year 2012. Recently they became proud parents of Taimur Ali Khan Taimur Ali Khan Pataudi is the son of actors Saif >> Read More... .
Ajay and Kajol
Ajay and Kajol also fell in love while working together. The duo has worked in films like Hulchul, Ishq, 'U me Aur Hum' and Raju Chacha. Opposite attracts, this proved true in the case of Ajay and Kajol love story. They dated for four years and then got married in 1999. The couple is parents of two kids Nysa and Yug.
This couple drew towards each other not instantly but gradually as they spent time together. By working in the same project Dhoondhte Reh Jaoge and 99 they got the chance to understand each other. Firstly they believed they cannot be friends, but later they attracted towards each other in no time. After successful live in relationship, the couple married in 2015, and they are now waiting for their first baby.