Bollywood weddings have always been an intriguing fusion of tradition, passion, and glitz that has captured the attention of millions worldwide. With fans eagerly anticipating every detail, from the guest list to the wedding clothing, these celebrity-studded affairs have the potential to spark a media frenzy. These weddings go far beyond simply celebrating love; whether it's the nuptials of two Bollywood superstars or a tale of cross-cultural love, they become a cultural phenomenon that takes over news headlines and social media. Bollywood celebrity weddings are a spectacle that creates a lasting impression on society thanks to their lavish ceremonies, stunning locations, and star-studded guest lists.
Bollywood actress Anushka Sharma and Indian cricket team captain Virat Kohli wed on December 11, 2017, in a ceremony in Tuscany, Italy. The couple completed their wedding ceremony amongst friends and family, and the wedding was far from public sight. Fans anxiously awaited pictures of the wedding ceremony as the announcement of their nuptials shocked the media. The pair looked lovely in the photos and videos from the wedding that were shared on social media. Even after the wedding, there was still a media frenzy because people were curious to learn more about their post-wedding celebrations.
One of Bollywood's most adored couples, Deepika Padukone and Ranveer Singh, exchanged vows on November 14 and 15 at Lake Como in Italy. The Konkani and Sindhi rites were part of the two-day wedding celebrations. The pair ensured that no photos or recordings of the romance emerged and kept it very covert. But as excited fans awaited images of the couple in their wedding dress, the media erupted into a frenzy. When the photos were public, they caused a stir since the pair looked stunning in their traditional attire.
The union of American musician and Bollywood actress Priyanka Chopra was a lavish event that lasted several days in December 2018. Both Christian ceremony and religious Hindu wedding ceremony were held as part of the festivities. There was a huge media frenzy surrounding their wedding, with Bollywood and Hollywood fans excitedly following every detail. The media was very excited trying to cover every detail of the couple's celebrity-studded wedding functions after the couple shared beautiful photos of their wedding.
...
4.  Sonam Kapoor And Anand Ahuja (2018)
On May 8, 2018, in a customary Sikh wedding, Sonam Kapoor, noted for her fashion-forward selections, wed businessman Anand Ahuja in Mumbai. The who's who of Bollywood was present at the wedding, which was attended by several celebrities. Sonam's notoriety and sense of style contributed to the media craze that surrounded their wedding. Fans awaited sneak peeks of her wedding attire, which was created by renowned designers. The wedding quickly gained significant media attention because of the couple's stunning appearance.
...
5. Saif-Ali-Khan-And Kareena Kapoor Khan (2012)
On October 16, 2012, Bollywood superstar Kareena Kapoor and , the Nawab of Pataudi, got married in a private ceremony with close family in Mumbai. Given that Saif has a royal heritage and Kareena is a well-known actress in Bollywood, there was a tremendous amount of media attention surrounding their wedding. Traditional and modern wedding decor elements were combined, and the couple's photos were widely circulated in the media. Kareena's transformation into the Begum of Pataudi delighted the public, and the media coverage persisted long after the wedding.
...
The marriage of former Miss World Aishwarya Rai and Amitabh Bachchan's son, Abhishek, in 2007 sparked a media frenzy of epic proportions. On April 20, 2007, a small gathering of close family and friends attended the wedding. The media got into a frenzy to document every little nuance of the elaborate event. The couple's photos were in high demand, and their wedding was eagerly anticipated by their followers. The wedding of Aishwarya and Abhishek was one of the most publicised occasions of the year.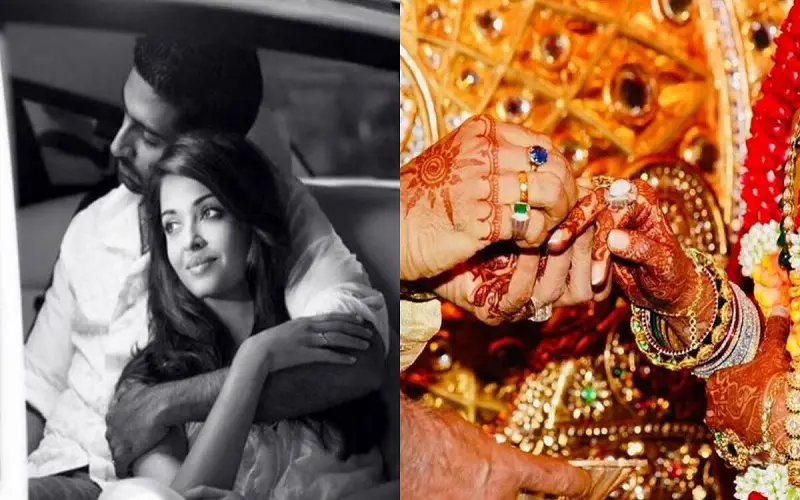 ...
Bollywood hunk Shahid Kapoor shocked everyone by marrying Delhi native Mira Rajput on July 7, 2015. The wedding was a private event that took place in a farmhouse outside of Delhi. Due to the interest from Shahid's supporters in learning more about his life partner, the media frenzy surrounding their wedding was considerable. Fans went crazy about the couple's chemistry and stunning wedding clothing when they posted their wedding photos on social media.
...
Alia Bhatt, a budding star in the industry, and Ranbir Kapoor, one of Bollywood's most well-known actors; got married on February 14, 2023. Due to their fame and their widely reported romance, the couple's wedding sparked a huge media frenzy. After dating each other for a long time, Ranbir and Alia's supporters were anxiously anticipating word of their nuptials. The wedding was a lavish event conducted in an opulent Mumbai location. Long before the big day, there were rumours and speculative reports about the wedding's date and location, which sparked a media frenzy. Outside the venue, fans and media representatives were waiting to see the celebrity guests and the newlyweds.
...
The 2012 wedding of Bollywood celebrities Riteish Deshmukh and Genelia D'Souza was much anticipated. This pair dated for a long time which resulted in fans being more excited about their wedding. The celebrations, which took place over several days, combined Christian and Maharashtrian rites. Fans enjoyed Riteish and Genelia's chemistry, and their wedding photos were extensively shared. Fans eagerly awaited information on their post-wedding parties, which prolonged the media frenzy surrounding their wedding for weeks.
On May 10, 2018, actress Neha Dhupia