In addition to selecting the right outfit, matching heels and accessories with it, and finishing our look with good make-up, we all have several ways to groom ourselves from top to toe, but there are certain things that we may miss out on, but the opposite person would never miss out on! You could have the perfect outfit, a designer handbag to go along with it, and a pair of flashy heels, but if your nails aren't perfectly manicured, your outfit will be incomplete. You can never overestimate the impact fresh nails have on your outfit by elevating it to another level. Hands and legs that are perfectly manicured and pedicured not only feel good, but also make a great sight! Our desire is to have perfectly manicured hands, but carrying off long nails can be a challenge. There are some men who find long nails hot, while there are others who find them offensive. The following ten B-town diva's have some seriously long claws. Irritating them may lead to an attack!
In the media, she is often referred to as a scream queen and a sex symbol due to her work in the thriller and horror genres. As a successful fashion model, Basu was born in Delhi and raised in Kolkata. According to Bipasha Basu, our Bong bombshell's nails are no exception to her attention to detail. It is important to her that they are long and fashionable.
...
2.
Ruby Bhatia Ruby Bhatia is a multi-faceted personality of the >> Read More... and Malaika were MTV VJs in the mid-90s (around 94–95). It was at least 20 years ago that she was born. At least 46 now, so she is no longer a child. Yet she competes head-on with girls in their 20s and early 30s for one of Bollywood's most fit and sexy bodies. She always keeps her nails in tip-top shape. No matter how big or small the task, she knows how to carry it off with flair. This look is amazing!
In both Bollywood and Hollywood, Priyanka Chopra is one of the most popular and highest-paid actresses. It has been a long journey for Chopra since her humble beginnings in India. Today, she is one of the most successful women in the entertainment industry due to her hard work, dedication, and talent. As part of the latest craze in Bollywood, Piggy Chops offers nail painting services. The black nail designs on Priyanka's long nails make her stand out. In her tiny black dress, Mrs. Jonas looks elegant, but her bare long nails make me swoon.
...
4.
The actress Sushmita Sen is known for her intelligence and empathy, along with her confidence and grace. She brought home the prestigious crown for the first time in 1994 after being crowned Miss Universe, we are drawn to Sushmita's beautiful nails, not her grin. The French manicure and Sushmita's excellent shape earn her a 10.
...
She has received multiple accolades, including seven Filmfare Awards, for her versatility. Her name has been included in lists of the highest-paid actresses of the 2000s. It would have been great if she had a little bling on her fingers.
...
She was nominated for a Filmfare award for Best Female Debut as well as a Dadasaheb Phalke Excellence Award for her performance in the Bollywood film, " Hero Click to look into! >> Read More... ". Keeping the season fresh all year long, we can't help but admire Athiya Shetty's minimalistic aesthetic. Her love of all things minimal extends to her naturally sculpted nails, so why not recreate them for an endless springtime state of mind?
...
Shanaya Kapoor was born in Mumbai, Maharashtra, India, on 3 November 1999. In addition to Gunjan Saxena: The Kargil Girl (2020), Screw Dheela, and Bedhadak, she is an actress and assistant director. Y2K trends are sweeping the world, and while her dressing sense is fabulous, her nail art extends this very stylish trend. When it comes to Shanaya Kapoor's naturally rounded tips, she loves getting colorful, funky elements that put the fun in funky.
...
Bollywood actress and daughter of movie producer Gauri Khan Born on Ocotber 8 1970, Gauri Khan (originally kno >> Read More... and actor Shahrukh Khan. Suhanakhan2's Instagram account has over 3.2 million followers. She is a model and extremely popular on Instagram. In addition to her gorgeous nail art designs, Suhana Khan makes the effort to go to Dubai to get them done. It's always her nails that stand out more than anything else, even when she wears minimalistic dresses and casual chic outfits.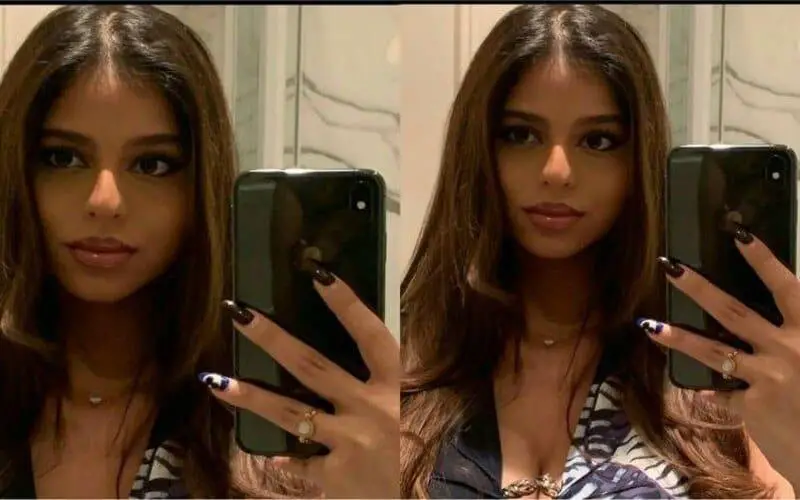 ...
His advertisements for Wrigley Company's Doublemint featured the song "Ek Ajnabee Haseena Se" as the background score. He also appeared in an advertisement for Vodafone India during the Indian Premier League cricket season. We often see Banita Sandhu on the streets of London wearing her chic millennial style, but she never fails to add a little twist to the usual rounded French tips. Her recent matcha-colored pick or multicolored tips, it's hard to decide which one is my favorite.
In Hindi films, Sherlyn Chopra worked as an actress and model. Playboy magazine published Chopra's nude photo in July 2012. Two years later, the photographs were released. Following that, she was chosen to host MTV Splitsvilla's sixth season. Long nails were always a part of her appearance. Nobody. It is possible to guess what she is going through because she resembles a horror film.