Movie marathons are a fun endurance test you may do with friends, family, or a partner while completely immersing yourself in the world of movies.
1. The Millenium Trilogy
Stieg Larsson's books have undergone numerous adaptations, with Lisbeth Salander portrayed by both Rooney Mara Her full name is Patricia Rooney Mara. She was bor >> Read More... and Claire Foy Claire Foy is an English actress born on 16th Apri >> Read More... in various iterations. However, Noomi Rapace's portrayal of Lisbeth and the trilogy of movies she plays in stand out the most.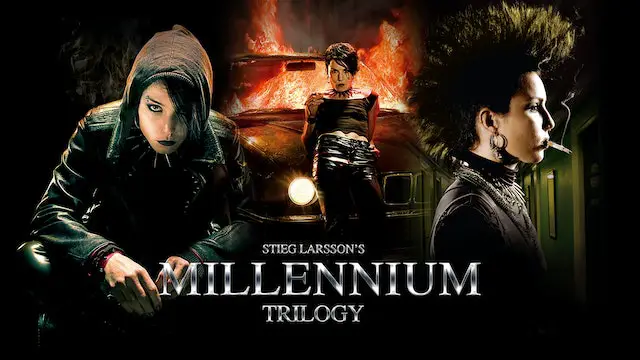 ...
2. Harry Potter
Harry Potter and Christmas seem to go together for some reason, don't they? It probably helps that each of the franchise's eight movies has a Christmas scene filled with hand-knit sweaters, sweets, and holiday feasts. However, they also contain tales of magic, family, and connection—all of which are central to the holiday. 
3. Lord Of The Rings
Because the original Lord of the Rings movies all had their box office debuts on Boxing Day and we have such vivid recollections of taking our families to the theatre to watch them, we also cannot help but identify Christmas with the Lord of the Rings. Currently, it seems like a Lord of the Rings movie marathon would be the ideal activity for a leisurely summer weekend. The earlier The Hobbit movies should be avoided in favor of the original trilogy; nevertheless, make sure to watch the extended editions. Yes, they'll lengthen your marathon, but they're much better.
...
4. The Matrix
With the fourth movie, a reboot starring Keanu Reeves A very skilled actor, having a career spanning mor >> Read More... and Carrie Ann Moss, and a new cast that includes Jessica Henwick Jessica Yu Li Henwick is a distinguished actress a >> Read More... and Priyanka Chopra Born on 18 July 1982, Priyanka Chopra is an establ >> Read More... , opening in theatres on Boxing Day, it's the perfect time to binge all three of The Matrix films on Netflix. One of those sci-fi series, The Matrix, was years ahead of its time when it first debuted in the 1990s. The soundtrack is techno-fabulous, the combat sequences are spectacular, and the leather pants are amazing. Not everyone will enjoy it, but if you enjoy action and science fiction, binge-watching this one will be enjoyable.
...
5. The Toy Story
The "Toy Story" films from Pixar have regularly received some of the best reviews from the studio. In addition, despite "Toy Story 3's" flawless conclusion, Pixar felt compelled to release a fourth film featuring Woody, Buzz, and the gang. With this marathon, go on a six-hour journey through nostalgia.
...
6. High School Musical
For many of us, this entry on the list evokes the fondest memories, and Disney Plus has all three films available. In addition, they have a fourth film to include in the marathon: "Sharpay's Fabulous Adventure," an Ashley Tisdale-starring direct-to-DVD spin-off.
...
7. Father Of The Bride
Let's move on to something else different. When did you last see a Father of the Bride episode? It's time to see Father of the Bride again because they're all available on Disney+, especially if you've been as delighted as we have this year watching and Martin Short Martin Short is also known as Martin Hayter Short, >> Read More... in Only Murders In The Building, also on Disney+. These love-filled comedies, written by Nancy Meyers Nancy Meyers is one of the most renowned producer, >> Read More... and helmed by her former husband Charles Shyer, are just so wonderful and radiant. Martin and Diane Keaton Diane Keaton aka Diane Hall by birth was born on J >> Read More... give flawless performances, and the antics make for the ideal, fun rom-com binge. simply heaven.
...
8. James Bond
Why not try something a little more opulent? Given that there are currently 25 James Bond movies, we don't recommend that you watch them all. Craig has been a classy and sleek James Bond, and between Casino Royale and Skyfall, he has been in at least two of the best movies in the franchise. A rather swanky and sophisticated viewing experience for a weekend on the couch.
...
9. Indiana Jones
The Indiana Jones films are fantastic. Indeed, even the final one. They're just so endearing and enjoyable, ideal for family viewing if you have younger viewers to take into account, and they inspire us to plan trips to Egypt and other exotic locations. Sean Connery plays Indiana Jones' father in later movies, joining as the archaeology professor turned explorer. We enjoy these movies even more for their extreme silliness, snappy dialogue, and hilarious stunts.
10. To All The Boys I've Loved Before
Nothing gets you through a long summer weekend like a lovely, young rom-com binge. No matter how many times we watch the story of Lara Jean Covey and Peter Kavinsky, high school sweethearts brought together because of a fake relationship plot - unquestionably one of the best tropes in romcom history - it never gets old. The To All The Boys I've Loved Before trilogy is available on Netflix. The three movies in this franchise make us swoon every time we see them, and at about 90 minutes apiece, they are the ideal length for an afternoon binge.