Writing is a process that does not just require you to type words in a continuous thread of consciousness but also demands you to be creative and inspired at all times. Here's a list of movies that represent the effort that goes into writing and what inspires the books we read.

1) ' Midnight In Paris Click to look into! >> Read More... ' (2011)
Midnight in Paris takes an unusual take on shortcomings in relationships as Gil Pender, a screenwriter, goes to Paris with his materialistic fiancée and ends up time traveling and meeting famous writers of the 1920s. The movie is perfect for those who have a love for writing, time traveling and romance.

2) Shakespeare In Love (1998)
...
Shakespeare in Love is, without any doubt, a must-watch for all the lovers of the Bard out there. Set in the London of the 16th century, this movie shows Shakespeare getting inspired to write Romeo and Juliet and falling in love with his muse over the process of penning down the play. The movie is sure to tug at the emotions of people who have had the chance of reading or watching a Shakespearean play.

3) Stranger Than Fiction (2006)
...
This American comedy-drama-fantasy film follows the unusual happenings taking place in Harold Crick's life as he starts hearing a voice in his head that is narrating his life and predicts his quick upcoming death. The movie has a very smart plot and shows how the life of a writer and his/her characters can sometimes interweave.

4) Ruby Sparks Click to look into! >> Read More... (2012)
...
In this romantic comedy, Calvin Fields, a writer who seems unable to write anything after his first successful book, starts writing about a girl who likes his rather uninspiring dog. The movie takes an unusual turn when this character, Ruby Sparks, leaves the fictional world of the writer's imagination and becomes a real human being.

5) Stuck In Love Click to look into! >> Read More... (2012)
Stuck in Love focuses on the chaotic relationships between a famous author and his ex-wife, their college daughter and teenage son. This movie is about how love can often be the most powerful source of inspiration while writing. With an incredibly talented cast, the movie is sure to keep you entertained.

6) The Rewrite (2014)
...
The Rewrite is about a washed-up screenwriter, Keith Michaels, who won the Academy Award for best screenplay in 1998 but after that got divorced and became part of some unsuccessful movies, finally resorting to teaching screenwriting in a university. The story proceeds with him getting romantically involved with one of his students and finally realizing that he is in love with a single mother.

7) Secret Window (2004)
...
Depressed and suffering from writer's block, divorced author Mort Rainey resorts to his cabin where he meets John Shooter, who accuses Rainey of plagiarizing one of his stories. Based on Stephen King's novella Secret Window, Secret Garden, this movie is a psychological thriller that takes an interesting turn on the curse that is writer's block.

8) Authors Anonymous Click to look into! >> Read More... (2014)
...
Authors Anonymous is an American comedy that shows how a dysfunctional clique of unpublished writers accepts a young Hannah. Hannah, who does not take much interest in reading, surprises everyone when she gets her first manuscript turned into a Hollywood movie. Other writers start feeling resentment towards her and the support that they initially showed her starts fading.

9) Deconstructing Harry (1997)
...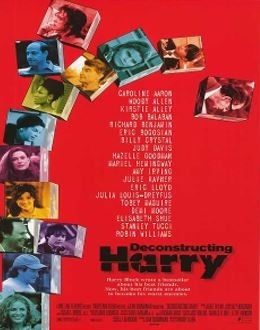 In this comedy film by , the protagonist Harry Block starts writing about people from his past which leads to his relationships with them getting in trouble. The movie interestingly cuts between real time and the time of Harry's fictional characters and represents itself as a classic Woody Allen work.

10) 5 To 7 (2014)
5 to 7 is a rather unusual romantic movie that shows a writer, Brian Bloom, having an affair with an older, married woman, Arielle Pierpoint. Their romance, however, is confined to the hours of 5 to 7 as that is when Arielle and her husband have decided to have extramarital affairs. A rather sad movie about the fulfilment and different facets of love, 5 to 7 is sure to charm you with its talented cast and smart screenplay.