There has been a number of incredible performances by actors who have managed to bring us to tears with the loads and loads of goof ups and laughs. To narrow down the list to a mere 10 is hard and unfair to the others because they are all great performances however there are some that are simply too hard not to be given a special place. We would love to put it up on a wall of fame, giving each of these movies the love they deserve.
1. ' Step Brothers Click to look into! >> Read More... ':
...
To start the countdown what better than the men who can tickle your bones the ultimate king of comedy and John Reilly as Brennan and Dale in the Step Brothers. Brennan and Dale are two grown up men in their late 30's who still live with their parents and are basically spoilt brats. However, when Dale's dad and Brennan's mom decide to get married the whole family is set for a goofy turn of events; with both of them hating each other and doing their best to piss each other off the plot gets funnier. Soon due to an incident they start to realize they have a lot in common and form a bond thicker than blood. The story goes on this way with them wrecking their dad's boat for a music video causing the parents to decide to get a divorce which results in the separation of the brothers as they blame each other for it. They both start working and become mature adults and meet after some time at an event during which the singer of the band performing creates a scene due to which Brennan gets blamed. Their father tells them both to act like they always did and light up the show; the two did so and the iconic brothers were back. It's a very jolly and fun movie and makes us realize that once we grow old we forget to have fun like we did when we were kids.
2. 'Knocked Up':
...
When jobless party animal Ben Stone ( Seth Rogen Seth Rogen is a Canadian born actor, comedian, wri >> Read More... ) gets a call from Alison Scott ( Katherine Heigl As she made back to back movies about relationship >> Read More... ) a career-minded woman after eight weeks from their one-night stand both their lives start going downhill in a series of events that make you laugh the entire time. The feature shows how two individuals who have very less in common slowly adjust and love each other. The film tells you that it isn't about a prince charming always, sometimes even the baker's boy can be the one.
3. 'I Love You, Man':
...
Peter Klaven ( Paul Rudd The handsome and charming, Paul Rudd born on 6th A >> Read More... ) just got engaged to his dream girl but here starts the real dilemma; he needs a best man. Being a friendless man he starts going on man dates to find the perfect guy to be his best man. That's when he meets Sydney Fife ( Jason Segel Jason Segel born to a rich Jewish lawyer, he spent >> Read More... ) and soon they become best of pals. Peter's fiancée Zoey becomes suspicious of Sydney, and Peter and she have an argument. Peter tells Sydney their friendship is over and patches up with Zoey. In the end, all things turn out well with Peter's ad campaign by Sydney becoming a hit and the wedding is a success as finally Peter had found his best man.
4. 'Hot Fuzz':
...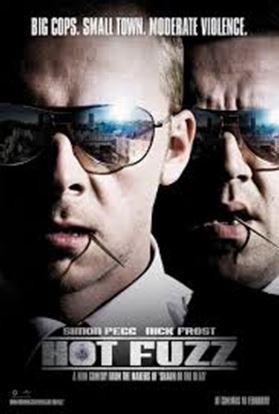 When Nicolas Angel, a city cop, gets reassigned to a dull village with basically zero crime rate, all hell breaks loose when a series of death take place. The plot goes on to show how he solves the case with his goofy sidekick and keeps you laughing to the very end.
...
5. 'Zombieland':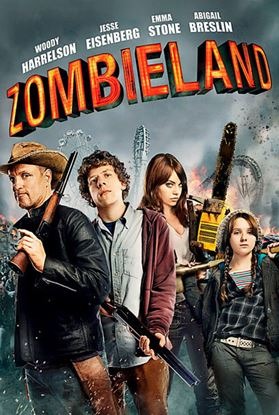 ...
A zombie apocalypse could never get this funny. Columbus ( Jesse Eisenberg Jesse Adam Eisenberg is an American author, actor, >> Read More... ) isn't infected and follows rules to survive the apocalypse; however his whole plan is affected upon meeting Tallahassee ( Woody Harrelson Woody Harrelson is an American activist and a popu >> Read More... ), Witchita ( Emma Stone Emma Stone was born in Scottsdale, Arizona. Her or >> Read More... ) and her baby sis Little Rock. The four try to make their way to Pacific Playland in L.A., a zombie-free zone. The journey to get there is fun and hilarious.
6. 'Juno':
...
The tale of a 16-year-old high schooler Juno MacGuff ( Ellen Page The 28-year-old Ellen Page is a Canadian actress w >> Read More... ) who discovers she is pregnant by her friend, Paulie Bleeker (Michael Cera). She considers getting an abortion, however after going to the local clinic, she sees one of her classmates outside holding one-person pro-life vigil. She drops the idea of abortion and goes for adoption. The not so happening life of Juno takes a turn and becomes even worse. The mental and physical changes taking place make a rather stressful situation funny. The life of a pregnant teen could never be more dramatic or amusing.
7. 'Tropic Thunder':
The best combination ever with Ben Stiller Ben Stiller is one of the most renowned comedians >> Read More... as action hero Tugg Speedman, Kirk Lazarus an academy award winner played by , rapper Alpa Chino by Brandon T. Jackson, and Jeff Portney by Jack Black Jack Black whose full name is Thomas Jacob Black w >> Read More... , this squad could have you laughing from the beginning to the end without a break. The four are shooting for a movie in Vietnam. Due to the tight schedule and the delay in shooting because of these four, the director decides to put them in the actual forest with hidden cameras to finish the movie, and we could never ask for something better. The freak occurrences that follow would make die with laughter.
8. ' The Dictator Click to look into! >> Read More... ':
Feeling up for some political satire black comedy then this is it. The dictator has Sacha Baron Cohen Sacha Baron Cohen is famous English comedian and a >> Read More... playing the childish, tyrannical, sexist, anti-western Admiral General Haffaz Aladeen. When the UN decides to intervene with the military he decides to go to the headquarters of the U.N. in New York Click to look into! >> Read More... to talk terms with them. On arrival, he gets kidnapped and nearly assassinated by his own uncle but he escapes and meets Zoey, an activist with whom he later falls in love with and gets married, and then he bumps into a scientist whom he had ordered to be executed. The scientist agrees to help him out and the story picks up momentum from there on and just keeps getting funnier.
9. ' Pineapple Express Click to look into! >> Read More... ':
This hysterical duo gets you real good. The plot is mainly concerned with a process server (Seth Rogen) and his marijuana dealer friend ( James Franco James Franco is a prominent American actor and dir >> Read More... ) who are forced to flee from hitmen and a corrupt officer who witnesses them commit a murder. The bond that these two create is epic and the whole journey is electric and fun.
10. ' The Hangover Click to look into! >> Read More... ':
The best for the last; even after 3 installments each movie better than the other. No movie has been able to surpass the fun and comedy as this film has. Every time the icon trio gets together all hell breaks loose. From drug lords to strippers, this movie has it all for the perfect bachelor party. However when none of the characters have any memory of what happened and with the groom missing it gets hilariously unforgettable.