The Assamese Film Industry, normally referred to as " Jollywood Jollywood is a Malayalam language TV show that air >> Read More... ," is one of India's most booming film industries today. There are many outstanding, well-known, and well-liked actresses working in the Jollywood industry. They are capturing the hearts of their viewers and followers not only on television but also on social media. Bollywood and Tollywood, two more well-known industries, have also contacted some well-known Assamese actresses.
Amrita Gogoi, one of the most well-known actresses in the Assamese film industry, made her acting debut in the drama movie Ahetuk in 2015. She received the Best Actor Female title at the Prag Cine Awards North East that same year. Amrita Gogoi, who primarily works in Assamese cinema, was born on December 22, 1991, in Sivasagar, Assam. This well-known, attractive, and skilled actress has appeared in numerous movies, including Pedal Mari Mari, Ragini, and many others, in addition to Ahetuk. She has contributed to numerous Assamese music videos and television programs, in addition to films. A girl named Ridhi was born to Amrita Gogoi and Mondeep Kakati.
...
Sunita Kaushik, a professional Kathak dancer, was born on June 10, 1988 in Thelamara, Tezpur, Assam. She currently resides in Guwahati, Assam. She began her career with the BAAN Theatre group in Tezpur. Sunita Kaushik is best known for her leading roles in blockbuster television series like Anuradha, Ki Naam Di Matim, and Moromor Anuradha Moromor Anuradha is an Assamese romantic drama ser >> Read More... , among others. She has appeared in more than 60 music videos, and her film career began with Munin Barua Bio coming soon... >> Read More... 's 2017 romantic comedy Priyaar Priyo. She has also appeared in the film Ajanite Mone Mone. She has contributed to the albums Abujon Mon and Nojonake Nubujake. Bitutpal Goswami is married to Sunita Kaushik.
3. Parineeta Borthakur
In addition to being well-known in the Assamese cinema industry, Parineeta Borthakur Parineeta Borthakur is an Assamese actress, who ha >> Read More... is well-known throughout India. She was born in Duliajan, Assam on February 21st, 1985. A vocalist, she has been in numerous movies and television shows. Parineeta Borthakur has appeared in films by Munin Barua, Timothy Das Hanche, and Rajesh Jaspal, as well as the films Nayak (2001) and Barood (2004), Poley Poley Urey Mon, Jeevan Baator Ligori, and Borolar Sansar (2005). She has worked in numerous Bollywood films, including Saas Bahu Aur Sensex (2008), Kurbaan (2009), Force, and Chalo Dilli (2011), in addition to the Assamese film business.The following Hindi television series include her outstanding work: Lavanya, Mamta, , Savdhaan India Show Story Coming Soon... >> Read More... , and many others.
...
Deeplina Deka, commonly known as "Pori," was born in Guwahati, Assam, on February 7, 1992. Deeplina Deka, a well-known actress in the Assamese film industry, is also a well-known vocalist, an electrical engineer, a trained Kathak dancer, a top-level badminton player, and she has a Masters degree (Nipun) in classical music. She made her Jollywood debut with Zubeen Garg Zubeen Garg or Zubeen Borthakur aka Goldie was bor >> Read More... 's Assamese blockbuster Mission China (2017). She made her acting debut in Tarun Tanmoy's 2015 song and music video Nuwari Nuwari. She sang her original song, Sui Diyana, which she shared on her YouTube account in 2017. Chandra Mudoi Bio coming soon... >> Read More... is reportedly her next project.
...
On February 9, 1993, Priyanka Baishya, also known as Pri Baishya, was born in North Guwahati, Assam. She became well-known thanks to her appearance in the contentious Pitiki Pitiki music video. She played the lead role in several Assamese songs, including Taxi Gari, Deha Tumaar Lahoti, and Disco Bhonti. She has worked with Strawberry Magic Productions because she is a well-known actor in the Assamese film industry.
...
6.
Barsha Rani Bishaya is a well-known actor. She has been active in the Assamese cinema industry since the 1990s. She was born in Guwahati, Assam, on September 20th, 1983. She is a multi-talented actress who currently dances the bihu and is a member of the Mobile Theatre Company. She has acted in television films and series in addition to presenting television programs and many well-known VCD movies. Furthermore, she has received a Prag Cine Award for Best Actress for the movies Me and My Sister (2013) and Ratnakar (2021). Her film Joubone Aammoni Kore has revolutionized and changed the Assamese cinema industry. More than 23 feature films and 2 short films feature Barsha Rani Bishaya as an actor. She is married to Bhaskar Boruah.
...
In addition to being an actress, Diganggana Bora is a digital content developer, model, dancer, fitness, lifestyle, and fashion blogger and influencer on Instagram. She is a fresh talent in the Assamese film business and is well-known for her youth and attractiveness. She is highly recognized for playing the protagonist in the Assamese movie Jaanmoni (2020) in her debut music video, Neela Nayana. On August 25, 2002, she was born in Sipajhar (Darrang District), Assam. Diganggana Bora was listed among the top 25 most attractive models in Assam.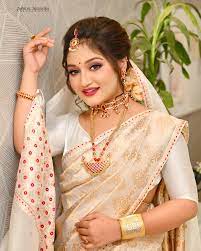 ...
8. Preety Kongana Barman
Preety Kongana Barman, a well-known and stunning model and actress in the Assamese film industry, was born on December 12, 1991, in Kahilipara, Guwahati, Assam. She is well-known for playing the main character in the Assamese television series Ardhangini. She debuted in the Assamese film industry with the movie Nila Khamor Sithi, but she also rose to fame through a number of Assamese songs. Likewise, she won the title of Miss India Trust and finished as the first runner-up in Miss Tilottama in 2011 while pursuing a modelling career. Her husband is Simanta Shekhar, a well-known Assamese singer.
...
9. Annanyya Kashyap
Actress Annanyya Kashyap, also known as Panna, is a versatile and dedicated member of the Assamese cinema industry. Annanyya Kashyap is a professional bihu dancer who was born on March 2 in Jorhat, Assam. She has performed bihu across the nation. In 2012, she participated in Gun Gun, her debut music video. She has appeared in a number of well-known and well-liked Assamese music videos, including Morilong Morilong, Gogoi Dair Putek, Masoloi Goisilung, and Mur Seng Mur Bakhor. The Assamese film industry saw the debut of Annanyya Kashyap in 2013, when she played the lead female role in Rhituraj Dutta's Bhal Pabo Najanilu. Her breakthrough performance in the mega-series Xopunar Asutia Rong (2012) made her famous.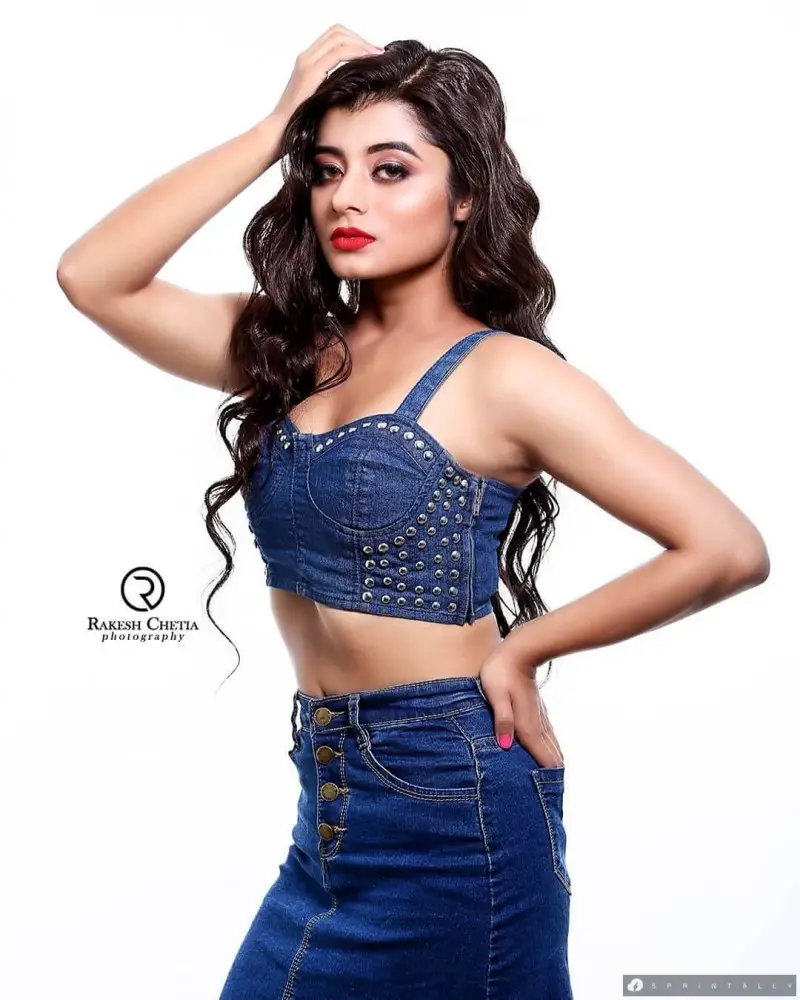 Alishmita Goswami was born in Sorbhog, Assam, on January 2. She gained notoriety for her part in the blockbuster television series Aaina (playing the character " Gauri Story soon >> Read More... "), which aired on Rengani TV. Alishmita Goswami received the Rodali Award for Best Actress for her work in Aaina (2017–2018). She originally appeared in Pankaj Ingti's Ami Axom Dexor Suwali music video and went on to appear in numerous more well-known ones, including Gun Gun (starring Neel Akash), Buku Bhori Aase Morom (starring Zubeen Garg), and Bappa Oi (starring Bhrigu Kashyap). Alishmita Goswami is well-known for her noteworthy performances in the 2018 Hadis Ahmed film Tumi Muk Faki Dila and the 2019 Assamese film Kokaideu Bindaas by Dhrubajyoti Bordoloi. She worked in three Assamese movies in 2019: Dwipen Gandhi, Parikrama, and Ulka, all directed by Assamese filmmakers Kongkon Rajkhowa, Oasis Talukdar, and Pranab Vivek Bio coming soon... >> Read More... .