Sri Lanka is one among the beautiful island nations in the world. The beautiful tourist destination is under the terrorist attack and a lot of places suffered a lot. Radhika had been in Sri Lanka and had left the hotel today morning. The hotel in which she stayed was devastated in the terrorist bomb attack.
Vishal Reddy Born as Vishal Krisna Reddy, he is called upon as >> Read More... tweeted, "Devastated to hear about the Bomb blasts in Sri Lanka.... My Thoughts & Prayers are with the People of Sri Lanka.... #SriLanka #SriLankaBlasts."
Narendra ​Modi tweeted, "Strongly condemn the horrific blasts in Sri Lanka. There is no place for such barbarism in our region. India stands in solidarity with the people of Sri Lanka. My thoughts are with the bereaved families and prayers with the injured."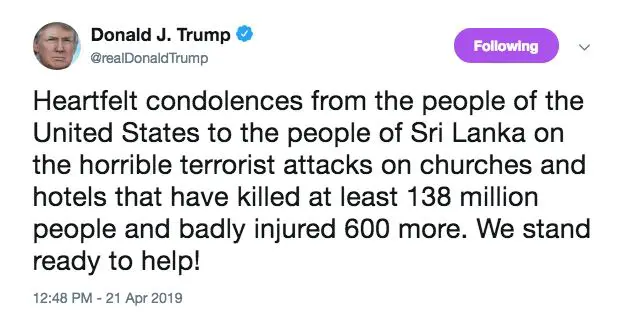 Donald wrongly tweeted 138 Million people instead of 138 people.
Later, he corrected his tweet and posted the above.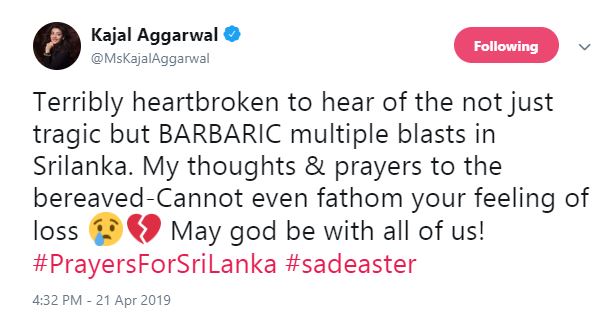 Kajal Aggarwal Kajal Aggarwal is a modern Indian model and film a >> Read More... shared her condolences and prayed for Sri Lanka.
Kamal Haasan condemned the Sri Lankan bomb attack and requested the government to render the justice in swift.
Pakistan Prime Minister Imran Khan shared his condolences on the terror attack in Sri Lanka.