1. Reading Books
Some great soul told a good book doesn't harm, well so is the case with Allu Arjun The actor was born to producer Allu Arvind and Nir >> Read More... .It's a lesser known fact that Allu Arjun is a bookworm and loves to read personality development books and one of his favourites involves 'who moved my cheese' by Dr.Spencer Johnson. According to him a good personality and attitude is the best way to represent one's self.
...
2. Donating Blood
Donating blood is a good deed and must be done by all, and that's how Allu Arjun prefers spending his birthday. Every year on his birthday he meets ill patients and his ill fan's and donates blood, this depicts his philanthropic nature.
...
3. Fans In Kerala
...
Allu Arjun has also got a huge fan following in Kerala the fan following increased so much that he named himself as 'Mallu Arjun' for his Kerala fans. He is the only Tollywood actor whose every movie is dubbed in Malayalam.Not only that his famous movie, Arya 2 was played for 100 days straight in the theatres.
4. Facebook Fans
...
Allu Arjun's fan following doesn't end there,his Facebook page has over 7 million hits which made him the most liked star of Facebook in the Tollywood industry and also earned him the title of 'Stylish Star.'
5. Photography
...
There are various ways one feels relaxed or can de-stress himself, Allu Arjun prefers photography. To him, photography acts as a medium to express himself. It's well said that a picture is worth 1000 words and million memories which words can't express. Know if you wonder, where can you find those pictures but better luck next time those pictures are never shared on any social media network.
...
6. Ambassador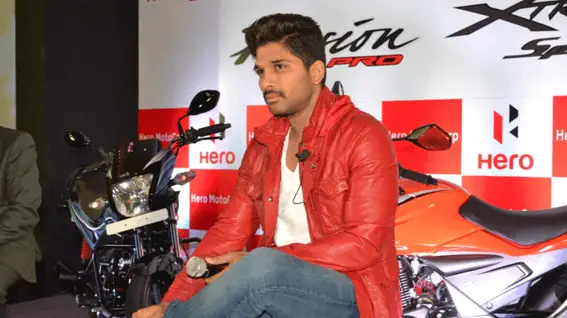 ...
Allu Arjun is famously known as 'bunny' in the Tollywood industry, his favourite movie is ' Indra Click to look into! >> Read More... ' which he has watched 15 times in the theatre, he is even the brand ambassador of many top brands and companies like 7up, Close-up, Joy Al Lukas, LOT Mobiles, OLX, Hero, Moto Corp, and Colgate.
7. Love Towards nation
He also demonstrates his love towards the nation and his duties in any way possible.He has also done a short film named 'I am that change', which depicts that a little change is all that is required for making the world a better place and takes part in various social awareness activities for a great cause.
8. Child Artist
Allu Arjun entered the industry as a child actor; he made his first debut in Chiranjeevi's movie,Vijeeta, and the movie was a success of that time.
9. Guest Dancer
Not only is that Allu Arjun, the man of roots, he always had idolized Chiranjeevi and also performed a guest dancer for his movie.
10. Gymnastics
Ever wondered how are his dance moves so flexible and perfect, well he revealed that he has been learning gymnastics from a very young age which promotes flexibility of his body and the result is those awesome dance moves, his hard work got paid of well.