Tollywood's most famous movies featuring our beloved superstars in the past have continued to reverberate within the walls of the Indian cinema but what makes the audience's heart to weep is witnessing favorite child actors who left incompletely awe-struck through their outstanding performances on screen, to have grown up as adults now. Coming up is a list of top ten young artists from Tollywood who claimed success at a very early age.
Sridevi Kapoor
Sridevi, India's beloved female superstar, was once known as Baby Sridevi who featured in various films as a child artist from the age of four years old. Her career as an actor hit a jumpstart when she featured in M.A. Thirumugham's "Thunaivan." She further progressed as a child actor in Telugu, Tamil, Hindi, Malayalam and Kannada cinema. "Julie" was another Bollywood hit in which Baby Sridevi played a pivotal role. 
...
Tollywood's highly popular actor, Mahesh Babu had an inborn talent for acting. From an early age, Mahesh Babu was offered numerous roles in films like "Shankhravam," "Bazaar Rowdy," "Gudachari" "Anna thamudu" and "Chandrudu." He began his career at age four with his phenomenal performance in "Needa" after which many directors realized the potential that Mahesh Babu possessed which further led to his stardom.
Hansika Motwani began her career in television serials like "," watched by most of the children in the nineties. Also, starring in "Koi Mil Gaya," Hansika became a familiar face in the entertainment milieu. At the age of sixteen, she made her first debut in the Telugu film named "Desamuduru" which also featured Tollywood's superstar, Allu Arjun The actor was born to producer Allu Arvind and Nir >> Read More... . She also starred in "Ella Cheppanu," "Aabra Ka Daabra," " Kantri Click to look into! >> Read More... " as a child actor. Her cute expressions and natural acting skills laid the red carpet for her in the entertainment world.
...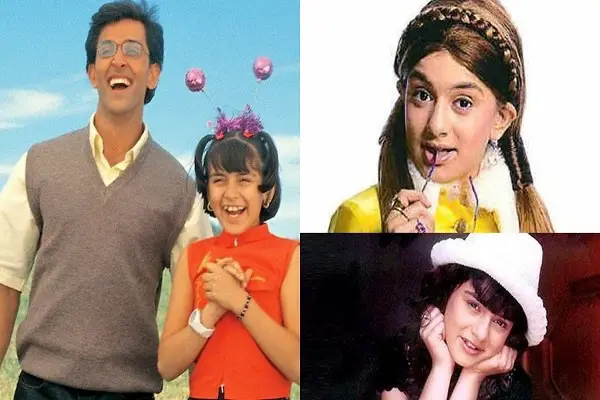 The innocent and charming, Sara Arjun's career as a child artist began at the age of one when she featured in an ad commercial. Several advertisement brands like McDonald's starred Sara in their commercials. Sara Arjun starred in "Dagudumootha Dandakor," a famous Telugu film. She also starred in Bollywood films like " Ek Thi Daayan Click to look into! >> Read More... " and "Jai Ho." As a child artist, Sara was critically praised for her performances on screen in Telugu, Tamil, and Hindi cinema.
...
Teja Sajja, a former Tollywood child actor, known for his roles in Telugu films like, " Indra Click to look into! >> Read More... ," " Tagore Click to look into! >> Read More... ," " Samba Click to look into! >> Read More... " and "Bachi" is a highly praised actor. His performances on screen as a child artist were dynamic and full of energy. He continues to make an acting career in Tollywood with his recent film "Prasanth Varma."
...
Swetha Basu Prasad
One of India's most talented and profound child actors, Swetha Basu Prasad starred in some of the blockbuster movies that India has ever produced. She reached the pinnacle of her success at a very young age, exploring all kinds of cinemas – Bengali, Tamil, Hindi and Telugu. She received nation-wide appreciation for her role in the Hindi movie "Iqbal."  Her first debut in Telugu cinema was in "Kotha Bangaru Lokam." As the film industry acknowledged her talent and vibrant acting skills, she was seen in various other Telugu movies like, "Kasko," "Kalavar King," etc. she also played roles in famous Hindi TV shows like "Karishma Ka Karishma" and "Kahaani Ghar Ghar Ki." The ever-talented young female star also went on to receive the national award for 'Best Child Actor' for the film, "Makdee."
...
Akhil Akkineni, the son of Nagarjuna and Amala and the grandson of Nageswara Rao, who were all well-established actors, was born and brought up in a cinematic milieu, which provided him with enough exposure to pick up the traits of his extremely talented family. He starred in his father's movie, "Sisindra" (1995) at age one for which he received the Film fare best child actor award.
...
Baby Vernika
Baby Vernika, with her animated and angelic features, is best known for her role as a child actor in Telugu films like "S/o Sathyamurthy," " Nannaku Prematho Click to look into! >> Read More... " and "Babu Bangaram." Her irresistibly cute and adorable characteristics make the experience of the movie more entertaining for the viewers.
...
Kavya Annapareddy
Born in England, Kavya Annapareddy became Tollywood's highly praised child artist. She is remembered for her lead role in the Telugu thriller/comedy film, "Little Soldiers." Highly applauded for her role, she received the National Film Award and the Nandi Award for the best child actor.
Baladitya
Baladitya, the main lead actor of the Telugu film, "Little Soldiers," was one of Tollywood's budding child artist. He received the best child actor award for "Little Soldiers" and "Anna." Baladitya played the lead role in several other Telugu films and starred in over forty Telugu films as a child actor. His performances on screen were purely natural and stunning.