Nowadays, it is the trend in the film industry that an actor is marrying an actress. But there are a few cases where we can see that the film actors have found their love in common people. There are many actors in the film industry who got married to common people, or we can say that non-actors. They are also having a successful, happily married life. Let's take a look on such actors of Tollywood who married common people.
Allu Arjun is one of the most famous Tollywood actors. In fact, he has a huge fanbase across whole India. He got married to a very common woman, Sneha Reddy Sneha Reddy is the daughter of a rich businessman, >> Read More... . Their first meeting was at a mutual friend's wedding. Allu fell in love with Sneha at first sight and proposed to her for marriage. Sneha accepted the proposal, and they tied the knot in a grand ceremony on March 6, 2011. Now, the couple has two children, a son named Allu Ayaan and a daughter named Arha Allu. Sneha used to work as an engineer. After marrying Allu Arjun, she gained popularity in the film industry also.
...
2. Venkatesh
Venkatesh Daggubati One of the most talented face in Telugu film indus >> Read More... , who is popularly known as Venkatesh, is an accomplished Tollywood actor. He became a household name after doing films such as ' Srinivasa Kalyanam Click to look into! >> Read More... ,' 'Swarna Kamalam,' ' Prema Prema is a Telugu TV serial that premiered on ZEE >> Read More... ,' and 'Bobbili Raja'. He got married to Neerja Reddy. She is an MBA graduate. Now, they are parents of three daughters and a son. Both couple's daughters' names are Hayavahini Daggubati, Bhavana Daggubati, and Aashritha Daggubati, and their son's name is Arjun Ramnath Daggubati.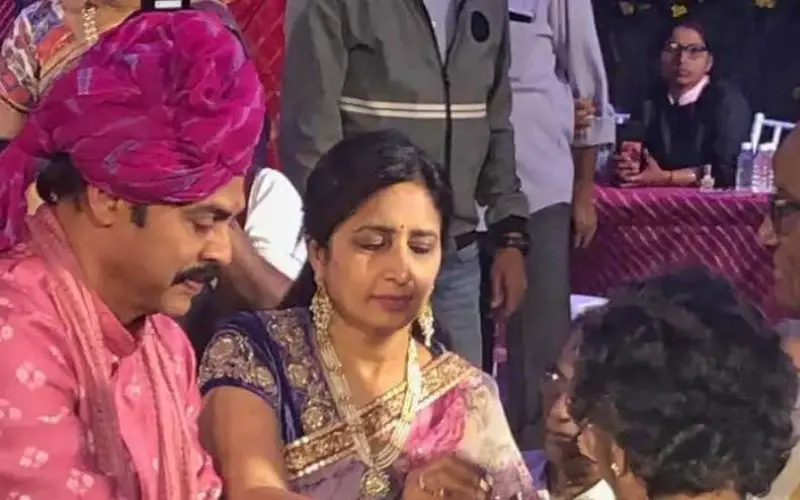 3. Jr. NTR
Jr. NTR married a common girl, Lakshami Pranathi. This is one of most cutest and strongest couples in Tollywood industry. NTR married Lakshami in 2011, when she was only 18. It was an arranged marriage. NTR always said in interviews that her wife has the biggest influence in her life. They together make for a power couple. They are just meant-to-be. The actor always uploads pictures of their happily married life. As a couple, they do not talk about films that much at home, but they do watch movies together. They also have two kids.
...
Ram Charan, also known as Cherry by his audience, is a south megastar. He has given many blockbuster films. His RRR movie has won Oscar and many global awards. He is an introvert who married an extrovert. His wife, Upasana Konidela is the Vice Chairperson of the Apollo Foundation and founder of URLife. They became friends while studying abroad. They found a comfort zone with each other. Later, they both felt feelings for each other and started dating each other. Also, their families agreed to their love. The couple married on June 14, 2012.
...
5. Nithiin
Nithiin is a very popular Tollywood actor. Nithiin is popular for his love-boy image on the screen. At the same time, he has his own and real-life love story, and it is too lovely. Shalini is also a Hyderabadi, and she has done her Master's in Business Management from a University in the UK and is back in Hyderabad recently. The duo has known each other for 8 years now but has been in love for the last five years only. They met through a common friend. They married on April 16, 2020. He proposed to her on one leg, and she said yes.
...
Ravi Teja is an accomplished actor in the Tollywood film industry. He has done many block-buster films. He married Kalyani Teja, who was the relative of his maternal uncle and his mother liked his thought that she would be a perfect bride to her son. Hence it was an arranged marriage. They married on May 26, 2002, in Andhra Pradesh. Kalyani used to stay away from the eyes of the media for all these years, along with her children. The couple has two children, a daughter and a son. There are very few pictures of his wife on the internet. He usually posts family pictures, in which, we are able to see his wife also.
...
Rana Daggubati has appeared in many great films like Bahubali. He kept his dating life away from cameras and fans. He confirmed his relationship with Miheeka Bajaj through Instagram on May 2, 2020. He shared a photo of his lady-love and captioned, "And she said yes! #MiheekaBajaj". He also used a red heart emoticon with this. Miheeka Bajaj is a scion of Hyderabad's Bajaj family. The dashing Rana Daggubati got married to lady-love Miheeka Bajaj in Hyderabad on August 8, 2020. The marriage was attended by family members and close friends due to the coronavirus pandemic outbreak.
...
8. Gopichand
Tottempudi Gopichand Gopichand is a Telugu actor and the son of the Fil >> Read More... , who is eminent by the name of Gopichand, is one of the best actors of the Telugu film industry. He got married to Reshma in 2013. Reshma is the niece of his sister's husband. She studied in America. He liked her photo and asked her to talk about a relationship with senior actor Chalapathy Rao. He mentioned the matter of marriage to Srikanth and convinced him. Actor Srikanth Bio coming soon... >> Read More... himself said that Gopichand is better than him and that he can get married with his eyes closed. The couple has been happily married and are proud parents to sons Virat Krishna and Viyan.
...
9. Nani
Nani is one of the most natural actors in Tollywood. He is known for his adorable looks and appealing smile. He got married to Anjana Yelavarthy Bio coming soon... >> Read More... . The couple is one the most adorable and celebrated couples in the Tollywood film industry. They met during her stint when Anjana was a Video Jockey in Vizag. With the passage of time, they fell in love with each other. They tied the knot in 2012 after dating each other for five long years.
Sudheer Babu's Wife is Padmini Priyadarshini Ghattamaneni Priyadarshini Ghattamaneni is an Indian actress an >> Read More... . She is out of the limelight and prefers to keep her life reserved. Although it was an arranged marriage. They got married, when Sudheer was running his family business and had no plans to act in films. Priyadarshini is also the sister of Mahesh Babu Born on 9 August 1975 in Chennai, Mahesh Ghattaman >> Read More... and Naresh, who are also quite popular superstars of Tollywood. It's been several years, even more than a decade, that both are married and are growing strong. On 29 May, 2006, Sudheer Babu and Priyadarshini Ghattamaneni tied the knot.