Telugu Film Industry is commonly known as Tollywood. It has given popular film-stars and movies to the nation. Oscar-winning industry, Tollywood is gaining popularity day-by-day. This article is a shoutout to the Telugu Movie Industry! In recent years, Telugu movies have gained a superpower, whether it is in gaining popularity, fame, or be it in terms of good box-office collection. Tollywood has left no stone unturned in regaining success! Here are the top 10 emotional Tollywood movies with a sad climax: 
1. 7/g Brindavan Colony  
The Telugu movie director Sri Raghava made this love story a great success. The film is said to be a realistic story with a Sri Surya Movies banner. It is a teenage love story of a very ill-disciplined boy. He belongs to a very subtle family. He falls for a simple Punjabi girl in his neighbourhood. The title comes from the flat number of the girl, that is, 7/g. The lead actors, Sonia Agarwal Sonia Agarwal is and actress and model in Indian c >> Read More... and Ravi Krishna Ravi Krishna is a South Indian actor who predomina >> Read More... performed well. The movie is an outcome of the proper execution of the ideas.
...
2. Gamyam
This movie earned 4.5+ stars from the audience. As per the reviews, "outstanding" and "worth watching" are the two words commonly heard for this piece of art. Directed by Radha Krishna Click to look into! >> Read More... , the movie the cast includes Allari Naresh Allari Naresh is a popular Telugu actor, who has a >> Read More... , Sarvanand, Kamalini Mukherjee, Giri Babu Giri Babu is an Indian actor, producer and directo >> Read More... , MS Naayana, Brahmanandam, LB Sri Ram etc. The whole plot revolves around a spoon-fed guy from the very early days of his life. The film revolves around and sticks to the central idea of how the boy changes himself.
3. OY!
This splendid piece of art is the debut film of Shamili. Another cast includes Siddartha, Shamili, Surekha Vani She was born on October 31 in Vijayawada, new Capi >> Read More... , Napolean, Sunil, Pradeep Rawat Pradeep Rawat, is known for his villainous roles >> Read More... , Tanikella Bharani Tanikella Bharani is a renowned actor in Telugu an >> Read More... etc. It is the story of Udhay and Sandhya, Uday being a robust, independent personality and Sandhya being an attributed girl. The two fall in love with each other rest is history! Yuvan Shankar Raja Yuvan Shankar Raja is the popular music composer, >> Read More... made the Music composition. The acting skills of both the actors are commendable!
...
4. Vedam
Tollywood's very own and beloved Allu Arjun The actor was born to producer Allu Arvind and Nir >> Read More... is an integral part and cast of this plot. It is about five people- Vivek Chakravarthi, Saroja, Ramulu, Cable Raju and Raheemuddin Qureshi. The actors have put the whole of their heart and soul into making it a big success. Some people claimed this film to be a little cliché, while others just enjoyed every bit of it! It has a good in music as well as dance.
...
5. Suswagatham
The movie Suswagatham is a drama. It is all about an obsession and inclination toward love. The story revolves around two main characters- Ganesh and Sandhya. It is more of self-respect than of love. It begins with the idea of affection but ends with an immense note. In the first half, Ganesh is head-on-heels for Sandhya, whereas, at last, everything is different.  
...
6. Chakram
Krishna Vamsi Krishna Vamsi or also known as Vamshiramya, is an >> Read More... is the director of this movie. With excellence, the film earned 4.9 stars from the audience. Asin is for her utter hard work. The other cast includes Prabhas. It is an emotional film with a pinch of comedy. Philosophy is the genre of the film. It is about finding the one you love. A heart-touching note is that "25 different people will have 25 different problems. Every problem has a solution. So, give your best in finding hope". It has a mixed sort of reaction. While many people enjoyed watching it, some people found it boring.
...
7. Amma Rajenama
"Drama & Music" are the two bases of this film. With an average rating of 4.5, the audience showered this film with such immense love that its office collection had a pretty sum of money. The movie is all about a mother, a housewife who works day and night without asking for any help. She can leave behind all the dusks and the dawns to make two ends meet. The movie has an unfortunate ending. It shows two sides of the coin, The Amma (Mother) is so selfless that she thinks of her family before she thinks of her own. Children are thankless regardless of their mothers.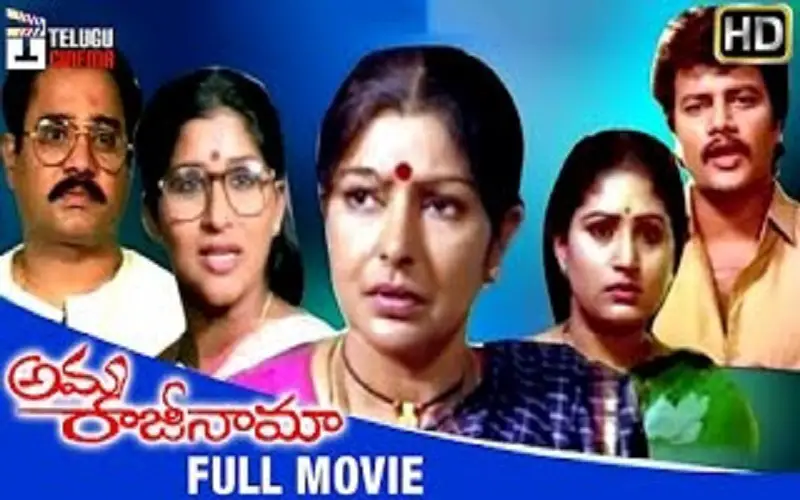 ...
8. Geetanjali
Starring Nagarjuna and Girija, the audience liked it. Thus, the film resides alongside the two main leads. Tollywood is never devoid of love stories, romances and cinematic shots. It is a plot of Prakash and Geetha's love. It is the energetic and immense dedication to someone's love. More than love, it is possession and obsession. The movies share the Bhagya Lakshmi Entertainments banner. Another asset to this masterpiece is the Music by Ilaiyaraaja.  
...
9. Mithunam
"Excellence is the only word for this film." The above sentence is a review by the public. The movie highlights the sensitive topic of discussion that leaves the parents behind and forms a new life ahead. Today's youth is following subtle criteria for creating a new life. Their parents have left no stone unturned in providing them with the best, be it in education, food, shelter, clothes, etc. But the kids they are raising today may not be their support in the future. So, the plot enlightens the audience with a message that though the old couple is all alone, they have each other's support system. But they are not lonely. They might find obstacles and feel financially unwell, but they crave each other. They are happy and contented in their tiny little world.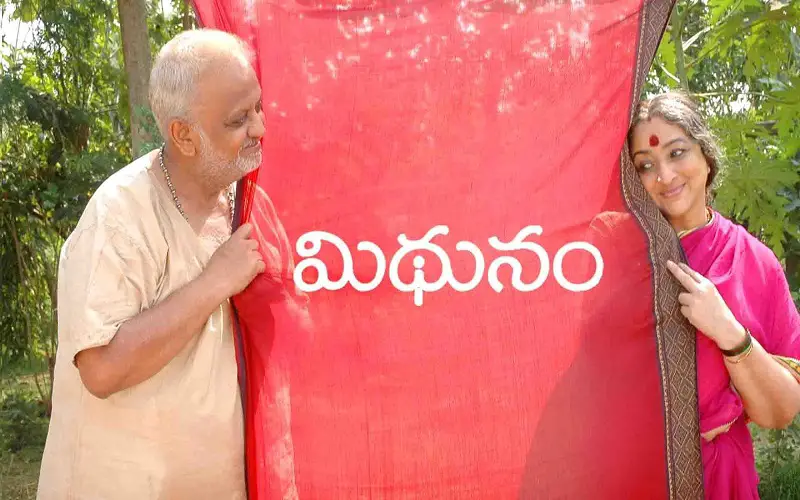 10. Vaana
The plot is initially a very rom-com kind of story which further brings in a twist that turns out to be a very sad climax. It is about two youngsters- Abhiram and Nandini. Both meet through their mothers. Abhi falls first, while Nandini falls for Abhi afterwards. Both share tremendous chemistry. Both the actors gave their best. It is evident that the film is made from many efforts of the team. But then the twist comes. Nandini meets another guy for a marriage proposal. What happens next is the climax.