1. Konchem Touch Lo Unte Chepta Season 1:
Konchem Touchlo Vunte Cheptha is an interactive TV show with the actors of Tollywood, hosted by Machiraju Pradeep, telecasted in ZEE Telugu channel. It is the most loved TV show by almost all the audience as well as actors of Tollywood. This show is a unique one as compared to others in Telugu Television.
...
2. Jabardast:
Jabardast is one of the hilarious comedy shows of Telugu Television with highest ratings in India, produced by Mallemala Entertainment. It is the TV show in which comic skits are presented by the contestants in an excellent manner and with a great level of spontaneity. Nagendra Babu Nagendra Babu is a famous person in Telugu industr >> Read More... and actress Roja, are the judges of the show,and have proved to be supportive by motivating the performers.
...
3. Meelo Evaru Koteeswarudu Session 1:
...
Meelo Evaro Koteeswarudu, the reality show hosted by Megastar Chiranjeevi and previously it was hosted by Akkineni Nagarjuna Akkineni Nagarjuna is a veteran Indian actor, TV p >> Read More... . It resembles the show Kaun Banega Crorepati, which is hosted by in Hindi.Even though Chiranjeevi is hosting a reality show for the first time, he is highly interactive with the participants and is rendering the show to be a great success.
4. Dhee Jodi The India is the country where you will get lots o >> Read More... :
...
Dhee Jodi is a dance reality show with highest number of viewers and fans. It is a great platform for an upcoming dance choreographer or a dancer to prove their talent. This show also includes the essence of comedy with the presence of Pradeep, Rashmi Singh Rashmi Singh is a newcomer artist and acts in TV s >> Read More... , and Sudigali Sudheer Sudigali Sudheer is a very well-known name to the >> Read More... . Shekhar master and Actress Sadha are the judges of the show, guiding the performers and their choreographers in path of success.
5. Cash:
...
Cash is an exciting game show featured on ETV channel on Saturdays, produced by Mallemala Entertainment, and is hosted by the energetic anchor, Suma Kanakala Suma is a familiar person in south Indian film ind >> Read More... . Celebrities mostly participate in this game show and get refreshed. The tasks in this show are quite funny and fascinating.
...
6. Bol Baby Bol Season 1:
...
Bol Baby Bol is a singing reality show featuring little kids, who mesmerize the audience with their singing. It has completed eight seasons successfully, and introduced many melodious singers to Tollywood. The show is being judged by the great magical musician, Saluri Koteswara Rao Saluri Koteswar Rao (also known as Koti) is a musi >> Read More... . It is a great platform for passionate upcoming singers to prove themselves.
7. Padutha Theeyaga Season 1:
Paadutha Teeyaga is a singing reality show of Telugu Television. It is hosted and judged by SP Balasubramaniam, great singer of Indian film industry. In this show, he goes on rectifying the mistakes of the participants and support them every moment. This show was not only conducted in India but also in other countries around the world to upraise and encourage the participants.
8. Patas: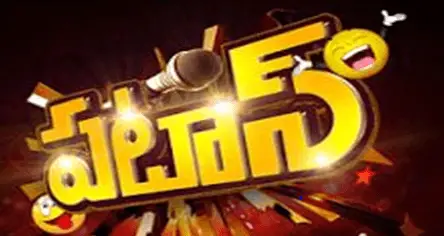 Patas is a comic reality show, in which short funny skits were played by the contestants with a group of students as guests, telecasted in ETV plus channel. This show is a good comic relief to the audience with some naughty tasks and answers performed by students. This show is being hosted by the lead anchors, Anchor - Ravi and Srimukhi.
9. :
Star Mahila is a reality show especially for ladies which includes fun, comedy and exciting prices. It is being hosted by the energetic anchor, Suma. It is one of the all-time biggest TV shows seen by ladies everyday to relieve their stress from work. It has completed more than 2700 episodes till now and is still going on.
10. Drama Juniors Telugu:
Drama Juniors is a fun time reality show in which little kids perform short dramas and comic skits. It is a great platform for kids to prove their talent,in their childhood. This show is being hosted by Pradeep and, Ali, , and Omkar are the judges of the show.