1. Nenokkadine
Nenokkadine is a Telugu movie, starring Mahesh Babu Born on 9 August 1975 in Chennai, Mahesh Ghattaman >> Read More... and Kriti. Gautham, played by Mahesh Babu is in search of his parents who he believes were killed by three men. The tragedy is that due to this major setback, he faces a psychological disorder where 25 percent of the brain stops working. This poses a big hindrance in his search. Yet, the feeling of revenge does not stop him and he takes the support of Sameera, played by Kriti in figuring out the past. Mahesh Babu received immense appreciation for his classic act. Many even consider it to be one of the best thriller films ever made in India.
...
2. Srimanthudu
Srimanthudu is a story about a scion of wealthy businessman family who has extremely varying thoughts and perspectives from his father. Ravikanth is a business tycoon who built up his own business empire in his lifetime and wants his son, Harsha Vardhan Harsha Vardhan is a famous Telugu actor and a writ >> Read More... (played by Mahesh Babu) to take over his business. But, Harsh Vardhan has his own views on life and keeps respect forth of money. He adopts a village and develops against all odds. The movie also stars Shruti Haasan Shruti Hassan is an Indian film actress born on 28 >> Read More... in lead role.
...
3. Seethama Vakitlo Sirimalle Chetu
...
Seethama Vakitlo Sirimalle Chetu is one of the best family films you just can't afford to miss out on. The story revolves around inner politics and issues between the members of a joint family and how they overcome them all. The acting of Mahesh Babu has received positive reviews from audience and critics.
4. Murari
...
Murari is yet another one of the best thrillers of the south film industry, starring Mahesh Babu in lead role. The movie describes the story of a cursed family whose family members die every forty-eight years. But, to break the curse from a young member of the family, the grandmother makes the sacrifice. Mahesh Babu played the role of the young member and as usual, killed it with his acting skills. His performance was one of the major highlights of the movie.
5. Khaleja
...
Another masterpiece blockbuster from Mahesh Babu is Khaleja. The story of the movie revolves around a village of Pali where people are dying due to unknown superficial causes.
...
6. Dookudu
...
Dookudu is one of the highest grossing Telugu Films. Mahesh Babu again showed his class by choosing a versatile role. The story of the movie is about the adventures of a police officer Ajay (Mahesh Babu).
7. Athidhi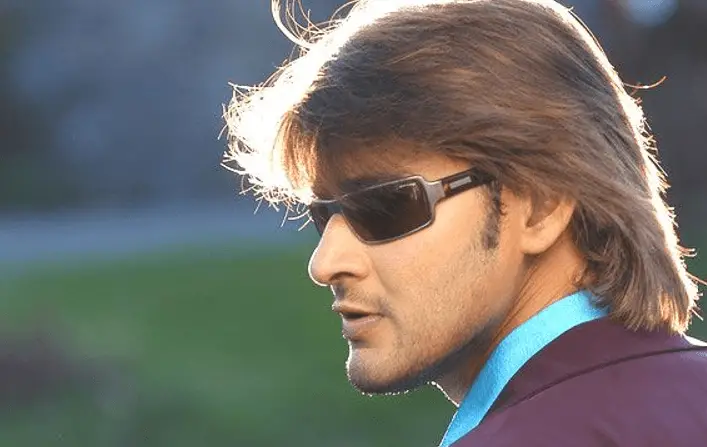 Athidhi is 2008 movie, starring Mahesh Babu and Amrita Rao Amrita Rao was born on June 7, 1981 in Mumbai, Mah >> Read More... in lead roles. The plot of the movie is about Athidhi who is convicted of the murder of his adopted parents. After spending thirteen years in jail, when he returns, he falls in love with Amritha Gautham. Later, he discovers that Amrita is the daughter of his adopted parents. The script of the movie attracted Mahesh Babu to take up the role, who is known for his versatility.
8. Raja Kumarudu Click to look into! >> Read More...
Raja Kumarundu is the first movie of Mahesh Babu where he was cast as hero opposite Preity Zinta Preity, also known as Preity Zinta is a famous Act >> Read More... . The movie is a love story, which hit the right chords of the audience. The acting of both was appreciated and liked by the audience for its simplicity. It was a superhit on box office.
9. Naani
Naani is another thriller movie starring Mahesh Babu, which received positive reviews from critics and audience. The movie also features Amisha Patel and the story revolves around a mentally challenged man who is still a child in his brains.
10. Arjun
Arjun is a complete family movie. It has a package of everything, starting from action, romance, love, although calling it a love story would be most appropriate. Mahesh Babu even received the Nandi Special Jury Award for his superb acting in this movie.