1) ' Pathala Bhairavi Click to look into! >> Read More... ' (1951)
Pathala Bhairavi is a Telugu Fantasy which released in early period of 1951 under the direction of K. V. Reddy. Drawing inspiration from the classic tale of 'Alladin' , the story of the film revolves around a young man named 'Thota Ramudu' (played by N.T. Rama Rao) , whose intention of marrying the Princess of Ujjain Indumati, embarks on a journey to accumulate wealth so that he's eligible to marry her. He encounters an evil Wizard (played by S.V. Ranga Rao) who is on the lookout for a man who can be sacrificed to Goddess Pathala Bhairavi to attain immense power over the world. The movie's dialogues became so popular among the masses that they gradually became a part of Telugu culture's colloquial speech. Its evergreen tunes composed by virtuoso Ghantasala, the captivating script by Pingali Nagendra Rao and unparalleled cinematography under the cinematographer, Marcus Bartley Marcus Bartley is an Anglo-Indian film actor and r >> Read More... , helped the movie achieve a cult-status among movie buffs. It was the first Telugu movie, and the first ever South Indian movie which had been played at the International Film Festival of India in 1952. It is one of 'The 100 Greatest Indian Films of All Times', a list compiled by CNN-IBN on the occasion of the 100th anniversary of Indian Cinema.
...
2) 'Devadasu' (1953)
This Telugu adaptation of Sarat Chandra Chattopadhyay's novel ' Devdas Click to look into! >> Read More... ' brought ANR accolades for his soulful acting. This breakthrough performance led him to play typecast roles in several other movies, which he resorted into breaking with his comic character in 1955 Romedy ' Missamma 20th November 2011 was the release date for Missam >> Read More... '.
...
3) ' Mayabazaar Please check back Serial story Coming soon... >> Read More... ' (1957)
...
The immense success of 'Pathala Bhairavi' induced Vijay Vauhini studios to produce yet another legendary Hindu Mythological Film, 'Mayabazaar', led by star actors N.T. Rama Rao as Lord Krishna and S.V. Ranga Rao as Ghatotkacha. A spin-off of the Mythological Epic ' Mahabharata Story soon >> Read More... ', this film is considered as a landmark in the Telugu Film Industry. The story revolves around the marriage of Arjuna's son 'Abhimanyu' (played by Akkineni Nageshwara Rao) and Balarama's daughter ' Sasirekha Actor Bio Coming Soon ...... Check back later. >> Read More... ' (played by Savitri) and the involvement of Ghatotkacha in materializing the marriage. This movie has contributed many of its unforgettable jargons to the Telugu vernacular. The portrayal of N.T.Rama Rao as Lord Krishna was so widely rejoiced when the legendary actor played the character in 18 more films. Also included in CNN-IBN's '100 greatest Indian Cinemas', the same director, KV Reddy Bio coming soon... >> Read More... , led yet another classic to achieve the cult-status. 'Mayabazaar' became the first ever Indian movie to be colorized and restored from black and white, acquiring a cost of 7.5 Crore Rupees in the process.
4) 'Lava Kusa' (1963)
...
'Lava Kusa' is a Mythological film based on the Hindu Epic 'Ramayana.' The story focuses on the exile observed by Sita ( Anjali Devi Anjali Devi was born on 24th August, 1927 in Andhr >> Read More... ), wife of Lord Rama, and their sons Lava and Kusa after Lord Rama (NTR) comes to know about the accusations by a washer man. This film was originally shot bilingually, i.e., in Telugu and Tamil and was later dubbed in languages Kannada and Hindi. With a soundtrack of 27 songs, the movie is a rich musical experience and had been played uninterruptedly for 75 weeks which is still an unbroken record.
5) 'Alluri Seetharama Raju' (1974)
...
This film is a Biographical and Historical movie commemorating the legacy of Telugu Revolutionary Alluri Seetharama Raju, who tirelessly fought against the British Rule. This film is marked as the 100th film of Telugu Superstar Krishna who was commended by audience and critics alike for his impeccable portrayal as the Rebel. It was screened at the International Film Festival of India which gained the status of the highest grossing movie of 1974. The film was viewed at the Independence Day Film Festival on the septuagenarian anniversary of independent India on 15th August 2016.
...
6) ' Sankarabharanam Click to look into! >> Read More... ' (1979)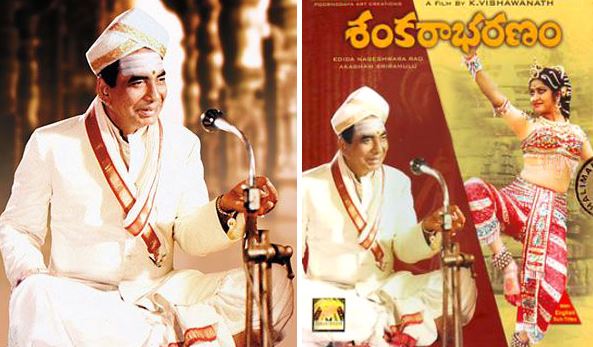 ...
Not only this one is among the greatest Telugu Movies, but it is also famous for being the most re-watchable one. After its release, 'Sankarabharanam' was watched so many times that it was hard for this movie not to be etched into our memories. This Musical Drama is probably the best direction by the legendary director K. Vishwanath. Known to imbibe culture and arts seamlessly into his movies, 'Sankarabharam' is not just an aural and visual feast, but it is a heartening story that was way ahead of its time. The story focuses on the heart-rending student-teacher relationship between 'Sankara Sastri' (portrayed by JV Somayajula) a highly respected music maestro and Tulasi (portrayed by Manju Bhargavi The Telugu audience would surely remember Manju Bh >> Read More... ), a prostitute, who being a great admirer of Sankara Sastri, aspires to dedicate her life to music and arts. This movie successfully attempted at reviving the heritage of Indian Classical Music in the wake of the widely popularizing 'Pop' music of the west and at the same time touched the subject of breaking regressive social stigmas and barriers. The movie won 4 National awards, 5 Nandi awards and 1 Filmfare. S.P Balasubranium, the prime singer in the movie, won his first National Award for his breathtaking musical rendition for the movie.
7) 'Rudra Veena' (1988)
Chiranjeevi and Shobhana starrer ' Rudraveena Click to look into! >> Read More... ' is a pathbreaking movie which addresses the issue of the caste system which, unfortunately, is still prevalent in this country. ' Suryam Click to look into! >> Read More... ' (Chiranjeevi) who is the son of a reputed Carnatic Musician goes against the wishes of his father and marries a classical dancer named 'Lalita Sivyajyoti' ('Shobhana') who belongs to a lower social class. The movie continues on the note of social welfare and equality. Despite its under-performance at the box office, this K.Balachander direction slowly has gained the due recognition and has since been classified as a cult-classic.
8) 'Swarnakamalam' (1988)
Swarnakamalam translated as 'Golden Lotus,' is a Romedy and Musical Film, yet another masterpiece from Director K. Vishwanath. The story is about a young girl ' Meenakshi Every person in the world faces hardships that are >> Read More... ' (Bhanupriya) who inherits the talent in Classical Dancing from her father but lacks dedication towards the art form. She meets Chandrasekhar (Venkatesh) who plays the role of a mentor. With subtle humor and stunning dance performance by Bhanupriya, this movie is a must watch for those who respect the rich Indian classical heritage.
9) ' Siva Siva is the dubbed version of the popular Hindi my >> Read More... ' (1990)
This Ram Gopal Verma creation has inspired every youth of its era to pull out their cycle chains. 'Siva' is a crime-drama movie that stars Nagarjuna and Amala. An adaptation of Bruce Lee's 'Way of the Dragon', this movie focuses on the exploitation of students by mobs and combating it. Later in an interview, RGV revealed that the story was inspired by real-life events in his life. Many of the recent films of Tollywood have remnants of this movie.
10) 'Baahubali' (2015)
The more recent Baahubali would not be tagged as legendary, if not for its visuals so breathtaking that you literally can't keep your eyes off of the screen unless it's an intermission. SS Rajamouli outdid almost every Indian director by compiling a team of incredibly talented technicians and creating the first ever Indian advanced CGI movie that is truly on par with the Hollywood standards. In this bold attempt, it took the team two years to make the costliest movie ever with a budget of Rs. 250 Crores.