1. The Face Mystery
Bahubali & his Son had identical faces, but their faces in childhood are different. This is something just next to impossible , isn't it ?
2. Magical Blouse
If you notice in the beginning of the song, there is no blue knot in the blouse. But in the end of the very popular "Pachabottesina" song , all of sudden this knot appears in the blouse. Magical !
3. No Science In Mind
Well , according to a Law Of Physics, a PERSON WOULD HAVE to run a few distance & then jump to create momentum.
4. It's Magic!
The attires of Bhallaladeva and Bahubali changes as soon the song begins & ends. Seriously, something was wrong because so many impossible things just happened!
5. Magician Prabhas
During the most popular song of Bahubali "KAUN HAI WHO", when Bahubali picks up the Shivling & comes near to the river, he had a single cloth tied around his waist. But as soon he tries to jump, another brown cloth got tied within a nano second.! Prabhas is the man of magic we must say...!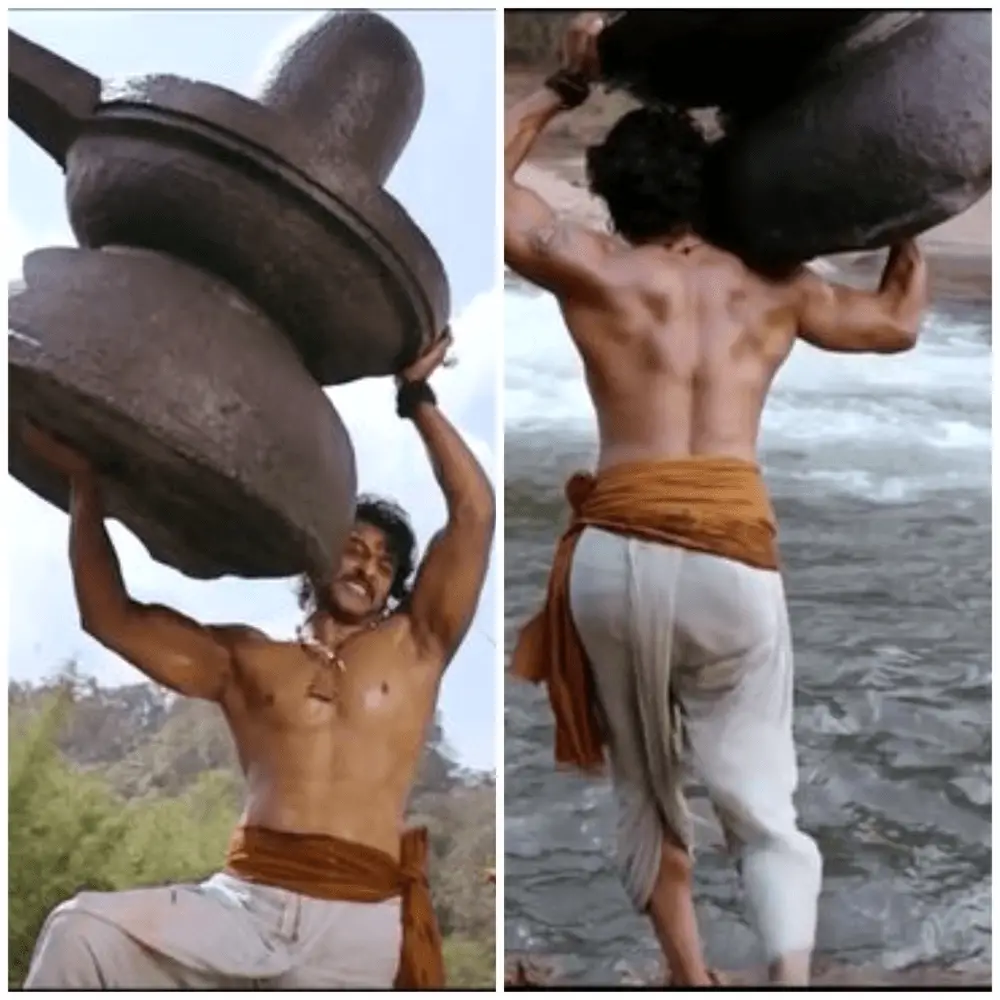 6. Impossible!
While there was that war sequence going on , the lady & Bijjala Devi including other people reacted to each and everything that was going on during the war. This is something again an impossible thing to be happened as the war was happening in tens of acres area & it's just next to impossible to see who's doing what.
7. What Is Going On?
Anushka is seen collecting wooden sticks from a completely clean area of the palace. Nothing at all could be seen lying.
8. Where's The Scar?
In the whole movie, a permanent scar is shown on Tamanna's face. But during the song "Pacchabottesina", when she cleans her face & gets ready, the scar goes somewhere . Somewhere? But where? We need an answer yeah!
9. Can't Believe!
Prabhas, in the movie can be clearly seen climbing the Hill barefoot. But suddenly, when he enters into that fight, he appears wearing those shoes.
10. Too Much Extra Work...!
When Prabhas leaves with his mom Anushka (only in the movie), why didn't they just simply shut the doors of the palace instead of flaming the grass rolls?
Well, still no offense! We loved the movie & do not criticize the makers of Bahubali because of these mistakes, as they have made a lot of efforts & made our Indian cinema proud!