Back in the early 90's, youth based movies were not accepted as a genre in Malayalam film industry. They had movies that were either family based or classics. It was then in the 2000 that new generation films had got introduced as a new breed in the Mollywood. And the audiences has accepted it well, which resulted in the making of some brilliant movies that focused on the youngsters. Below are Top 10 such youth based movies from Malayalam: 
1. Malarvaadi Arts Club
This was the directorial debut of the actor- singer, Vineeth Sreenivasan Vineeth Srinivasan is known to the music industry >> Read More... . He has introduced five new actors in this movie and the story revolves around the friendship of 5 troublesome men from a small village in Thalasseri. Things started to change when one among them tries in a singing reality show and wins. As his fame rose, misunderstandings and egos intervene between them and their bonding gets weakened. Involving satires, the movie is worth a pleasant watch.
Well, this one is also directed by Vineeth Sreenivasan, which was his second film after Malarvaadi Arts Club. The plot was set against the existing cultural norms and background where a Hindu man named Vinod, played by Nivin Pauly Nivin Pauly is predominantly a Malayalam actor. Bo >> Read More... falls in love with Aisha ( Isha Talwar Isha Talwar was born on December 22, 1987, in Mumb >> Read More... ). The story revolves around the conflicts raised by the society and their relatives because of their inter-caste relationship and how they overcome that and reunite with the help of a police officer whose role is played by Manoj K. Jayan. Flavoured with beautiful songs and humour, Vineeth was able to attract the young masses with this movie.
3. Classmate
...
Released in 2006 and directed by Lal Jose Best known in Malayalam cinema, Lal Jose is a film >> Read More... , this one is a romantic thriller and revolves around the graduated students of a college in 1990 and how they reunited for a farewell after several years recalling the memories of love, friendship and fights during those days, the lead protagonist almost gets killed, whose role is played by Prithviraj Sukumaran Prithviraj Sukumaran is one among the bubbly actor >> Read More... . The story continues with a flashback of what all happened during their college life, revealing the person and the reason behind the murder attempt. The other co-stars in the film are Indrajith Sukumaran Indrajith Sukumaran is a prominent film actor, who >> Read More... , ' Jayasurya Jayasurya is a versatile actor who hailed from Ker >> Read More... ', Kavya Madhavan Kavya Madhavan is an Indian artist but shines in t >> Read More... , ' Narain Narain is a famous South Indian Actor who hails fr >> Read More... ', etc. This movie has got all that elements that involves in an entertainment-based film for the youngsters like revenge, love, friendship, politics and humour. With an essence of nostalgia, this one is absolutely worth a watch.
4. 22 Female Kottayam
...
Packaged with all the essence of entertainment to attract the new generation, this Aashiq Abu Aashiq Abu known for his work in Malayalam Cinema, >> Read More... directed movie is talking about the vengeance undertaken by a girl who got raped and tormented. As the title of the film suggests, this one talks about a 22-year old female named Tessa, hailing from Kottayam, whose role is played by Rima Kallingal Rima is one of the gifted actors of the industry. >> Read More... . She was a nursing student in Bangalore and fell in love with Cyril ( Fahadh Faasil Born in 1983, Fahadh Faasil is known for his works >> Read More... ), who was actually cheating on her with the help of his boss, Hegde enacted by Pratap K. Pothen and set on a trap, ending her up in prison. After getting released from the jail, she decides to take revenge by pretending as a normal woman. She poisoned Hegde with a cobra and penectomises Cyril. Appealing the heart of the youth, Aashiq Abu was able to create magic with an unusual story line.
5. Ustaad Hotel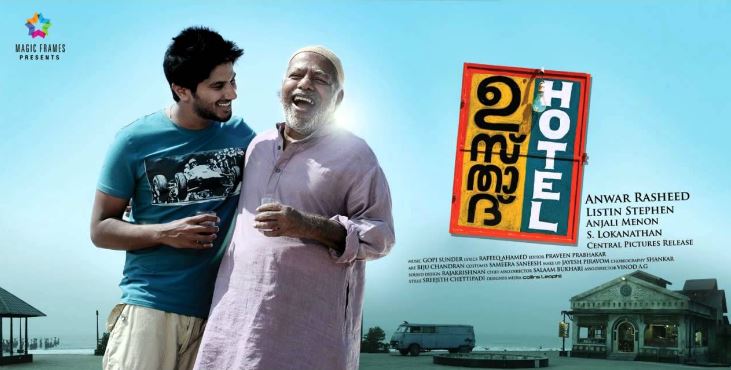 Directed by Anwar Rasheed Anwar Rasheed is a famous and highly appreciated d >> Read More... , this movie had been seasoned with a perfect tale that is bewitching. Feyzee played by Dulquer Salmaan Dulquer Salmaan is a popular Malayalam actor, who >> Read More... aspires to be a chef and goes against the hopes of his dad. Furious by this, his father, whose role is enacted by ' Siddique Siddique, who is a Malayalam film actor, producer, >> Read More... ' takes away his passport to stop him from going to the UK. Helpless by this, Feyzee had no choice but going back to his grandpa. His grandpa is Karim (' Thilakan Surendranatha Thilakan, more popularly known as Th >> Read More... ') and owns a renowned restaurant in Kozhikode beach, famous for Biryani. While helping his grandfather, he started unveiling himself the dark side of the world that was existing beyond his imagination and learns how to tackle different situations in life.
...
Directed by Anjali Menon Anjali Menon is a Malayalam film director who came >> Read More... , this movie explores the life of three childhood cousins who are best friends and has been planning on going to Bangalore to chase away their dreams since they were young. Due to fortunate incidents, the three of them reach there and witness an inevitable change in their lives. Arjun played by Dulquer Salmaan is a vagabond who lives his life in his own way and is passionate about motorbike racing. Kuttan (Nivin Pauly) is a nerdy guy working as a software engineer, who has a certain policies about his life. Whereas Divya played by Nazriya Nazim This bubbly girl with expressive eyes was an ancho >> Read More... wanted to do MBA, but was forced to marry Das (Fahadh Faasil) due to errors in her horoscope reading. Even after going through difficult times, their bonding makes them stronger, and they faced their problems together. Successfully hit at the box office, this vibrant movie takes us to the city of dreams through the life of three cousins.
...
7. Neelakasham Pachakadal Chuvanna Bhoomi
The title of the movies has the meaning: Blue Sky, Green Sea and Red Earth. Youngsters in Kerala has developed a new trend of travelling to the unexplored areas with their bullets and a bunch of friends, which I believe was inspired by this movie. Directed by Sameer Thahir Sameer C. Thahir is an Indian writer, cinematograp >> Read More... , this is the first road movie in Malayalam that revolves around the journey of Kasi (Dulquer Salmaan) and his friend Suni () from Kerala to Nagaland in search of his girlfriend and how to win her back. The movie takes us to the North Eastern part of India beautifully.
...
8. Charlie
Directed by Martin Prakkat Martin Prakkat is a movie director who works in th >> Read More... , this movie evolves around Tessa, a fearless, bold and wanderlust who has run away from her family after they fixed her marriage. She ended up in a house in Kochi, inhabited earlier by Charlie (Dulquer Salmaan). She got in a hold of his things that fascinates her and inspired her to start searching for him. She meets people who had only good things to talk about him for the deeds he had done for them which attracted her more. Charlie is a vagabond who wants to be a spirit and helps in changing the life of many. It was also labeled as one of the best movies in 2016 and is worth a watch.
...
9. Neram
Directed by Alphonse Puthren Alphonse Puthren is a versatile Indian director, a >> Read More... , this movie talks about how to relate our destiny into the good time and bad time. The lead roles were played by Nivin Pauly and Nazriya Nazim. As the title of the movie suggests, this is a time-frame flick that involves the life of many that are happening in one single day and how they all get connected to each other at the climax. Even with a predictable plot, the audiences loved the movie for the way it was treated and presented in front of them.
10. Premam
Premam has created a wave in the Malayalam industry for the simplicity and treatment of the movie into perfection, which was directed by Alphonse Puthren after the success of his movie Neram. The film portrays the three love stories of a man through the different phases of his life. The first one was during his school days which didn't work because she had a boyfriend, whereas his second love was at college days with his teacher, who fell in love with him but later got into an accident losing her memory she had with him. The last one is the one who finally becomes his lady love. Nivin Pauly as George is the lead protagonist in this movie and has three newcomers as actresses. His black shirt and the Rayban aviators in the film had created a trendsetter among the youngsters after its release.