Television industry has many celebs which are related to other celebs by blood. They have blessed the industry with their enormous talent. Let's have a look at these top ten relations.
1) Delnaaz and Bakhtiyaar Irani Bhakhtiyar Irani is an Indian actor. By origin he >> Read More...
They are well-known in the television world. They are a part of the industry for a long time. They share a special bond. The duo was also cast in numerous shows together. They also shared the Bigg Boss Bigg Boss Tamil is the Tamil language version of t >> Read More... house.
...
2) Drashti Dhami Drashti Dhami is a Bollywood model and television >> Read More... and Suhasi Dhami
Drashti and Suhasi are gorgeous ladies of Tele-town. Drashti's brother married Suhasi. Drashti shares a special bond with her sister in law. They are childhood friends and consult each other related to career issues. They do girly things together.
...
3) Aloknath and Vineeta Malik Vineeta Malik is a versatile Indian television act >> Read More...
...
This brother-sister duo is known for their sanskars. They play sanskari roles in serials. They have brilliant acting skills. It seems that acting skills run in their genes.
4) Jhanak Shukla Intro: Jhanak Shukla is an emerging television act >> Read More... and Supriya Raina Shukla
...
We all remember the robotic girl from Karishma Ka Karishma. Supriya is the real life mother of Jhanak. The mother and daughter share a special bond. Now we know from where Jhanak got her acting skills.
...
5) Mishkat and Mihika Varma
These two siblings have made a name for themselves in the industry. These two are adorable, and audiences love them. Mihika is like a mother to her brother. They learn and inspire each other. They express their love to each other every day.
...
6) Ridhi and Akshay Dogra Akshay Dogra of Iss Pyar Ko Kya Naam Doon fame who >> Read More...
...
They are famous and were a part of many popular daily soaps. This brother-sister duo shares a special bond. Audience adores them and loves to watch their acting. Ridhi is best known for her role in Maryada and Akshay is known for his role in Iss Pyaar Ko Kya Naam Doon.
7) Falguni Desai Falguni Desai is a popular Hindi and Gujarati film >> Read More... and Zalak Desai Zalak Desai or Jhalak Desai is a Hindi television >> Read More...
Zalak is a prominent Gujarati actress. Falguni is Zalak's daughter. Falguni is a well-known daily soap actress. She got all her skills from her mother. The mother and daughter are immensely talented.
8) Sarita Joshi Sarita Joshi, the proud recipient of the Sangeet N >> Read More... , Ketki Dave Ketki Dave is a dazzling Indian actress and a stan >> Read More... and Purbi Joshi Purbi Joshi, born on August 19, 1974 in Mumbai is >> Read More...
Sarita is the proud mother of Ketki and Purbi. The mother and daughters share a bond and acting genes. The family is famous and has blessed the television industry with enormous talent.
9) Ahsaas Chanana and Kulbir Baderson Kulbir Kaur Baderson or Kulbir Baderson is an actr >> Read More...
Kulbir is Ahsaas's mother. This mother-daughter duo shared screen space. The duo's acting skills blessed Tujhse Naraaz Nahin Zindagi. The stories of everyday people where showed in this program. They both were super excited to work together.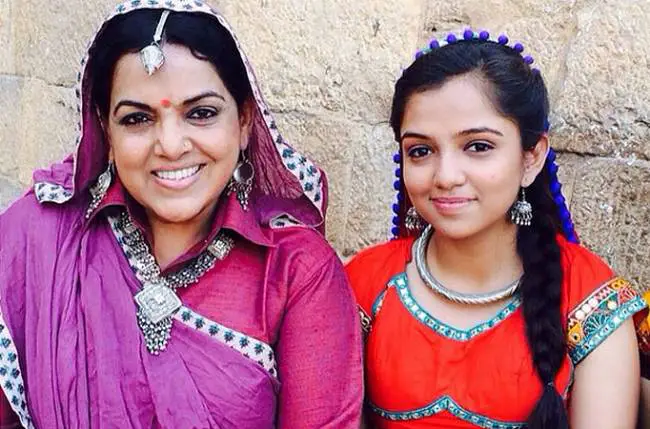 10) Krushna Abhishek and
Krushna is a famous comedian, and Aarti is a famous Tele actress. They both are brother and sister. In childhood, they both lived separately. As their mother died, Krushna moved to Mumbai with his father. Aarti lived with her mother's friend in Lucknow. She also enacted on comedy circus with his brother. Although they spend their childhoods apart but love still exists between them.